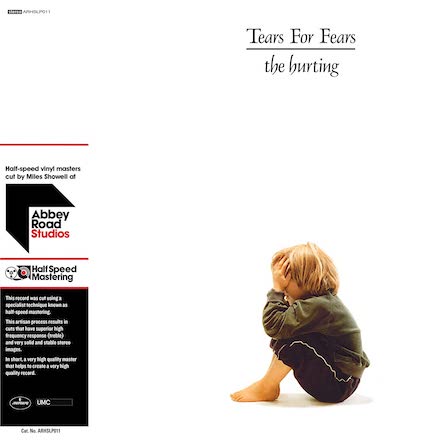 Tears for Fears
The Hurting (40th anniversary Abbey Road remaster LP)
(Mercury/UMC)
For a band with its staying power and following, Tears for Fears' catalog is brief. By all reports, it isn't a lack of work ethic that suppressed productivity – it's the internal quality control exercised by principals Roland Orzabal and Curt Smith. The pair's seven albums have been painstakingly crafted with frequent deconstruction, revision, and rework. The effort has resulted in acknowledged classics, including Songs from the Big Chair and The Seeds of Love. Truth be known, the band's latest effort, The Tipping Point deserves to be named among them. But it all began with the band's immaculate 1983 debut, The Hurting.
Timed with the album's 40th anniversary, The Hurting has been remastered for this reissue. It has also been half-speed mastered at Abbey Road Studios for a pristine new vinyl pressing released with the album's original UK cover artwork. This Spins review used a 1987 Hauppauge Pressing LP for comparison to the new release. Extra clarity and detail during "Mad World" was evident in the Abbey Road pressing, particularly in the higher frequencies. Bass instruments are also reproduced with enhanced definition. The crystalline "Change" leaps from the speakers with enhanced body and presence. Roland Orzabal's reverb-drenched baritone during "Suffer the Children" carries additional bite and warmth. Heavyweight vinyl contributes to stable playback and imaging. The result is an album that always sounded good but now sounds even more lifelike.
The material itself is the main thing, and The Hurting brims with catchy songs that offer substance upon deeper examination. Roland Orzabal's heady lyrics examine the fallout of childhood neglect and abuse, psychological wounds, and depression. These are exposed as a form of emotional exorcism. The icy soundtrack and bassist Smith's downcast vocal delivery match the tone of an internally blocked person who might benefit from psychotherapist Arthur Janov's primal scream therapy. "Pale Shelter" pleads for love in the face of parental shortcomings and neglect, but the musical mood is undeniably energized and catchy. "Change" sends the dance-floor energy higher. Orzabal has downplayed the lyric as lightweight, but the scenario describes a common experience that is relevant to the album. A young man sees a former companion and is unable to break through self-imposed fears to rekindle a friendship or even communicate. Still, Orzabal's lyric offers hope through self-examination. "You can change," sings Smith.
Ingesting the intimate and sometimes dangerously personal material on The Hurting gave many fans a means to identify with others who sought to shed long-carried emotional chains. Misery loves company, no doubt. But this isn't misery for misery's sake. The Hurting seeks an open door to freedom. It didn't hurt an emerging sense of liberation that the songs were easy to dance to.
The Hurting undeniably sounds of its time because it helped define the musical landscape of alternative pop and the new wave in the early '80s. With such high quality, though, the album still manages to sound fresh in spite of dated synthetic drum sounds and synth-pop trappings. Clinical synthesizers combine with human elements, including shimmering acoustic guitars, springy electric guitars, and vocal performances that are emotive and relatable. It's not hard to imagine that someone will still be listening to The Hurting and identifying with its themes in another 40 years.
– Jeff Elbel
9 of 10