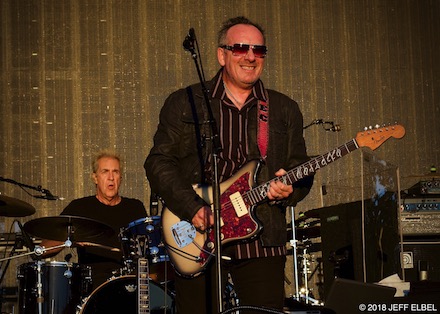 Elvis Costello and the Imposters
Out of Space at Canal Shores Golf Course, Evanston, IL
Friday, August 5, 2022
Review by Jeff Elbel
Elvis Costello last visited Chicago in November, previewing material from 2022's The Boy Named If album. Fans who missed that concert at Chicago Theatre were given a second chance to experience the strength of the English singer's fresh material on Friday in Evanston. With a less experimental approach than 2020's worthy Hey Clockface, The Boy Named If and its songs, including driving rocker "Magnificent Hurt," proved to be sharp-witted and emotionally potent, with stylish playing to engage any longtime devotee of Costello's work with the Attractions or Imposters.
The set list emphasized the extreme chronological ends of Costello's 32-album catalog. The Attractions' first three essential albums were well represented in order to prevent general revolt among the paying public, but the heart of the show was the clutch of five new songs from The Boy Named If and Costello's compelling banter introducing each one. There may have been no "Veronica" or "Let Him Dangle" for fans of Spike, much less the New Wave corker "Radio, Radio," but such omissions served to amplify Costello's commitment to artistic forward motion. The Imposters' spin on "Hetty O'Hara Confidential" was a highlight drawn from Hey Clockface, featuring Davey Faragher's walking standup bass line. Costello described the song as a tale of scandal and shame. "It's for sale everywhere you look," he added. Drummer Pete Thomas and keyboardist Steve Nieve took the studio cut's beatbox-infused arrangement and recast it as a lively R&B-jazz romp reminiscent of Ray Charles.
Costello expressed gratitude and relief to be reconnecting with his audience post-lockdown. He also joked about his longevity, reaching 50 years in showbiz. "We're moving into the ABBA phase," he said, describing a transition toward sending performing holograms on tour as true impostors.
Thomas played a conga line rhythm for "The Death of Magic Thinking" from The Boy Named If. Costello described the song as reflecting a young man's experience, "trying to discover whether that look in someone's eyes is a look of invitation or a look of prohibition. And boy, had you better get that right."
Four deep cuts were offered as treats for devoted fans. "Still Too Soon to Know" was an elegant tearjerker from 1994's Brutal Youth featuring guest Nicole Atkins, who had opened the evening ahead of a sparkling set by Nick Lowe and Los Straitjackets. Costello eschewed the single "Monkey to Man," choosing "Either Side of the Same Town" to represent 2004's The Delivery Man. The song was performed in tribute to Allan Mayes, Costello's teenage friend with whom he first performed as part of the band Rusty. Costello and Mayes recently released The Resurrection of Rust, with the Imposters standing in for the original Rusty musicians from 1972.
Before launching the remaining rarity, Costello asked the summertime crowd at Canal Shores Golf Course the rhetorical question, "Do you wanna hear another one?" Amid enthusiastic response, Costello added, "It seems like the evening for it if we could just get the cicadas out of our mouths." The band played a stirring version of the earnest "I'll Wear it Proudly" from 1986 roots music gem King of America, also accompanied by Atkins. Revealing the collaboration's impromptu nature, Costello directed Atkins' warm alto harmonies and phrasing like a choral conductor.
Atkins also elevated the vibrant new R&B song "My Most Beautiful Mistake." Costello introduced the duet by saying the song was about a reprehensible character on the prowl at a local diner, posing as a Hollywood screenwriter in search of work. "You can tell this is a work of imagination because it wouldn't be anything like me at all," Costello said with eyebrows raised.
Faragher connected deeply with Thomas during an extended romp through "Watching the Detectives," performing under eerie green light. The pair displayed their collective chops with lively dub reggae fills that were decorated by Costello's slashing spy-movie guitar and Nieve's spook-show organ. The song included Costello's boyhood memory of watching the thriller The Invisible Lady on late-night TV, tempted by a nearby package of abandoned cigarettes to try looking as cool as the hero. "You can't get the genius back into the bottle," repeated the singer at the song's apex.
The Imposters' lineup was further augmented by Austin, Texas guitarist Charlie Sexton, who defected from Bob Dylan's band last year. Costello seemed to enjoy the additional firepower, joining the sound of his familiar customized Fender Jazzmaster with Sexton's guitar during "Green Shirt." The pair squared off at center stage for twin solos during the swinging and pleading, "What If I Can't Give You Anything but Love?" Sexton shone throughout the evening, with a particularly hot solo during rowdy rock and roller "Mystery Dance" from the Attractions' 1977 debut My Aim is True. When the spotlight turned his way, Nieve answered by uncorking a Johnnie Johnson-styled piano run. Sexton and Faragher added rich harmony to songs, including "Accidents Will Happen."
Cartwheeling pop stomper "Penelope Halfpenny" borrowed a measure of New Wave energy from "Pump it Up." Costello told a wry story about growing up Catholic and having to decide what sin to claim at his first pre-teen confessional, settling on adultery by the process of eliminating the other choices. The song was inspired by a teacher who fostered ideas of a rich and adventurous life, with an underlying notion that it would all work out "if you'd just be loving and kind to people." The song's coda brimmed with feral rock, crashing like the Kinks and the Who.
The crowd rose to its feet as the main set concluded with a raucous "Pump it Up" and a bristling version of "(What's So Funny 'Bout) Peace, Love and Understanding." Nieve punctuated the latter with riffs reminiscent of "Oliver's Army" while Sexton lashed into his chiming Rickenbacker guitar. Many hoped for a duet with the song's author Nick Lowe, but Elvis' second opening act had already left the building.
Any honest fan will admit a hard truth – Costello has lost a step as a concert vocalist. When he's got his full wind and is belting rousing material like "(I Don't Want to Go to) Chelsea" punctuated with howls or gliding falsetto, Costello sounds like the reliable rocker his audience knows and loves. When he pulls back for a melodic crooner like the night's encore of "Alison," cracks show via pitchy singing and phrasing that lags Thomas' finely tuned beat. Given significant challenges, including Costello's cancer treatment in 2018, however, it seems blessedly lucky to have the beloved artist returned to health, in good spirits, and on stage at all – and still delivering such undiminished, provocative and irresistible new material in the studio. This writer has witnessed Costello's incrementally returning power since his first post-treatment show at Riot Fest Chicago in 2018. Here's wishing him a continued upward trajectory in the company of his exceptional bandmates while looking forward to more new material as cracking as the songs on The Boy Named If.
Category: Live Reviews