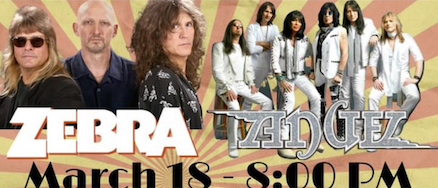 Arcada Theatre in St. Charles is bringing 2 stalwart bands of  '70s and '80s hard rock, Zebra, and Angel to the venue on Friday, March 18, IE readers can get 25%off tickets with a special offer listed below.
Long Island-based heavy rockers Zebra, crashed out of the gate on their self-titled debut album in 1983 and became their debut became the fastest-selling debut record on Atlantic Records history, selling an amazing 75,000 copies in the first week.  The album remained on the Billboard charts for an incredible eight months, peaking at number 29.
Veteran producer Jack Douglas, whose prior work included Aerosmith's Toys in the Attic and John Lennon's Double Fantasy LPs, was at the helm for Zebra's first two albums. Who's Behind the Door and Tell Me What You Want were released as singles, and both were in heavy rotation on MTV. Their debut single "Tell Me What You Want," became an album radio staple in the summer of '83.
Precursors to late '80s hair bands, Zebra helped pave the way to classic melodic metal as we know it today.
Employing a dazzling mix of glam rock, hard rock, and progressive rock, Angel's outrageous, white-satin-heavy image and equally over-the-top stage shows, making them one of the more colorful arena rock bands of the mid-'70s and early '80s. Discovered by Kiss bassist Gene Simmons, the group issued their eponymous debut album in 1975, which hewed closer to prog rock than the glam pop that would inform future endeavors like On Earth as It Is in Heaven (1977) and Sinful (1979). The group went their separate ways in 1981, but re-formed in the late '90s with a new lineup, and released two studio albums (1999's In the Beginning and 2019's Risen) and numerous compilations.
Category: Advertiser Message, Featured