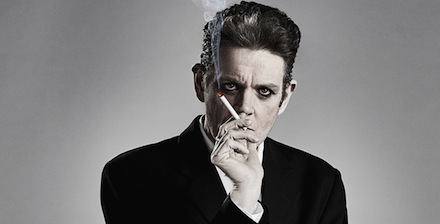 The Killers will perform a mix of classic hits along with tracks from their new album, Imploding the Mirage, as part of Pandora LIVE. Tune in Tuesday, September 15th at 8 PM. The show is free, but you have to RSVP here.
Devendra Banhart continues his "OLA: Devendra Banhart Sings Songs In the Order They were Written" livestream series on September 16th. This time he'll perform songs from Cripple Crow and Smokey Rolls Down Thunder Canyon. The show will air three times, starting at 8 PM with the rebroadcast available for 24 hours. Find tickets here.
Windy City Indie hosts "Bluefecta," a free livestream concert and fundraiser featuring the best that Chicago, Milwaukee, and Detroit has to offer. The lineup includes Ric Wilson, DEATH, local folk-rock legend Jon Langford, Harvey Dreaver, Milwaukee violin and cello duo SistaStrings, and Latin hip-hop duo Browns Crew. 100 percent of the proceeds raised are being donated to ROC Action Michigan, Detroit Action, Leaders Igniting Transformation (Milwaukee), and Voces de la FronteraAction (Milwaukee). It all goes down Thursday, September 17th at 7 PM. Tune in here.
Chicago's long-running industrial music festival, Cold Waves, is going virtual. "The Lost Weekend Virtual Experience" is a 3-day event that features exclusive new content, rare and unseen performances, artist-driven auction items, special guest appearances, and DJ sets. Meat Beat Manifesto, Front Line Assembly, OHGR, 16 Volt, The Young Gods, Chris Connelly, Severed Heads, and more will participate. Sunday features the acclaimed documentary for Chicago's legendary nightclub Neo – Last Call 2350: The Neo Documentary. The celebration kicks off September 18th – September 20th. The event is free to stream on Twitch, so make sure you tune in.
10 Years celebrate the release of their new album, Violent Allies, with a special livestream concert on Friday, September 18th at 8 PM. Using a "pay what you want" model, you can get tickets for as low as $6.00. Get tickets here.
Lamb of God will perform their new self-titled album in full on September 18th followed by a full performance of 2004's Ashes of the Wake on September 25th from their hometown of Richmond, Virginia. The shows start at 4 PM with a pre-show featuring a Q+A with the band and a set from Bleed from Within on September 18th, and Whitechapel on September 25th starting an hour before the main event. Get tickets and limited edition merch here.
iHeartRadio Music Festival celebrates its 10th anniversary this weekend with a two-day virtual festival. Hosted by Ryan Seacrest, performers include BTS, Bon Jovi, Coldplay, Kane Brown with special guest Khalid, Keith Urban, Migos, Miley Cyrus, Usher, and more. The concert will feature one-of-a-kind collaborations and surprise performances that see artists performing together for the first time in months. Fans also have the chance to see exclusive backstage footage, enjoy virtual meet and greets, and can even appear in a special fan video—tune-in on September 18th and 19th at 8 PM on The CW App and CWTV.com.
Chicago rock band Knuckle Puck invites you to their virtual 20/20 self-titled album release party on Friday, September 18th, at 8 PM. Live from Lincoln Hall, the performance is part of Audiotree's STAGED Series, which supports the CIVL, the local organization dedicated to saving Chicago's small stages. You can still grab tickets here.
Sheryl Crow's "Songs From The Big Green Barn" kicks of September 18th at 8 PM with an electric outdoor show, and continues September 19th at 12 PM with an intimate indoor acoustic show. Pick up tickets and exclusive merchandise here.
Perfume Genius will perform live from The Palace Theater in downtown Los Angeles on Saturday, September 19th, at 2 PM. Backed by a six-piece band along with a string quartet, the set will include music from his latest album Set My Heart On Fire Immediately. Find tickets here.
Punk rockers NOFX will host their virtual "Weekend At Fatty's" Livestream on Saturday, September 19th at 4 PM. Streaming live from Fat Mike's backyard, the festival features sets from Slightly Stoopid, Fishbone, Bad Cop/Bad Cop, and Get Deadalong, with appearances from Against Me!'s Laura Jane Grace, Avenged Sevenfold, comedians, graffiti artists, and "all night campfire stories." NOFX will also perform 1992's White Trash, Two Heebs and a Bean in-full for the first time ever. You don't want to miss this, so make sure to get tickets here.
-Ashley Perez Hollingsworth
Category: Columns, Featured, Features, Livestreams, Stage Buzz, Weekly