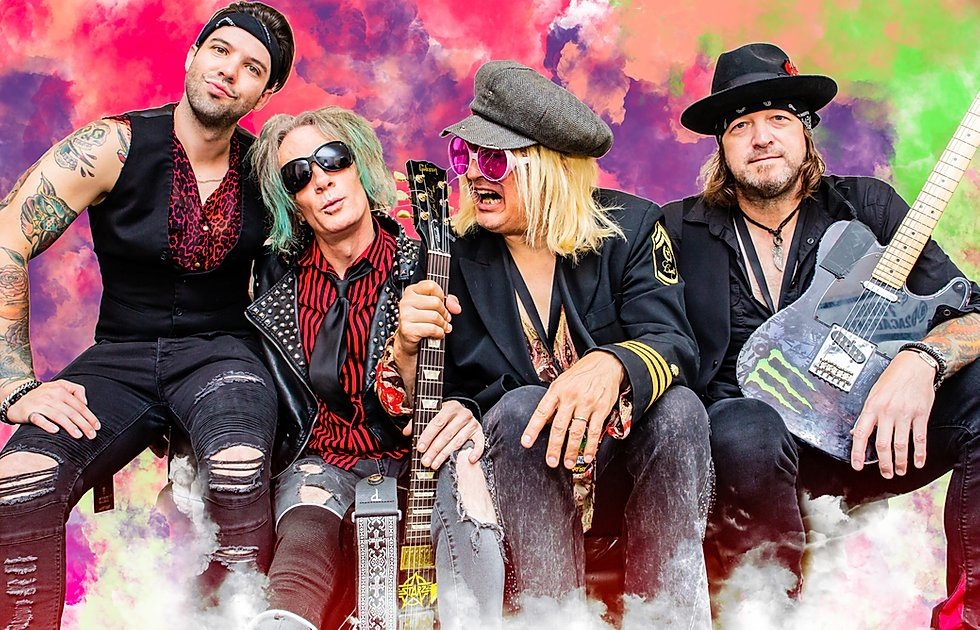 Chicago power-pop rockers Enuff Z'Nuff's fan base has always been incredibly loyal since its 1984 formation. Fast forward to 2020, and the band's legacy is well intact on its new studio album Brainwashed Generation (released July 10 via Frontiers Music s.r.l.).

However, while half of Enuff Z'Nuff's fan base has gleefully accepted the current Chip Z'Nuff-led version of the band with open arms, the other half understandably still laments the 2013 departure of original vocalist Donnie Vie.

"I don't think it's fragmented at all," Chip Z'Nuff said of the band's fan base during a recent phone conversation. "Obviously, the diehard fans love him and will probably stay on his side. And that's fine, I love those fans for being involved with our band all those years. I have no animosity toward any of them whatsoever."

Enuff Z'Nuff achieved overwhelming success with its 1989 critically acclaimed self-titled debut album, which reached No. 67 on the Billboard Albums chart and spawned two gigantic hits and live staples to this day with "New Thing" and "Fly High Michelle."

Chip took over lead vocal duties (with Donnie's blessing) and recorded 2018's well-received Diamond Boy, which broke the Billboard Top 200 chart. "When Donnie left the band, the first thing he said was, 'If you're going to carry on and call it Enuff Z'Nuff you better sing the songs, because at least when you're in the middle of the stage everybody's just going to know it's Enuff Z'Nuff.' And that's exactly what I did."

Joining Z'Nuff on this album is guitarist Alex Kane, guitarist Tory Stoffregen, and drummer Daniel Benjamin Hill. Brainwashed Generation also features a number of guest musicians, including Winery Dogs/ex-Dream Theater drummer Mike Portnoy, and Cheap Trick drummer Daxx Nielsen, as well as a stellar guest vocal performance by Vie himself.

"He wrote a song with me on the record called "Strangers in My Head," Z'Nuff said of Vie. "It shows that there's some chemistry still there. His pipes sound beautiful. I think it was a nice gesture on both parts; him wanting to do a song on the record and me pulling the record and putting that song on it before we released it."

On Brainwashed Generation, the prescient album title seems to fit perfectly within the world's current landscape. "It was prophetic, that title," Z'Nuff agreed. "I didn't know what was going to be happening at that time. I had no idea. I thought it was a cool title for a record. Everybody's on their telephones, computers, watching TV. No one's really paying attention to anything right now in the world. Times have changed. There's plenty of subject matter out there to write about. I looked at what was happening in the landscape in our world, and I wrote about that. "The record's warm and lush production — co-produced by Z'Nuff and punk rock producer Rob Pozen and mixed and mastered by Chris Steinmetz — was achieved the old-fashioned way by using analog recording methods.

"I'll put (Brainwashed Generation) up against all of them as far as production goes, it's a really rock-solid record," Z'Nuff stated. "And it just seems to be an album that is moving forward in our career. I'm really grateful that we have a chance to make records in this day and age because people want stuff and they want to get it cheap. And they just download those songs, for instance. But I'm from the old school, I want to do whole records. I want all the songs together. I believe in the celebration of music through albums."

Although the worldwide pandemic has hampered bands from touring, Enuff Z'Nuff was recently featured on the Monsters of Rock Cruise live stream concert on July 11 and will embark on the Straight Outta Quarantine 2020 Tour with Faster Pussycat starting on Sept. 11 in California.

"We're moving forward like nothing is going on right now with a new record, a new video, and then setting up the tour for the end of the summer," Z'Nuff said. "We're not letting any virus stop anything. And while we're talking about the virus, let's give a shout out to all the nurses and doctors and the first responders and our military and the people out there in the world that are keeping our places safe. We're in the 21st century, it should be about peace and love and looking out for each other because this is a resilient world, especially our country. We need to do things and stick together as one. That makes us strong."
-Kelley Simms
See Enuff Z'Nuff with Faster Pussycat on Sept. 23 at Arcada Theatre in St. Charles. (Due to COVID-19 this show may be rescheduled. See Oshows.com for updates)