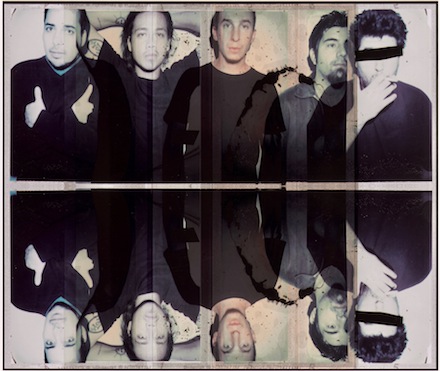 Five Takeaways From Deftones' White Pony 20th Anniversary Press Conference
Earlier this week, Deftones' frontman Chino Moreno, Keyboardist/DJ Frank Delgado, and drummer Abe Cunningham convened for a virtual press conference to reflect on the 20th anniversary of the band's breakthrough third album, White Pony.
Though the record dropped on June 20th, 2000, the album has remained a fan favorite among Deftones fans, and a watershed moment of experimentation and violent dynamics among the band's discography. Additionally, the album's signature icon, the silhouette of (what else) a white pony, has remained a staple on Deftones merch throughout the years.
Below are five takeaways from the band, as they reflected on the making of and the impact of White Pony.
Why The Album Still Connects
The band weighed in on why the record still connects with fans, now two decades later.
"It's not something I think when you listen to it the first time, you can completely take it in," Moreno muses. "So, it's one of those records I feel like, the more you listen to it, the more things you get out of it. Which sort of lends itself to I think having a longer shelf life."
"I believe the chances we took making that and just trusting ourselves and making the record we made is why we're still able to do what we do today," Cunningham confirms.
The Inclusion Of Maynard James Keenan
Singer Maynard James Keenan, of Tool/A Perfect Circle/Puscifer fame, guests on "Passenger," a tense and volatile six-minute standout that was basically the nü-metal era's Watch The Throne moment.
"There wasn't this idea to put him on the record or anything. It was more or less something that happened pretty organically," Moreno explains of Keenan's collaboration. Keenan crossed paths with the band at various points in the making of White Pony, including offering feedback in the studio during the early stages of another album standout, "Digital Bath."
Moreno also recalled an incident where he and Keenan were in the car together, with Moreno driving Keenan from Sacramento to A Perfect Circle's next show in San Francisco. This resulted in the two of them getting pulled over due to Moreno's speeding.
It wasn't until the end of making White Pony, however, that the vocal collaboration came to be. Moreno didn't have particular ideas for "Passenger," which resulted in he and Keenan writing the lyrics together, line by line. "For me as a singer, just to trade lines like that with somebody with his voice was super special," the frontman revealed.
Those waiting for another collaboration in the future might not want to hold their breath. Moreno stated that he probably wouldn't want to do another song with Keenan, citing the law of diminishing returns, and a Rambo II versus First Blood analogy.
"Digital Bath" Was Always A Standout
At multiple times in the chat, the band emphasized "Digital Bath" as a standout on the record, confirming that it's not only a fan favorite, but a band favorite as well. Moreno recalled speeding a rented Mustang convertible with the top down on the Sunset Strip, blasting the song on cassette.
"I just remember hearing that at that moment and thinking 'Wow, this is really special," he reminisced. "Just sonically, and the song itself was really cool. I think that one kind of hit home."
Black Stallion
Later in 2020, Deftones will release a reissue of White Pony, which will include a remix version of the record, entitled Black Stallion.
Moreno revealed the band was already thinking about creating a remixed version of White Pony before the record was even recorded. An early joke within the group was that the album was going to be so good that DJ Shadow would want to remix it. Moreno and Delgado even cornered DJ Shadow after a show, telling him he should remix their record. When he non-committedly said to send him the album, they revealed it hadn't been written yet.
Flash forward to June 2020, and DJ Shadow will be one of the collaborators involved in the Black Stallion remix record.
As for the White Pony reissue record itself, don't expect it to be remastered.
"If they tried to make it current or something like that, It could take away from some of the magic," Moreno explained. "When you listen to that record, it sounds like that time [2000]. It takes you back there. I wouldn't want to toy with that."
White Pony Anniversary Shows?
Finally, Moreno revealed there are no concrete plans for a White Pony anniversary tour or one-off show, though he doesn't close the door on the idea, saying "maybe one day."
– Jaime Black