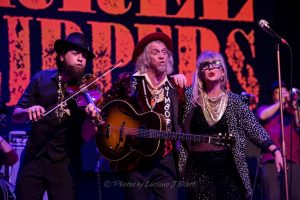 Squirrel Nut Zippers
Arcada Theatre
January 26, 2020
Review by Jeff Elbel
Photos by Luciano J. Bilotti
In the Squirrel Nut Zippers' heyday, the band's music offered a singular throwback to the freewheeling fun of gypsy swing and pre-war hot jazz. In 2020, the retooled and rejuvenated band does the same while also recalling good times had during the Clinton era. The group was an unlikely smash in the music industry's fading glory days. As bandleader Jimbo Mathus reminded the crowd at the Arcada Theatre, "We were the last band to sell millions of records in 1996."
Mathus also declared that the Zippers were well and truly back, with the promise to "help make America weird again." Songs from 2018's Beasts of Burgundy including "Karnival Joe (From Kokomo)" and "West of Zanzibar" were as lively, off-kilter and colorful as perennial favorites from 1998's Perennial Favorites and 1996's Hot.
The band continues to celebrate the spirit of Raymond Scott as it namechecks "The Ghost of Stephen Foster." Mathus' songwriting reveals his Alabama roots while cribbing from Dixieland jazz and sending love notes to the music of New Orleans. Trombonist Eddie King from the Zippers' savvy horn trio played an expressive solo during "Blue Angel," while violinist Dr. Sick played melancholy gypsy flourishes accompanied by athletic splits and high kicks.
Baritone saxophonist Hank Westmoreland doubled as smooth crooner for songs including the New Orleans jive of "Got My Own Thing Now," with additional attention going to Kevin Louis' spirited trumpet. For his part, the leaping Dr. Sick gave "Memphis Exorcism" his all and spent more time with his feet in the air than on the stage.
Mathus introduced the cabaret pop of "Evening at Lafitte's" as a tribute to New Orleans, "the city that care forgot." Wearing a sequined red jacket, velvet vest and matching red porkpie hat, Mathus played jazz licks to accompany outlandishly attired vocalist Cella Blue. Bassist Tamara Nicolai propelled the song on doghouse bass, ultimately hoisting the bulk of her oversized instrument onto her shoulders to complete the song.
A string of resilient tunes from Beasts of Burgundy served as the show's centerpiece. Blue led the bawdy New Orleans stroll of "Use What Mama Gave You," before the band erupted into "Axman Jazz (Don't Scare Me Papa)." The instrumental feature lurched and swung like Raymond Scott's "Powerhouse." Blue was again featured during the broken-hearted ballad "Fade," accompanied by deft drummer Neilson Bernard III's brushed snare.
Afterward, Mathus praised the audience and dogged the neighbors before cracking wise at his own expense. "The main difference between Illinois and Wisconsin is you guys clap on the two and four," he said. "But they like my jokes in Wisconsin, because they like a lot of cheese."
Mathus capped a rowdy "Suits are Picking Up the Bill" by climbing atop Nicolai's instrument for a jubilant pose. Afterward, it was another groaner. "Thanks to Tamara for letting me stand in on the bass," he winked. The mood only darkened briefly when Mathus acknowledged opening act and national treasure the Dirty Dozen Brass Band, noting how touched he was to hear the band perform Gospel hymn "The Old Rugged Cross" in memory of Kobe Bryant.
It was soon back to rowdy, bad business as the band unleashed "Bad Businessman." Dr. Sick and Mathus took turns pounding a jungle beat while sitting atop a bass drum. Mathus donned an oversized skull mask to stalk the stage during the hypnotic calypso of "Hell." Dr. Sick sparred with Leslie Martin's barrelhouse piano and ran circles through the crowd while playing cartwheeling violin during "The Ghost of Stephen Foster," before returning to the stage for "Prince Nez." Westmoreland was featured during one more crooner as the set neared the end. "When you lose the one you love, there's always plenty more," he sang during the comically cold comfort of "Plenty More."
The show concluded with the festive Brazilian street dance and New Orleans second-line fusion of "Hey Shango!" The band lined up and led a snaking parade through the audience, leading the crowd out of the theater to meet with fans in the foyer. In total, it was a spirited show that had fans on their feet and engaged, and concluded with personal thanks for anyone who wished to say hello. One of America's premiere party bands is fighting fit again, and connecting with old and new fans alike.
Category: Live Reviews