Ed O'Brien (EOB)
Lincoln Hall
Saturday, February 8, 2020
Following in the footsteps of bandmates Thom Yorke, Colin Greenwood, and Phil Selway, guitarist and vocalist Ed O'Brien is stepping outside his role as a founding member of Radiohead and occasional high-profile sideman for other artists including Neil Finn. Performing under the name EOB, O'Brien and his sharp band appeared at Chicago's Lincoln Hall on Saturday night. The group introduced material from O'Brien's debut solo album Earth (due April 17) and added a couple of well-curated and revealing covers.
The quintet strode onto the stage in matching black attire, with their lanky bandleader towering a head above his four bandmates. O'Brien struck a casual tone while welcoming the crowd. "It's Saturday night, isn't it?" asked O'Brien. "Yay, it's the weekend!"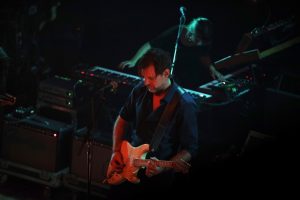 The show began with the heavy throb and hypnotic piano of "Love Story." Performed as an instrumental introduction, the song featured the siren whine of O'Brien's ring-modulated guitar. The tone was reminiscent of the distinctive sound deployed on Radiohead songs like "My Iron Lung." The band leapt into "Shangri-La" afterward, familiar to many in the room as the band's fractured but pop-savvy new single. The upbeat song led with a bright and chirpy loop and O'Brien's falsetto vocal.
O'Brien's descending acoustic guitar pattern and drummer Alvin Ford Jr.'s samba beat propelled "Banksters." "Where did all the money go?" sang O'Brien as the song shifted gears into an aggressive chorus. The heavy lurch and violent mood swing recalled the innovative shifts in Radiohead's "Paranoid Android." Eventually, the song resolved into a gliding coda and cribbed from Allen Toussaint and Lee Dorsey's "Working in the Coal Mine."
The concert took place before a packed house of Radiohead devotees and supportive industry guests. Still, O'Brien admitted to some jitters. "This is our second gig ever, and our first was last night," he said. "I was petrified. I just want to say thank you for coming out tonight. I don't take this shit for granted."
The EOB band may not have accumulated much collective stage experience yet, but the musicians appeared engaged with the audience and with each other. There were high-fives over the rim of the stage, and frequent smiles flashed across it. The camaraderie on stage and off served to smooth the rare rough edges. O'Brien introduced the delicate "Long Time Coming" as a song about being alone. He started the song's gentle acoustic pattern only to stop and request a bit more lighting so he could see the dots on the neck of his guitar. Rather than pull listeners out of the moment, it was a human touch that brought the room closer together. "All we ever needed is someone who said, 'I believe in you,'" sang O'Brien. The crowd clearly extended such grace to their hero onstage.
The song "Mass" was built upon muted but intense energy, with a low acoustic strum and a steady pulse reminiscent of "I Promise." Ross Chapman played melancholy arpeggios on electric guitar, and a trio of voices blended in ghostly harmony. O'Brien dedicated the song to friend, drummer and Earth collaborator Glenn Kotche of Wilco, who was watching from the balcony.
A cover of German electronic musician and current Tangerine Dream bandmember Ulrich Schnauss' "On My Own" featured keyboardist Hinako Omori's icy synthesizer swells. "Sail On" unfolded under dim red light and fog, with a cavernous and haunted vocal. "Time for me to say goodbye to everything I know," sang O'Brien, his voice full of regret. With no drumbeat and Chapman's ghostly guitar, the song was formless and spectral. The mood was a stark contrast to the tense and urgent krautrock of the prior song.
O'Brien took another moment to thank his supporters for helping him to exorcise his nerves. "It's just me being fidgety," he said. "I need all the encouragement I can get. Last night was an out-of-body experience. Tonight is like coming into orbit, but my feet still aren't on the ground."
The band closed the main set with its most confident performances. "Brasil" was an expansive showcase of the band's contrasting strengths and musical emotions, with improvisational interplay that stretched beyond the initial single's already–substantial duration of eight and a half minutes. The song shifted between fragility and resolute determination. Its wistful, ethereal and romantic components were reminiscent of Lo Moon's spaceborne dream-pop.
"Olympik" was a driving, urbane rocker with slashing guitars and a body–moving rhythm anchored by bassist Dishan Abrahams. The vibe suggested an alternate reality's heavier version of Pet Shop Boys. Chapman's heavily processed guitar hooks implied affection for Achtung Baby-era U2. Other touchstones included Radiohead burner "Ful Stop," the infectious Afro-pop roots of Talking Head's Remain in Light, and Poster Children's post-rock. As if the music wasn't ambitious enough, O'Brien didn't hold back on personal demands in the lyrics. "A love supreme is all I need to be waking up from the deepest sea," he sang.
The band encored with a final track from Earth, a tender ode to fidelity called "Deep Days." "Where you go, I will go," sang O'Brien, promising to also stay, sleep, rise and follow along with his beloved. The concert concluded as EOB cut loose with the epic funk of Labi Siffre's "I Got The," a seminal source for popular hip-hop tracks by artists including Jay-Z and Eminem. Chapman led the influential 1975 song's taut guitar riff, and Omori followed with soulful clavinet. It may have been slightly out of character for the bulk of the evening's material, but it was utterly joyous and exposed an unforeseen element of what makes O'Brien tick as a lifelong servant and fan of music.
Performing eight of Earth's nine tracks suggests that O'Brien's own music travels the arc between Radiohead's 1995 sophomore album The Bends and 2001's iconoclastic Amnesiac. The pop and rock songwriting sensibilities of a straightforward guitar band are filtered through the experimental whims of a future-seeking studio rat with a penchant for electro-pop. It's an engaging mix that should appeal to a wide swath of longtime Radiohead fans, as well as being more generally accessible outside the band's fanbase than the electronic fare heard on Yorke's albums including Tomorrow's Modern Boxes and Anima.
– Review by Jeff Elbel. Photos by Curt Baran.
Set List:
Love Story
Shangri-La
Banksters
Long Time Coming
Mass
On My Own
Sail On
Brasil
Olympik
–
Deep Days
I Got The
EOB "Shangri-La" video: https://youtu.be/N7Djc5z-EMg
EOB "Brasil" video: https://youtu.be/xefWbfWUbrQ
Category: IE Photo Gallery, Live Reviews