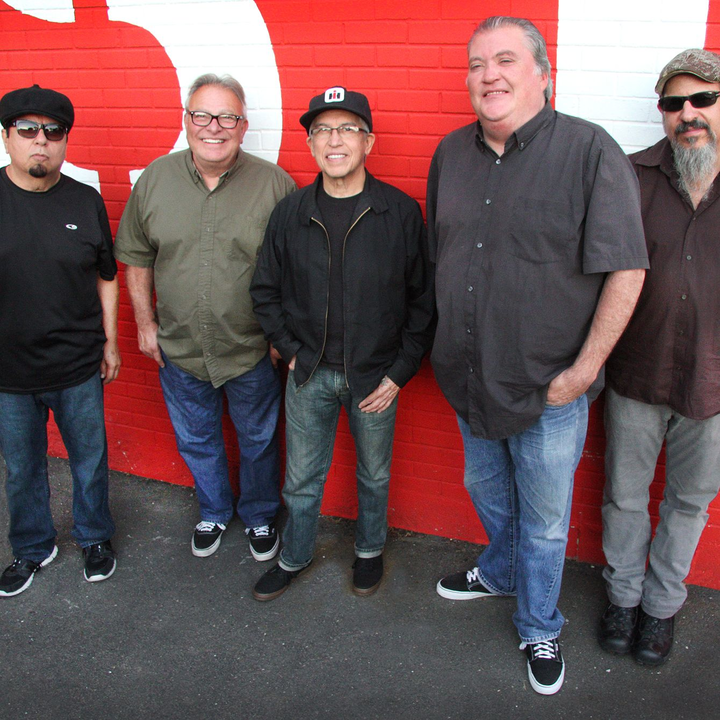 Los Lobos
City Winery
Sunday, December 8, 2019
Los Lobos set up camp at City Winery on Sunday for its eighth annual residency of Christmas shows. This time, the band brought new songs written specially for the occasion. Material from the band's first Christmas album, Llegó Navidad, added to the already festive spirit of the evening. The show began with a string of songs performed by Cesar Rosas, Conrad Lozano, Louie Perez, and David Hidalgo as an acoustic quartet. "Canto a Veracruz" and "Colas" from Acoustic en Vivo were steeped in Chicano culture, and the songs segued nicely into Llegó Navidad's "El Cascabel." Rosas led the room in hand claps as Perez furiously strummed his guitarron, and Hidalgo unleashed a nimble solo.
Rosas introduced another Christmas song as multi-instrumentalist Steve Berlin joined the band onstage, but Hidalgo waved him off. "We're still working out our set, as usual," said Rosas with an apparent wink behind his Ray-Ban shades, laughing it off. "We'll have it down by Thursday," deadpanned Hidalgo. The audience was then treated to "La Pistola y El Corazon," with Hidalgo on accordion and Berlin on soprano sax.
Afterward, the band played Freddy Fender's "It's Christmas Time in Texas" and Colombian cumbia carol "Arbolito de Navidad." Rosas announced "Reluciente Sol," saying, "Here's another new song. We'll see how this one goes," before crossing himself. The song proceeded with all blessings intact, featuring Hidalgo on chiming 12-string electric guitar and the deep growl of Berlin's baritone saxophone. Hidalgo retained the 12-string for Byrds-like jangle during "Will the Wolf Survive," making room for a gliding and melodic bass solo from Lozano. After another Berlin bari sax feature on "Teresa," the band announced a brief intermission.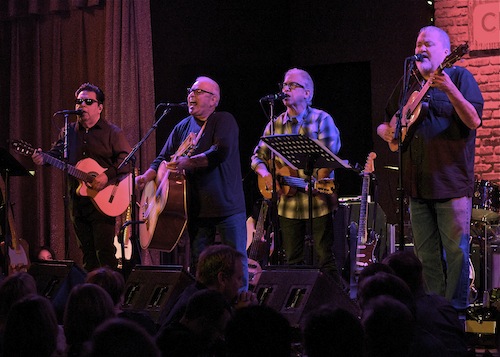 When Los Lobos returned, they cranked the amps for a rowdier second set. The bluesy swing of "The Neighborhood" hinged upon Rosas' taut riff. Hidalgo led the crowd in singing the song's message of community and brotherly love. Rosas sent the energy sky-high with the boogie and swamp-rock of "Don't Worry Baby," and shifted gears for the body-moving "Chuco's Cumbia."
The band continued with another mini-set of seasonal songs. Lozano's bass joined War percussionist Marcos Reyes to propel the Motown-Latino fusion of "¿Dónde Está Santa Claus?." "I hope he won't forget to clack his castanet, and to his reindeer, say, 'Oh Pancho, Oh Vixen, Oh Pedro, Oh Blitzen, Ole! Ole! Ole!,'" sang Rosas. By the second chorus, the audience was singing along. Hidalgo sang the heartbroken stroll of "Christmas and You." The last of the seasonal fare was title cut "Llegó Navidad."
Heavy weather followed with "Wicked Rain" from the landmark 1992 album Kiko. The band then offered the crowd its presents in the form of guest spots by a pair of local icons. Ronnie Baker Brooks led the group in a stunning version of James "Beale Street" Clark's blues classic "Look on Yonder Wall," trading spine-tingling guitar solos with Rosas and Hidalgo. To the right, jazz saxophonist Frank Catalano paired with Berlin and took acrobatic flights of his own. The show closed with a thrilling 15-minute ride through "Mas y Mas." The entire ensemble and guests followed Hidalgo's lead to the mountaintop, then reeled the sound back to a hush before unleashing a cathartic climax.
After an encore of Vicente Fernández's signature 1972 song "Volver, Volver," the band left the audience with visions of the upcoming shows on Monday and Tuesday dancing in their heads.
– Review and concert photo by Jeff Elbel
---
Ed Spinelli captured East L.A.'s finest at their City Winery residency on Monday night
Category: Uncategorized