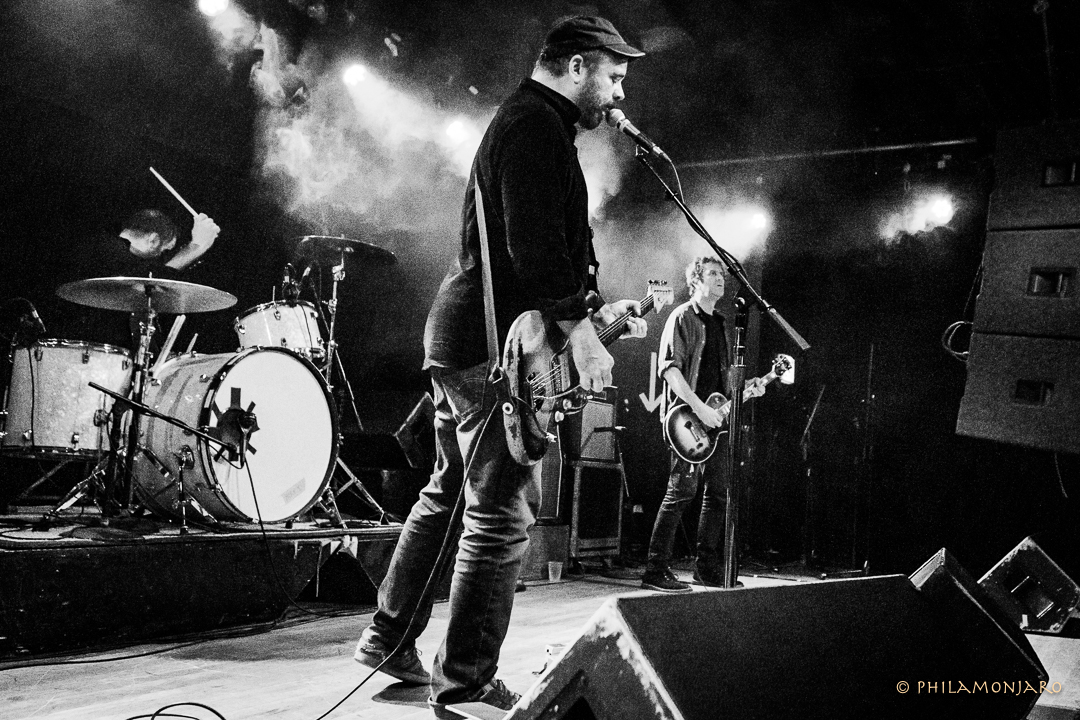 Swervedriver
Bottom Lounge, Chicago, IL
October 28, 2019
Following a ten-year absence, '90s alt-rock groundbreakers Swervedriver unparked in 2008. By the time of 2015's I Wasn't Born to Lose You – the Oxford quartet's first album in 17 years – it was clear that frontman Adam Franklin and co-guitarist Jimmy Hartridge weren't dabbling. The album featured worthy setlist additions like "Lone Star," and paved the way for 2019's even better Future Ruins. The resurgent band has been hard at work on the road this year, and Chicago-based fans who ventured out on a damp and frigid Monday night were rewarded with a show at the Bottom Lounge that demonstrated how seamlessly the band's long arc stitches together. The setlist drew nearly equal portions from indelible early favorites Raise (1991), Mezcal Head (1993), and the new album, hitting all stops in between.
Franklin strode onto the stage and retrieved his battered Fender Jaguar, as Hartridge donned his Gibson Les Paul and faced his daunting array of effects pedals with beginning cascading Future Ruins track "Mary Winter." Supergrass veteran Mick Quinn provided a melodic subcurrent on bass and a sure foundation alongside drummer Mikey Jones. The song was a concise summary of the band's strengths. Swervedriver's shoegazer roots were evident, but the band's enveloping hum wasn't served at the expense of captivating rock grooves or layers of hooky guitar and vocal lines.
Jones' crashing rhythm propelled the intertwining guitars of Mezcal Head's "Never Lose That Feeling." Quinn's vocal harmonies heightened the sparkle and heady drone of "Setting Sun." With Franklin's otherworldly surf-guitar tone, the 1998 title track "99th Dream" represented the band's last album before its long break. Franklin's lyrics about "space travel, rock and roll" rose above the ecstatic cacophony and provided an apt description of the glorious noise.
Aside from frequent offerings of simple thanks, Franklin and the band let the music do most of the talking. "Thanks for welcoming us to your city," Franklin said before downshifting the furious tempos for the cavernous clatter of the brooding and drowsy "Future Ruins." It wasn't that the band didn't know they were in Chicago, but no one could have blamed them for being a bit road-blind after 13 straight shows with no days off amid a very long tour.
The four musicians nonetheless lashed into the hard-charging V8 roar of Raise's "Son of Mustang Ford" with every ounce of adrenalin, and the extra spark of Hartridge's sinewy guitar lead. Franklin's and Hartridge's guitars meshed into a single, super-heavy sound for "Sandblasted." The band's sheer force and distorted rush of air underscored the repeated question, "How does it feel?" Answer: It felt like sound with mass and heat.
With Quinn's gliding bass and subdued but lovely harmony, Future Ruins track "The Lonely Crowd Fades in the Air" stood as a highlight on par with the band's classic favorites. Jones' stuttering rhythm drove vaulting energy fueled by tuneful tandem guitars. The album's "Drone Lover" shimmered, jangled, and hypnotized. Hartridge swapped guitars for a Jaguar and thick slices of overdriven melody during the weather-beaten but hopeful "For a Day Like Tomorrow." "What I wouldn't give for a day like tomorrow," sang Franklin while playing an icy guitar line dripping with echo and reverb.
The main set concluded with the one-two punch of Raise's "Deep Seat" and Mezcal Head's "Duel." A generous encore reached back to Ejector Seat Reservation's "The Birds" before lurching into the grim and troubling dreams of "Last Train to Satansville." The show concluded with one last slice of shoegazer bliss with the vacuum drone of "Rave Down."
Swervedriver has held onto its cult of '90s survivors by remaining true to its adventurous core sound, while still pushing it forward. If the reinvigorated band encounters future ruins, they're surely ready to construct new sonic cathedrals upon the foundations.
Review by Jeff Elbel; Photos by Philamonjaro
SETLIST:
1.  Mary Winter (2019) Future Ruins
2.  Never Lose That Feeling (1993) Mezcal Head
3.  Setting Sun (2015) I Wasn't Born to Lose You
4.  99th Dream (1998) 99th Dream
5.  Future Ruins (2019) Future Ruins
6.  Son of Mustang Ford (1991) Raise
7.  Lone Star (2015) I Wasn't Born to Lose You
8.  Sandblasted (1991) Raise
9.  The Lonely Crowd Fades in the Air (2019) Future Ruins
10. Drone Lover  (2019) Future Ruins
11.  For a Day Like Tomorrow (2015) I Wasn't Born to Lose You
12.  Deep Seat (1991) Raise
13.  Duel (1993) Mezcal Head
ENCORE:
14.  Think I'm Gonna Feel Better (Gene Clark cover)
15.  The Birds (1995) Ejector Seat Reservation
16.  Last Train to Satansville (1993) Mezcal Head
17.  Rave Down (1991) Raise
Category: Live Reviews