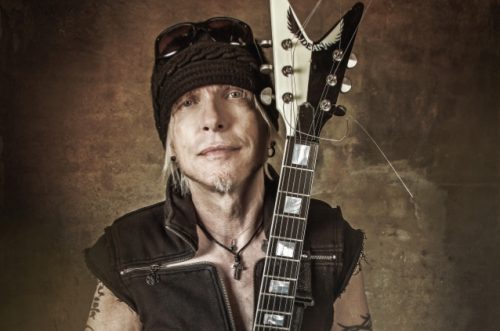 German guitar pioneer Michael Schenker returns to Chicago's Concord Music Hall on May 4th for the second leg of his Resurrection Tour with his current band, Michael Schenker Fest. The 64-year-old ex-UFO and ex-Scorpions fret wizard has been dazzling audiences for nearly 50 years. Michael Schenker Fest's 2018 debut album, Resurrection, was well-received by fans and critics alike, leading to successful tours of Japan, Europe, and the UK. The album reunited Schenker with former MSG (Michael Schenker Group) vocalists Gary Barden and Graham Bonnet, plus Robin McAuley of the McAuley-Schenker Group, as well as Doogie White of Michael Schenker's Temple of Rock. The success of that album and tour persuaded Schenker to record a follow-up album entitled Revelation, set to release on August 23rd through Nuclear Blast.
Mosh:  What does the title of the new album Revelation mean?
Michael Schenker: Revelation means to do something unknown to people. So after having lived for half a century of being a musician, there are many revelations. In general, it's based on; "be true to yourself, and everything else will be added unto you and more." That's the revelation of after being true to myself after all these years; I know who I am now. I wanted to carry on experimenting with music and carry on with pure self-expression. To do all these crazy albums I did, I couldn't have done that with Scorpions or UFO. They were on a different, more commercial trip. I decided not to be part of the commercial machine and be true to myself.
Mosh:  How did you approach the writing of the new album?
M.S.:  The same way I always write. The same way we wrote Resurrection. As the years go by, you always have to deal with different circumstances. For instance, one brutal situation was that our dear friend and great drummer, Ted McKenna, passed away on the 9th of January during recording and getting ready for this tour. He went into the hospital for a routine operation and never came out again. It was just a routine operation, and that makes me really mad. You don't know how to deal with that [in] any way. The only way I can deal with it is when fans watching say, "Michael, keep on rocking." That's how I move forward. The album cover also will tell you the whole story; the picture tells it all. I'm a musician; I'm an artist. I have plenty of ideas; Rock is not dead for me. For me, rock is dead when I'm dead. The whole thing with the Michael Schenker Fest was after the Michael Schenker Temple of Rock; we needed a break. And after the break, I thought [about] what I could be doing next. So, I wanted to make a new album. It's celebration time. My life structure is different from many people, so I started writing these songs, and we finished it. We just had a listening party with the international press invited, and they loved the album. One journalist said that Resurrection made him happy, and Revelation makes him want to party!
Mosh:  While Ted is irreplaceable and deeply missed,  you've reconnected with drummer extraordinaire Simon Phillips, as well as Bodo Schopf, both of whom you've played with previously.
M.S.:  The great thing is, Simon's part of the MSG family, so we have both drummers involved, and it's fantastic. I was blown away with Simon doing the drums, he's one of the best drummers in the world, and Bodo Schopf is really good. I took him to the UK, and we worked a lot to make those 150 minutes (stage time) flow for the second leg of the Resurrection tour.
Mosh:  How did the tracks with the guest vocalists (Gary Barden, Graham Bonnet, Robin McAuley, and Doogie White) come about?
M.S.:  Doogie was calling me asking when we were going to carry on Temple of Rock, and I said why don't you join the Michael Schenker Fest? That was a great step. At that time we were working [together] for five years already, and Doogie has already written a few hits from that period. Everybody is basically singing their own songs, except when it comes down to the old songs where we don't have the original singer there. It's more of the celebration part of the show, and it sums it all up and reminds people of where I come from [musically].
Mosh:  You also have vocalist Ronnie Romeo from Ritchie Blackmore's Rainbow as a guest on one song?
M.S.:  We were aiming for four "all songs," where everybody sings on one song. So basically we did three songs, [but] I dropped all the ideas of the guest list that I had because of Ted's passing. Everything became more stressful. It takes a lot of work to invite guests and explain what needs to be done.  So, I said to Michael Voss, the co-producer, scratch the guest list, we didn't have time for that. But then when we came to the fourth "all song," it became complicated to complete it. And Michael said to me that he had just worked with Ronnie and he could ask him if he wants to sing the song and then we have a guest. Ronnie was really happy and delighted to do it, and it ended up being really good. So suddenly out of nowhere, we had [another] guest on the album.
Mosh:  As you mentioned, you co-produced the album with Michael Voss. What was your collaboration like on Revelation?
M.S.:  I have a vision, and it's like making a movie. I have to be like the director, somebody who has the blueprint of the whole thing, so that's what I have. So, when I come into the studio, Michael does not know what he's going to hear. I just put [up] a rough take for the tempo and then I play the first part of the song, then the second part, then eventually I play all the other parts to it. Then Michael starts slowly digesting what I'm giving him; then we put together the blueprint. He's an incredible programmer; he has really good ideas. He can immediately do things when I ask him to do something; he puts the idea into reality. I put it together as much as I can, and of course, Michael gets inspired and comes up with additional 'out of the blue' ideas, which are always fantastic. We complement each other, and it works really well. We've been doing this for almost a decade now.
Mosh:  Will you be doing any new numbers from Revelation on this tour?
M.S.:  No, that's why it's called the Resurrection tour. We're just focusing on Resurrection and the past. We took some songs out from the last leg and added some new ones. We're not doing anything from Revelation until we've finished with this second leg of the Resurrection tour. So, America won't hear anything from the Revelation album until we come back, which will be after we've done Japan, Europe, and the UK.
Mosh:  From the beginning, Chicago has always loved you. What's your favorite thing about playing here?
M.S.:  Chicago has great fans. It's always great to play in front of a lot of hardcore fans, and Chicago is a place where I have many hardcore fans – I guess because of Strangers in the Night and UFO. For us, Chicago and Los Angeles, has always been great. Bands sometimes have certain areas [of the country] that fall in love with [them] more than others. At this point, things have become pretty equal, and it's a universal thing. It's about music. It's the language, and it doesn't matter what city, it just matters who is coming to the show. And it's always fun to play in front of hardcore fans. It's also fun to play in front of newcomers and curious people who have heard about it. To see the reflection in the audience's eyes, especially if you have a lot of them who have been with you all of your careers, it makes a big difference. It's a lot of fun.
-Kelley Simms
Appearing May 4 at Concord Music Hall, Chicago 
Category: Stage Buzz