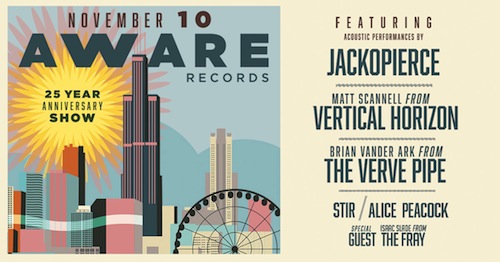 It's a Family Affair: Aware Records 25th Anniversary Celebration
"It just felt like the right timing," said Aware Records Founder/CEO Gregg Latterman of this Saturday's 25th-anniversary show at House of Blues (Friday, November 10). "It was a combination of coincidences, running into people, and thinking, 'why not bring all these great people together in one place and celebrate where everyone is in their lives?'"
Although it's only been a few years since Latterman pressed the "stop" button on the label and his artist management company A-Squared, Latterman found himself reminiscing about all the people he had worked with and artists whose careers he had helped launch, and 25 years seemed like a good reason to reunite some of them. More like a family reunion, actually.
Chicago music scenesters from the late 90s-'00s and fans of artists like John Mayer, Mat Kearney, Train, and Five For Fighting are familiar with the successful indie label, which focused on singer/songwriters and folk/Americana-influenced rock bands. The management arm came later, guiding the careers of some of the label's artists, as well as Brandi Carlisle, Liz Phair, Michelle Branch, Motion City Soundtrack, Brendan Benson, and A Rocket to the Moon.
Performers taking the stage this Saturday will include Jackopierce (Jack O'Neill and Cary Pierce), Matt Scannell of Vertical Horizon, Brian Vander Ark of The Verve Pipe, Isaac Slade of The Fray, Andy Schmidt from the band Stir, and just added is Nick Santino from A Rocket To The Moon.
Latterman was surprised to hear from Issac Slade since they had experienced a legal bump on their road together involving publishing rights. "How often do people sue each other in federal court and then say, 'Hey, can I play your show?' But time passes, we've reconnected, and now we want to celebrate the good stuff we did together. Some business stuff got bumpy, but as someone said to me once, 'When you play in the major leagues sometimes you get hit in the face with a fastball!' We dusted ourselves off and went back in the game.'"
There was a time when you'd hear many Aware artists on the radio on an hourly if not daily basis. But the music industry has changed, and whether it's consumer-driven or industry driven is a chicken-and-egg argument.
"Hip-hop and Rap that's the biggest pop music today," Latterman mused. "But I think great music still finds its audience. The labels don't have that power anymore and haven't had it for a long time. Twenty or thirty years ago the labels and industry were the gatekeepers, but now consumers decide what they want to hear and when. By the way, I think it's healthy. My kids listen to Hip-hop and Rap. It's not what I listened to growing up, but it's a new world. There's always going to be more music out there, and it's up to us to find the good stuff."
In addition to teaching entrepreneurship at Northwestern University and doing some angel investing, Latterman is about to launch a pretzel company called Positive Pretzels, which will be sold in midwest Whole Foods stores starting December.
After so much success, has he left music behind for good? "I tell people right now I'm not in the day-to-day music industry," he said. "Aware isn't releasing any new music, but I can tell you that could change at any moment. I love music, and I still talk to artists every day. It's just been a matter of timing, I wanted to be around my family and not travel around the world for a while, and so stopped putting out records and managing artists, but that could change."
Aware Records 25th Anniversary Show is this Saturday, November 10th.
-Penelope Biver
Category: Stage Buzz