Riot Fest continues its tradition of solid, left of center bookings for the 2018 version of the hometown festival that returns to Douglas Park September 14-16.
This year's fest brings a bevy of artists across dozens of genres on five stages including "First Wave" headliners including Blink-182 and Beck (with a third to be revealed during Riot Fest's second wave lineup announcement, coming in a few weeks). From Sun Studios legend Jerry Lee Lewis and a post-punk man of many rock hats Elvis Costello to the socially-conscious rhymes of Atmosphere to the mainstream rock sounds of Young the Giant, there is indeed something for every music lover.
Though there aren't any blockbuster reunion acts this year like a Misfits or Replacements, the undercard may be it's strongest in years, including Smiths co-founder Johnny Marr, Chicago's Jesus Lizard, Digable Planets, Liz Phair, and L.A'.s pioneering punks FEAR.
RIOT FEST 2018 FIRST WAVE LINEUP:
Blink-182, Beck, Elvis Costello & the Imposters, Incubus, Young the Giant, Interpol, Blondie, Alkaline Trio, Father John Misty, Jerry Lee Lewis, Dropkick Murphys, Bleachers, Atmosphere, Flogging Molly, Cypress Hill, Bad Religion, Underoath, Matt and Kim, the Jesus Lizard, Sum 41, the Voidz, the Front Bottoms, Twin Peaks, K.Flay, Suicidal Tendencies, Bullet For My Valentine, Clutch, the Wonder Years, Digable Planets, Liz Phair, Cat Power, Gary Numan, Killing Joke, Hot Snakes, Wolfmother, Moose Blood, SWMRS, Johnny Marr, Superchunk, JD McPherson, Reignwolf, Lagwagon, Pussy Riot, FEAR, Andrew W.K., GWAR, the Aquabats, Hobo Johnson & the Lovemakers, Face to Face, the Exploited, the Bouncing Souls, Dillinger Four, Conflict, Piebald, Adolescents, the Avengers, Cobra Skulls, HEALTH, Calpurnia, Kevin Devine, the Frights, the Districts, Arkells, the Audition, Spitalfield, Flor, Speedy Ortiz, Bully, Lower Class Brats, Total Chaos, the Fever 333, Direct Hit!, Mom Jeans., Mannequin Pussy, Pronoun, Beach Goons, the Bombpops, Badflower, Save Face, Super Whatevr, Beach Bunny, No Small Children, and featuring Hellzapoppin' Circus Sideshow Revue

For Tickets: Click on the Link> HERE
For Ticket Layaway Visit Riotfest.org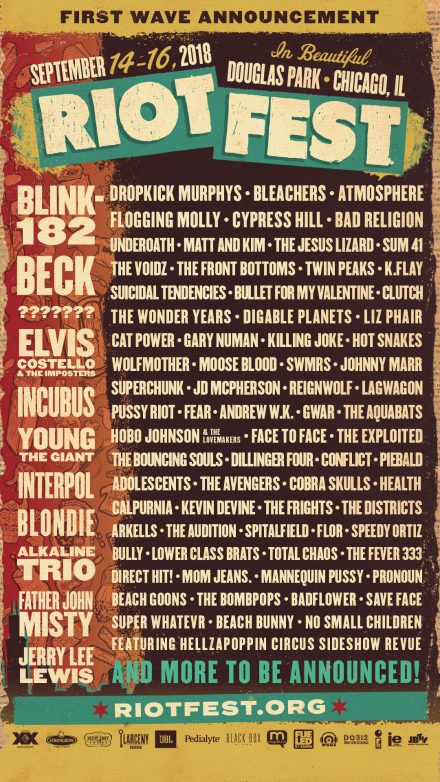 IE is a media sponsor for Riot Fest 2018
Category: Stage Buzz