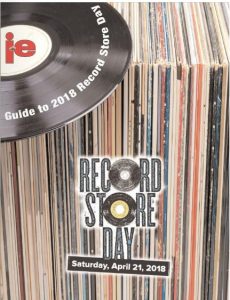 Record Store Day "goes to 11" in 2018 (eleven years and counting)! Though it has had its share of critics over the years – mainly because of overpriced "limited editions" for some titles, and "vinyl touts" flipping the good stuff online soon after the event is over – it's hard to argue with the thrill of lining up on a Saturday to snag some physical music with like-minded vinyl fanatics. It's a tradition now.
It's hard to single out individual releases because there is so much good stuff, but since our car still has a tape player, we're hoping to grab AC/DC's Back in Black on cassette (yes on tape!), plus Sly & Robbie's (with Junior Natural) Militant Dub will satisfy our post 420 Day reggae celebration.
Most stores will post their RSD titles on their Facebook pages or websites 24 hours before the sale on Saturday, April 21. It's not financially feasible for stores to carry every title, so have patience with your local store if they don't have all the titles you're seeking. While nobody's getting rich in this business, it's still a great tradition to gather once a year (and sometimes on Black Friday in November) to celebrate our love of music and vinyl.
Click on the link to see the guide.
Category: Stage Buzz