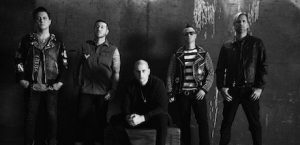 Avenged Sevenfold frontman M. Shadows easily remembers exactly where he was and what he was doing when he received the remarkable news a few weeks ago. And it was the last bulletin on Earth he was expecting. "I was laying in bed, and I was checking my morning e-mails when I saw a 'Congratulations' from our manager," says the SoCal-based singer, who was quickly jolted completely awake that day, no coffee required. "And I was like, 'What the heck?' I thought it was a joke at first, but I jumped online, Googled the information, and there we were. And we've had a few #1 records and some big singles, but never once had even a hint of anything like this. I just thought it was never going to happen."
Yet here the band is, prominently featured on the recent list of Grammy nominees, up for this year's Best Rock Song for the squealing title track to its latest sonically-adventurous outing for Capitol, The Stage. And the usually unflappable Shadows was duly dumbfounded. Over a career spanning 18 years and seven studio albums, he was grateful for all the acclaim he'd gotten from diehard fans, plus a booming merchandise business revolving around the group's canny winged-skull logo the Deathbat, a go-to T-shirt design for any serious metalhead. "But we kind of thought that we had just been forgotten by the Grammys, that we just weren't in the Grammys club," he sighs. "But then to get the nomination all of a sudden, on a record that was critically-praised but difficult for the fans to digest? It was justification for us – or verification – that we'd made a cool record, that people in the industry liked it, and they proved it to us with their vote to put us in the Grammys. It was a huge honor."
And The Stage certainly stands out among 2017 hard-rock releases. Clocking in at over 73 minutes, it's an ambitious concept album with planet Earth as the so-called stage and narcissistic, artificial-intelligence embracing humankind as its ostensibly doomed protagonists. With cold, clinical precision it examines esoteric subjects like nanotechnology (a chugging "Paradigm"), still-looming atomic-age implications (the punchy "Fermi Paradox" assault, a Middle-eastern-filigreed "Sunny Disposition"), a Richard Dawkins/Christopher Hitchens-inspired case for clear-headed atheism (a bluest "Angels," the snarling "God Damn" anthem, the slow/fast metalcore staple "Creating God"), and a 15:41 Rush-exotic centerpiece, "Exist," that's rooted in the Big Bang theory – the real universe-spawning one, not the goofy TV series. To underscore its deep-thinking points, the disc even employs prickly horn sections, velvety strings, and a just-issued expanded edition showcasing the group's equally-elevated musical influences with covers of Del Shannon's "Runaway," Mr. Bungle's "Retrovertigo," The Rolling Stones' "As Tears Go By," The Beach Boys' "God Only Knows," and Pink Floyd's "Wish You Were Here." Also included: Four Stage tracks, recorded in concert at London's sprawling 02 Arena.
"Well, I like our taste in music," explains Shadows, 36, of the new bonus cuts, which might surprise some thrash-minded followers. "And as songwriters, one thing we've never stopped doing was dissecting great songs, and seeing how the chords are put together, the key changes, the modulations, and how much an arrangement helps the song. And I think sometimes in heavy metal we get so focused on throwing heavy guitars into everything that you lose a lot of those dynamics. You lose that real human feeling that humans connect to." And when you break down a "Runaway" or a "Wish You Were Here" to its most skeletal elements; he adds, only then can you appreciate its true splendor. "And you can see that, beneath it all, those songs do everything right, everything perfectly. And there's a method to that madness – it's not just these crazy musicians throwing together whatever they want. They know this way to do things correctly, so I think you can only learn from those guys."
Ergo, there's a great deal of artistic growth within Avenged Sevenfold, which started out back in 1999 as a bunch of California buddies from Huntington Beach, with their current – and sound-defining – guitarist Synyster Gates only joining after Sounding the Seventh Trumpet released in 2001. By its third set, 2005's City of Evil, the initially-indie outfit was snapped up by major imprint Warner Brothers, leading to a Best New Artist trophy at the 2006 MTV Video Music Awards. On its self-titled 2007 follow-up, the group was already tongue-in-cheek mocking the illusion of music-industry popularity with singles like "Critical Acclaim."
But the pitbull-gnashing Shadows (born Matthew Charles Sanders, who adopted his stage name to cultivate an air of mysterious menace) had already begun upping his vocal game by regularly seeing a top-flight vocal coach who had tutored two of his heroes, Axl Rose and the late Chris Cornell (whose signature primal wail Shadows' often closely resembles on The Stage). "I've been working on my vocals for the last 12 years with Ron Anderson, and I've finally gotten to a place where I'm singing more in the 'head voice,' which is a much safer place to sing from than the bottom, in singer-speak," says the rocker. He underwent vocal surgery in 2003 after repeatedly bursting blood vessels in his vocal cords. "And once that (operation) happened, I had three weeks of no talking and about six months of recovery, so I went to Ron, which was the greatest thing I ever did in my life. It took me years and years, but I learned the true technology of how to sing, so now I'm singing from the top, and I have much healthier vocal cords – it's all about dealing it in and treating your voice more like an athlete; like a sport. You've really got to take care of it."
From the iconic Deathbat insignia alone ("They call it the 'Nike swish' of hard rock, but we just always enjoyed bands with logos, like Megadeth, Iron Maiden, and The Misfits, and we wanted to be represented by a logo, not necessarily the band name," Shadows elaborates) you might expect Avenged Sevenfold's leader to be a bit vampire-like himself, or at least as ominously spooky as his name implies. He is none of these things. In fact, he's far less Tim Burton's neighborhood-rattling *Edward Scissorhands and more like the warm, friendly pastel neighbors depicted in the film. A real backyard-barbecuing, family guy whom you wouldn't mind living next door to. Okay, well maybe a cookout is pushing it. But the man is well-read, conversational on almost any subject, and admits that collecting Bitcoin is his only real vice. "I've really gotten into cryptocurrencies, so I've been collecting Bitcoin for about 20 months now, and obviously it's really been taking off recently, so it's been fun," he says.
Shadows and his wife Valary (whose sister is married to axeman Gates) have two sons, and he lives for his kids, dropping them off and picking them up every non-tour day at school, giving them drumming and skateboard lessons, and even introducing them to old-school collectibles from his childhood, like Pogs. Yes, that's right, he repeats. "Pogs, the classic betting/gambling game! I remember when they got banned from school when I was younger, and that just killed it. So I went online on e-Bay and bought a bunch of Pogs and Slammers and started playing them again with my kids. So I've been collecting them again because everyone's selling them now." All told, however, the singer has no concrete internet presence to speak of. He eschews – make that loathes – all social media, and refuses to take part in the spectacle of self-absorption that is Twitter, Facebook, and Instagram. And he's particularly horrified that Russia used America's fascination with placing propaganda on these platforms to disparage Hillary Clinton in the last presidential election.
"And it totally worked," Shadows snaps. "Do you know how many friends I had that had showed me these memes on Facebook? And they literally believed those things, even though it was all just Russian stuff – stuff that was stoking the fire. They were able to find these groups that would throw 'Black lives matter' in the face of the alt-right, and throw gun control in the faces of others, until all of a sudden, you've got everybody pissed off at each other, and it wasn't everyone doing it to each other – it was Russia. And that's disturbing. Really disturbing. I've never felt like I wanted to partake in social media, and that whole thing just reaffirmed my position on it – I just feel like it's a total time suck and a real waste of time." He knows he sounds like a misanthrope because many of his friends are online. "And they're probably all thinking, 'What a jerk – this guy thinks he's better than everyone else,'" he chuckles. "But that's not it – I just don't want to go down that rabbit hole."
Instead, Shadows and his wife spend their spare time doing Transcendental Meditation, the David Lynch-popularized practice that keeps their minds in tune with their bodies. Avenged's manager turned him onto it, and he hired another professional coach to come to the house and teach a proper course. And now – rather than getting emotionally bogged down in the daily news of rampant political corruption – he peacefully mediates. And in so doing, he says, "I've just embraced my children, I've embraced my family, and I've embraced a feeling of love. I spend more time with my family as I try to make a difference in this world in a positive way. And if you can get to that point, that's the way you can sleep at night – by understanding that you're not here for very long, and it's a gift to be able to open your eyes each morning. But part of the deal is, you have to go at some point, and that puts some perspective on your life and allows you to enjoy it."
Which brings us back to The Stage. Shadows' other favorite pastime – besides an admitted fixation with gaming – is reading. Non-fiction, almost exclusively, even difficult books on, say, string theory that border on being beyond his ken. He'd do well in a buzzing think tank – one of his primary joys is conversing with educated others who know more about just about any topic than he does. He's a rock star who loves to learn. So, his *Stage concoction is a heady one which includes the forward-thinking philosophies of Elon Musk, Kurzweil's Singularity theory — which posits that machines will soon outstrip man, intelligence-wise — and the writings of Sam Harris, who once predicted that A.I. would accidentally end human existence in the same offhanded manner that we might kick over an anthill just walking to our car in the morning. Add to this the legitimate prospects of rising sea levels and natural-disaster fraught climate change, and we're all facing a dark future, indeed. "And Kurzweil sees *The Singularity as a positive, but I see it as a very scary prospect, and as some major questions for humanity, about just how far we'll take it," Shadows opines. It's not some cyborg-rife *Terminator world that's coming, he adds. It's more like we will all become assimilated into a supercomputer mainframe, Borg-style, where our consciousness can essentially live forever, in a state of constant bliss. But who really wants to live forever, right?
"I mean, look, I'm talking on this (smartphone) device that was unthinkable 30 or 40 years ago," says Shadows. "And now the world has become so insanely tech-driven, who knows where this thing could go? It's definitely (??? missing word?), and I don't think people realize just how scary. So one of the reasons we wrote this album, honestly, was for people to down these rabbit holes, educate themselves on these things, and maybe figure some things out. Then they can make some informed decisions on what we're doing to this planet, and what we're ultimately going to be doing to each other." It's a tall order, he knows. "But we really wanted to spark a dialogue on getting some answers to these big questions."
Even though it had proudly signed to classy Capitol, Avenged Sevenfold didn't want to announce The Stage through any traditional channels. Instead, it hired a guerilla-marketing company to beam the identifiable Deathbat icon onto buildings around the world. The ploy worked. "People started sharing it on Instagram, going, 'What's going on? There must be a tour!'" Shadows laughs. "And then the next thing you know, we're playing on top of the Capitol Records building, and we drop a new album. It was just a fun way to bring a little bit of attention to ourselves."
As was another Avenged Sevenfold gambit on October 19, when the members reminded the Grammy powers that be of their existence by playing an intimate acoustic concert at its Grammy Museum, complete with strings. A portion of proceeds from the evening – now available on a digital album as Live at the Grammy Museum – benefits various education initiatives of the Academy, to inspire youth with music. Shameless? Shadows guffaws. "That's right!" he confirms. "We finally said, 'Let's play the game. Let's do something different, and do it for a good cause as well as the Grammys. And maybe they'll actually think of us!' And they did, which was great. And when we got the nod we said, 'Hey – let's just put this recording out real quick. We record everything we do anyway, and we think the fans will love it.' So it was a present to our fans because we were so excited about getting a Grammy nomination."
And make no mistake, the band members are counting down the days to that Grammy ceremony. "It's in New York, and it sounds like it's going to be a great time, so we're excited to go, and our wives are excited to go," Shadows enthuses. Is it tuxedo-renting time? "It's time for…for something. I really want to look cool. But I'll have my wife get on that and pick something cool out because I am not the most stylish person in the world. And my wife herself will tell you that!"
Appearing 1/25 Peoria Civic Center, Peoria, IL
-Tom Lanham
Category: Monthly