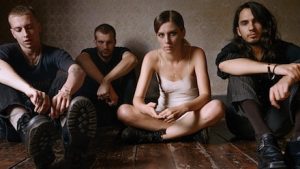 It's what every artist aspires to; one would imagine – a famous director one day finding their life so remarkable and their look so photogenic that it warrants its own documentary. But UK rocker Ellie Rowsell was just surprised that hers happened so fast, last year when her quartet Wolf Alice had only a single album under its belt, 2015's Grammy, BRIT Award and Mercury-Prize-nominated debut My Love is Cool. Still, when British filmmaker Michael Winterbottom – of The Trip and 24 Hour Party People renown – approached her management with the novel concept of following the group on tour for his new feature On The Road, she wasn't too flummoxed. "He wanted to know if we'd be interested in meeting up with him to discuss his idea, so we did, and it was all pretty casual," recalls the firebrand vocalist, 25, who's found herself at the forefront of a movement of female-fronted English rock outfits overseas that includes The Big Moon and Pale Waves.
Winterbottom wanted to replicate the casual, offhanded style of director D.A. Pennebaker's classic 1965 study of Bob Dylan, Don't Look Back. "So he told us, 'Just carry on doing what you're doing, and I'll work around you and do my thing,'" recalls Rowsell, who also understood that Wolf Alice concerts would provide the backdrop for a loosely-scripted storyline of a millennial couple – played by virtually unknown young actors – falling in love backstage. "So I don't know how much the movie comes across like that, but that's what we all agreed to, anyway – we were just the setting for these two characters."
The Wolf Alice members (including guitarist Joff Oddie, bassist Theo Ellis, and drummer Joel Amey) finally got to view Winterbottom's finished product at a British Film Institute premiere screening. And they found it odd to see themselves immortalized on celluloid, just as sonic experiments were beginning for their stunning new sophomore disc, Visions of a Life, which they're currently back in the States promoting. "And I guess it's always weird to have a camera in your face, if you're not friends with the person behind it," is Rowsell's theory, in retrospect. "So I don't think you can ever really be yourself. So [Winterbottom's] task was to get everybody to act naturally in front of the camera. And for me, personally, I just tried to ignore the fact that the camera was there, but not to the point where I let myself do anything incriminating." So when America eventually gets the chance to see On The Road, she warns, don't take it as Wolf Alice Gospel: "It's just one side of our touring – you're never going to see them all."
Of all the bands at his fingertips in England, why had Winterbottom chosen this particular one? A chair of serendipitous coincidences that mounted up, apparently. First, he loved their staunch work ethic – Rowsell and Oddie had started an acoustic duo in 2010 and happily paid their dues playing every UK pub they could in what Rowsell laughingly terms "the toilet circuit" (and the quartet logged 147 dates in 2016 alone). Second, he was impressed that they'd taken their name from Angela Carter's surreal reworking of vintage fairy tales, The Bloody Chamber – his first gig was doing research for the enigmatic author. And third, he was a huge fan of their youthful energy and their vibrant, punk-edged songs, like squealing debut single "Fluffy" and the powerchord-pounding ballad "Moaning Lisa Smile" (which earned that coveted 2016 Grammy nod for Best Rock Performance). And he was on the money – Rowsell truly is a superstar just waiting to happen, and an exhilarating inspiration to girls across Europe to pick up a guitar and start playing, just like she did in her early teens.
Pale Waves bandleader Heather Baron-Gracie – who, like Rowsell and company, is signed to The 1975's posh imprint Dirty Hit – is a huge Wolf Alice booster. "I think they're an amazing British band, and Ellie as a frontwoman is just taking over right now," she observes. "And more women are coming out of the shadows now, and I feel like the industry really needs that. At our shows we get a lot of girls coming up to us, saying that they wished they played in a band, too. And we're like, 'Go and do it! Find other people, learn an instrument, and just do it!' There really needs to be more of us. Because sometimes, men don't seem to like women to play music. And Ciara, our drummer, gets that quite a bit. But I think a lot of people underestimate us as musicians. And I'll slam into my guitar just as hard as any bloke will, and Ciara will just smash those drums. And yet we'll play with such technical precision that it shocks a lot of men."
Another Wolf Alice acolyte is Juliette Jackson, of London all-girl foursome The Big Moon, whose Love in the 4th Dimension debut was snapped up this year by classy company Fiction. She grew up idolizing Aussie male upstarts The Vines but never once considering forming a band herself. "I felt like there wasn't a place for girls in groups because I hadn't seen or heard any," she recalls. Then she caught her first White Stripes concert at 14, saw Meg White pounding her percussion with an animal ferocity, and started learning six-string the next day. "And now we get a lot of young girls telling us that they bought, say, a drum kit because they saw us in a band," she adds. "And that's just amazing. It makes me feel…useful, you know?"
Baron-Gracie – whose Pale Waves is only three singles old – already has an army of young women in the audience who meticulously copy her silent film star look, down to every last cloud of Clara Bow eyeshadow. She calls them her "mini-Heathers," and sometimes they've commandeered her Gothic fashion sense so completely, she's taken aback. But such is the nature of this women-who-rock groundswell – if 20-somethings of Jackson and Baron-Gracie's generation had few female artists to idolize, it stands to reason that the following generation – once they discover Wolf Alice, Pale Waves, and The Big Moon – will adopt them with an unparalleled passion in this shallow Vice/X-Factor/American Idol era. None of this is IKEA-prefabbed in cold, clinical hitmaking Sweden. These are real women, writing and recording their own music, each with something diverse and original to say. "And Wolf Alice are not only great people – we've met them several times – but their new album is just amazing," praises Baron-Gracie. "I can't wait to see where they go from here."
Rowsell's own style is difficult to pin down. She's recently lopped her long blonde hair into a Suzi Quatro-chic shag, and she's traded her signature babydoll dresses and scuffed Doc Martens for a more Americana look of black stovepipe jeans and white cowboy boots. And on Visions of a Life, she puts in a performance that's positively schizophrenic. On the ethereal opening track "Heavenward," she wafts over the dreamy galloping mix like some 4AD veteran, but on track two, "Yuk Foo," she's spitting venom like a cobra in defense of female empowerment. Track three, she morphs into a finger-popping, bullet-miked R&B diva, while lyrically noting that "conversations test my patience." The shambling "Don't Delete the Kisses" finds her in chipper '60s-girl-group mode; a chiming "Planet Hunter" puts her up front but echoey, in classic prog-rock spaciness; the hip-hop-thumping "Sky Musings" pushes her into a whispery but becoming spoken-word rap; and her whisper graduates to a full-blown banshee scream on the funky "Formidable Cool." Rowsell's range keeps right on expanding, into the New Wave perfection of "Space & Time," the church-choir reverence of the conversely steamrolling "St. Purple & Green," and the madrigal respect she displays on the Renaissance-fair-ish fable "After the Zero Hour."
Rowsell swears that she and her bandmates didn't feel much sophomore pressure. In between albums they'd kept busy with the one-off, wah-oohed single "Baby's Not Made of China," and the racket-buzzing cut "Ghoster," which they were invited to write specifically for the soundtrack to the recent all-girl Ghostbusters reboot. "I haven't seen it, but I was told we weren't even in the movie in the end," she sighs, happy to have made the album, at least. "But it was still cool, in that it was nice to be asked, and really nice to write something expressly for an actual script. We'd never done that before. But I just felt like I'd come a long way since writing the first album so I didn't feel worried about how I would follow that up. I already felt a lot older – and a lot better – than I was on My Love is Cool."
The artist in her also understood the often cruel way the music industry works – that you've had an out-of-the-box hit with your first album, a percentage of your audience will be prepared to instantly despise your second, no matter how good it is. "Or even if they secretly love it," she snaps. "And that's quite nerve-wracking." So she refused to set aside any pockets of time designated for composing, and instead to keep touring – making Winterbottom's rockumentary along the way – and glean inspirations as she experienced them. "I just waited for life to unfold so I could have something to write about, so there was never this sense of panic," she says.
Not that the singer likes explaining said inspirations. Mention to her that certain words keep recurring on Visions of a Life, like 'crash' and 'fear,' and she responds warily, almost protectively. "I think sometimes when you're living life at full speed, you get worried that it's all going to burn out, or come crashing down," she eventually decides. "Or I guess that's what I seem to think. Being in a band is sometimes very, very high octane if you will, and sometimes you do crash and burn. And there's that old cliché where you come off touring, go back home, and everything's the same. You're no longer waking up every day in a different country, so sometimes it's quite hard to come back down to waking up in your own room every day. And with not that much, and not having any idea what your schedule will be or what to do with yourself. So that can be pretty disconcerting, overall."
Mention the astral motif sparkling in some of the material, and Rowsell still isn't especially forthcoming. She's not star-gazing or looking upward, she explains – she's staring inward instead. "Because that's where the most interesting things are, and I already know how to channel all the outward things. But writing like I do? Well, art is a really good way to put your true feelings down." Who is the fashion-victim antagonist of the pop ballad "Sadboy"? She thinks about this before allowing, "Well, it could have been sadgirl." Who – or what – is the "Planet Hunter"? She cackles. "That's for you to figure out – I think for me to tell you right now would just be boring. And if I come to any conclusions? I put them into song. I'm not kidding. So it's always left to the listener to figure. And otherwise, I'll go to therapy if I ever feel like I really need to come." In fact, there's only one moment when she comes totally clean about her metaphors when discussing the "Girl who refused to die" in "After the Zero Hour." "Okay, okay – it's me," she admits, begrudgingly. "I was just writing a little story. I just think songs are musical manifestations of my thoughts and feelings, and sometimes I just have to find another way of saying things."
Ergo, Wolf Alice eluded the dreaded sophomore jinx by simply ignoring it and writing more and more material, with Rowsell giddily pushing into all of the aforementioned stylistic digressions. "We're a hard-working band – we channeled all of our energy into writing and rehearsing," she declares, proudly. "I think we were a lot braver on this record, and we were afforded more time, so we weren't under any time constraints. So we'd do something, and if we liked it we moved on, and we started to experiment, as well. But I just think that when you've done something once before, you learn from those experiences. I mean, I wouldn't change anything about My Love is Cool, but I know now about things that I could have taken it further, and I think I just feel more confident. I'm not really sure how to put it into words, but I guess I just fit into my body a lot better and I feel a whole lot braver."
So emboldened, in fact, that the star is fledge-flexing some new political wings that she'd never attempted before. Wolf Alice just played July's Tories Out March in London, protesting Britain's new conservative government, and she even led the crowd in a pro-Jeremy Corbyn chant. And last December – with like-minded fellow UK performers Slaves, Peace, Swim Deep, and Years & Years – they also organized a series of charity concerts called Bands 4 Refugees, and Rowsell herself even taped a pro-Labour video urging young people to vote. She doesn't fully comprehend how to use her activist voice, she cedes. "But you do start to realize that you have a lot more power than the people in power. And sometimes things become so desperate that it's difficult to let them slip by without trying to use your power."
With her dual role as the de facto leader of a new women's movement in England, what wisdom has this Wolf Alice anchor learned that's worth imparting to followers? She's not sure; she demurs – she hasn't acquired enough 20/20 hindsight yet. "But there are a few old clichés that hold true," she says. "I only regret the things that I didn't do, I treat other people the way that I'd like to be treated, and I pay close attention to my aesthetic sense – they give me my lust for life.
"But I think with some hindsight, that movie On the Road will be a nice thing to look back on. It's still pretty fresh, and we're still playing those tunes, so I don't look at it now and feel nostalgic. But ten years or so from now? I think we will really value that movie."
– Tom Lanham
Category: Featured, Features, Uncategorized