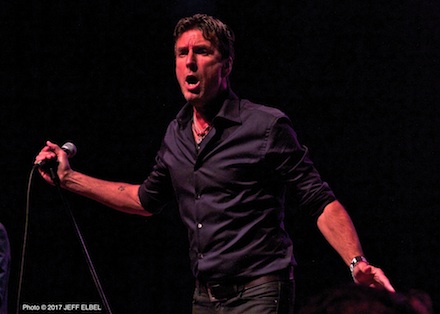 The Fixx at The Arcada Theatre
St. Charles, IL
Thursday, August 3, 2017
The Fixx brought its Cold War funk and classic, longstanding line-up to St. Charles for a strong turnout on a rainy Thursday at the Arcada Theatre. The band played a tight set packed with popular favorites from the '80s, but received spirited response for album cuts and recent material from 2012's praiseworthy Beautiful Friction. It was clear that while The Fixx may have helped to define the new wave sound of the MTV era, they weren't limited by their past.
The band began the evening with fan-favorite "Privilege" from 1983's Reach the Beach, followed by the grim war protest "Red Skies at Night." Highlights among the deeper cuts included hard-rocking wake-up call "Cause to Be Alarmed" and the questing and spare "Something Ahead of You."
Cy Curnin was in fine voice, scaling the peaks of songs like the stomping "Shaman" with power and agility. Throughout the show, he rallied the crowd toward connection with the band's socially-conscious pop with compact, secular sermons.
"The first thing you heard was your mother's heartbeat," said Curnin, heralding the Zen wisdom of "Saved by Zero." "No hate, only love. What happened? We're full up. Fed up. Time to empty out, make a little space for yourself. Back to your mother's heartbeat – fast."
Other preambles were light-hearted, but still held teachable moments. "Not so long ago, we were free of our phones," said Curnin. "Remember those days? Are we free of our selfies? Let's see." The band charged into the manic energy of "Are We Ourselves," joined by the audience for the song's call-and-response chorus. During Jamie West-Oram's electrifying and angular solo, the theatrically expressive Curnin bit hard into the guitarist's shoulder.
West-Oram had a great showing as well. He dug into fierce solos during songs like "Driven Out" and "Built for the Future," expanding them into hot showcases that exceeded the familiar recorded versions. His stylish work during an encore of "Secret Separation" revealed touchstones to other influential players such as Nile Rodgers, Queen's Brian May and Pink Floyd's David Gilmour. An inventive guitarist with a strong command of melody and tone, West-Oram deserves accolades as one of alternative rock's great innovators alongside names like Johnny Marr. "My life changed the day he walked into it," said Curnin of his brother-in-arms.
Dapper in his bowler hat and shimmering silver jacket, stoic bassist Dan K. Brown introduced the deep groove of "Chase the Fire" with pinging bass harmonics. His limber playing on five-string bass interlocked with Adam Woods' rock-steady propulsion at the drum kit to drive the danceable paranoia of "One Thing Leads to Another."
The mesmerizing title cut to Beautiful Friction featured Rupert Greenall's whistling keyboard lead, reminiscent of Mark Snow's soundtrack work for the X-Files. Greenall's performance on songs like "The Fool" included savvy use of technology, incorporating a computer and bank of synth controllers to conjure his spacefaring sounds. His icy tones, however, were full of life and humanity thanks to a gift for manual playing and abstinence from sequencers.
The main set concluded with the band's first charting hit, "Stand or Fall" from 1982's Shuttered Room. Crowd response spanning the 35 years between the band's politically-motivated early material and inward-looking songs from Beautiful Friction suggests a ready audience for new music waiting in the pipeline. They may have been formed in a singular era that trapped others in amber, but The Fixx themselves seem to have been built for the future.
-Gallery and Review by Jeff Elbel
Category: IE Photo Gallery, Live Reviews, Weekly