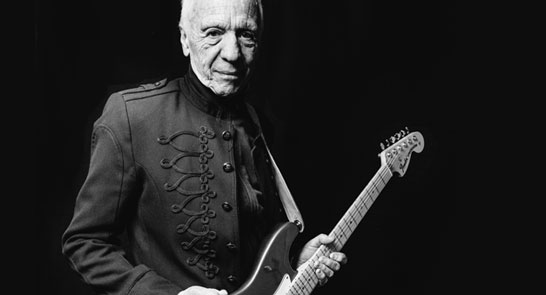 British blues-rock guitarist Robin Trower is a living legend. If you haven't heard of him by now, add his classic discography to your musical bucket list.
Respect is properly due, because Trower has become the workman, prototype British blues guitarist including his start in Procol Harum in the late '60s to a successful solo career beginning in the '70s along with projects collaborating with Bryan Ferry and Jack Bruce, in between.
Since 1971, Trower has redefined blues guitar playing. His powerhouse trio modeled after three-piece bands such as Taste (featuring Rory Gallagher), the Jimi Hendrix Experience and the rock's first 3-piece supergroup, Cream, influenced thousands of guitar slingers.  Trower's second album, 1974's Bridge Of Sighs, took the world by storm, settting the standard for progressive blues albums. It single-handedly influenced a slew of American blues guitarists for years to come.
On the soon-to-be released album Time and Emotion, Trower proves he still has the magic touch when it comes to wailing on his signature Fender Stratocaster. The 11 fiery tracks that grace the album follow the blueprint of Trower's distinct guitar style while the production contains a vibrant mix that allows each instrument to magically shine throughout. "I think the whole thing really is based around getting a good guitar sound," Trower began. "Then obviously, the drum sound is very important. I played a lot of the bass on it as well, so I got a good sound I like on the bass. It all has to fit well. A great guy named Livingstone Brown mixed the album and that's a big part of why it sounds so good."
Throughout Trower's career, he's been surrounded by stellar vocalists such as Gary Brooker, James Dewar, Bryan Ferry, and Jack Bruce. Not normally known as a singer, Trower admirably handles all of the vocals on Time and Emotion. It's a trait that he has become much more comfortable with now that he's been singing lead for the last couple of albums. "In the last two years I've started to write more songs that I felt are more personal to me," Trower stated. "So I decided I would try to do the vocals on them. I enjoy doing it because it's so much a part of the writing and the creating of the actual music."
Trower loves playing in the States and will return for a six week run starting on April 26 in St. Paul, Minnesota.  Making a stop at the Copernicus Theater on April 29, the 70-year-old Trower admits his fondness for Chicago audiences and the US in general.  "Chicago is one of my favorite places to play because the audience really seems to get into what I do," he said. "The response is always very rewarding. I just love playing in the States anyway because the audiences are so good. I think there's more of a connection with the United States audiences with my music than there is in Europe. I think perhaps it's because my music is so much based and influenced by black American music; rhythm and blues, blues. I think Americans just key into it better than in Europe. Although, I get very good response in Europe as well."
Appearing 4/29 at Copernicus Theater, Chicago.
Category: Stage Buzz, Weekly