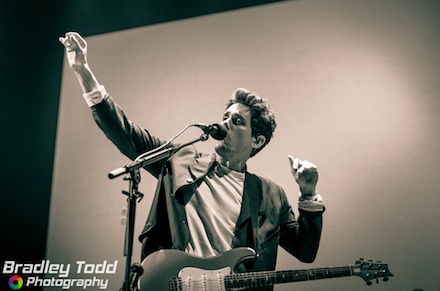 John Mayer essentially wore 3 hats during the course of his show Tuesday at the United Center: pop songster with full band; singer/songwriter solo acoustic, and blues rock guitar aficionado with power trio. His rhythm section for the full band and trio was Steve Jordan on drums and Pino Palladino on bass, was exceptional.
In addition to the hits, he also played covers by Beyonce ("XO") and Tom Petty ("Free Fallin' with a modified melody that worked very well), along with a rocking version of "Crossroads."
The show featured lots of excellent guitar work, though the crowd, which mainly seemed to be their for the pop hits, seemed to miss Mayer's amazing solos on "Crossroads."
Highlights included "Whiskey, Whiskey, Whiskey," and "Why Georgia" (which I saw him perform at Schubas in 2006, a show he referenced on Tuesday when discussing his career and his appreciation for Chicago).
– Words and photos by Bradley Todd
Category: IE Photo Gallery, Live Reviews