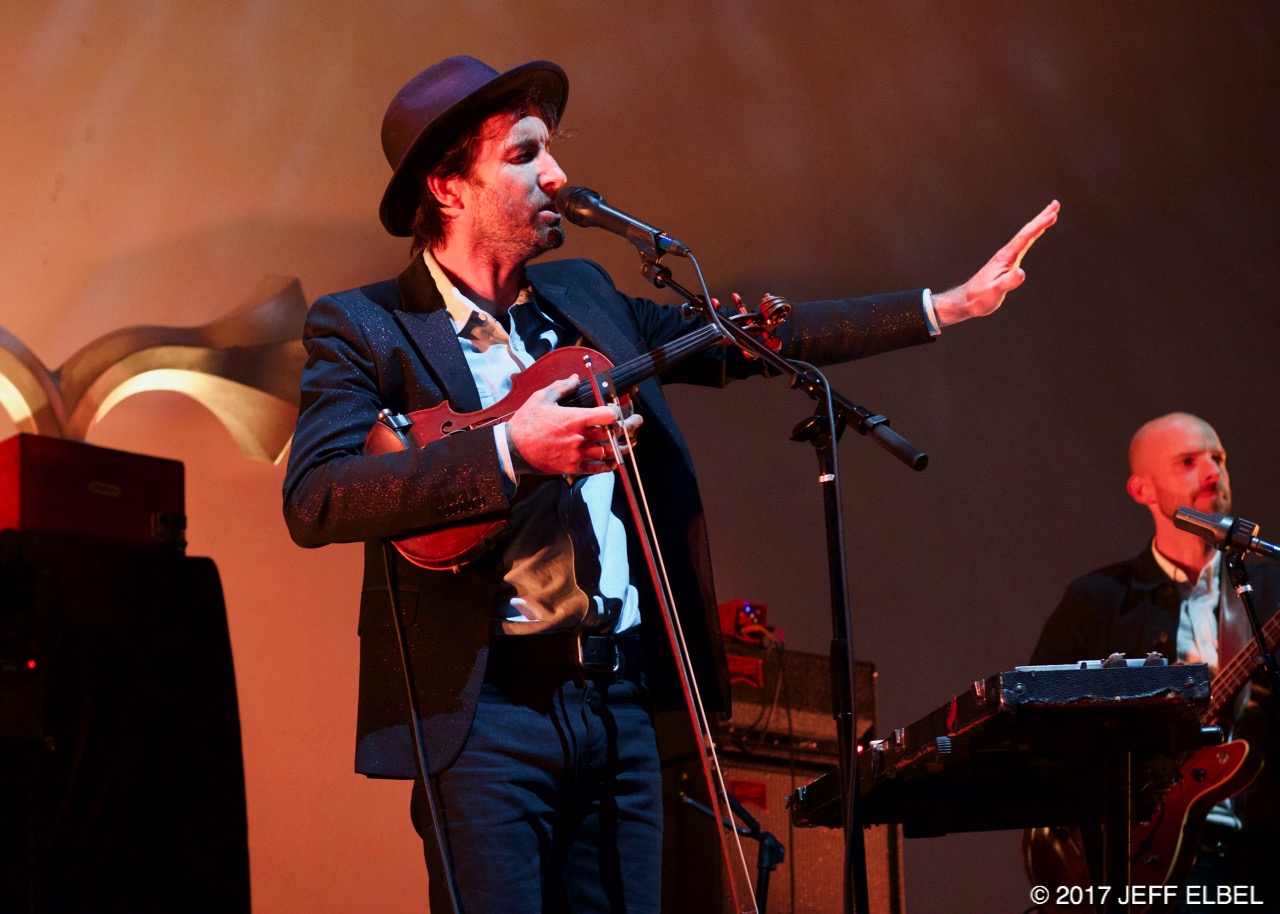 Andrew Bird
Friday, January 20, 2017
Allstate Arena
A week after performing for A Prairie Home Companion at Symphony Center, Andrew Bird returned to open for the Lumineers at Allstate Arena. Showing his hometown roots, Andrew Bird marveled at finding himself onstage at the former "Rosemont Horizon." He stopped short of naming shows he had seen in the hall while growing up. Nonetheless, it was a point of identity with many who were perhaps accustomed to seeing Bird as he frequented smaller stages at the Hideout or Metro. Here he was, a locally-developed talent with a growing international audience, filling the arena with his cartwheeling violin, otherworldly whistling and compelling songs.
Bird's compact set was a cross-section of favorites like the quirky but gorgeous "A Nervous Tic Motion of the Head to the Left" dating back to 2005's The Mysterious Production of Eggs and the paradoxically downcast but invigorating "Plasticities" from 2007's Armchair Apocrypha. Per his restless custom, familiar arrangements from the recordings were teased and twisted into thrilling new shapes. Bird's four-piece group lashed into "Capsized," a single from his latest album Are You Serious. The song has been developed over many years of performances, as illustrated on Bird's revealing new Spotify EP, Are We Not Burning. Despite the careful tinkering that refined the song into its album version, Bird has continued to toy with the arrangement in an effort to keep his music invigorated and awake. The song still hinged lyrically upon its imagery of unwanted isolation. There's no scene more lonely than imaging yourself sleeping on your own and spooning dirty laundry.
The quartet featured former Bowl of Fire bandmate and fellow native Kevin O'Donnell on drums. Bird rallied the local crowd with the beckoning chorus of "Pulaski at Night" and its dazzling refrain. "Come back to Chicago, city of lights," Bird repeated, igniting cheers that grew in waves around the hall.
The set concluded with "Tables and Chairs," originally written as a whimsical song about doomsday. Bird openly addressed the fact that the song had been changed to reflect the current times, in both music and lyrics. "It's not the time for introspection," he said. Despite any alterations to Bird's initial plans for celebrating the apocalypse, rest assured that there will still be snacks.
-Review and photos by Jeff Elbel
Category: IE Photo Gallery, Live Reviews