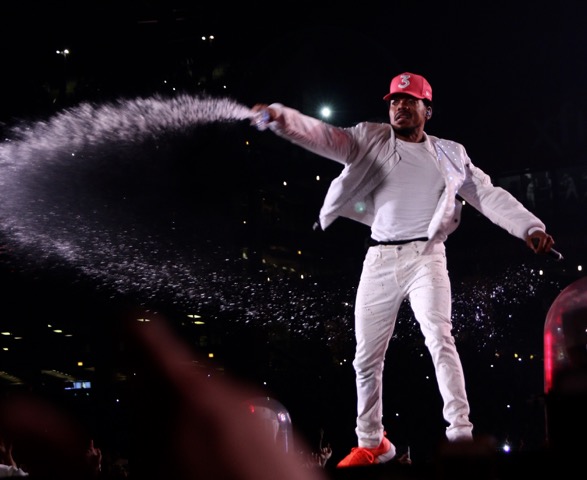 "This lineup is like if Chance put his shit on shuffle," special guest Hannibal Burress joked. "Lil Uzi Vert, Lil Wayne and 2Chainz, Alicia Keys!"
Yes, it was exactly this blending of genres that seems to have influenced Chance the Rapper – especially as of late. But it took Chance, the 23-year old, South Side native and premier ambassador to Chicago's betterment for all to put it together at US Cellular Field, home of his beloved White Sox.
From 1 pm 'til nearly midnight, 44,000 fortunate ticket holders and others able to stream at home were treated to a magnificent moment in Chicago musical history and a beautiful celebration of love and faith on the city's South Side.
An early afternoon performance from Francis and the Lights, with a cameo from Donnie Trumpet, got the crowd ready for the impending, hip-hop heavy afternoon. Kids took to the roofs of the infield dugouts for Lil Uzi Vert, who didn't take the stage until nearly 2:20 pm (a half hour after his scheduled start), but few seemed to care. If it wasn't clear that Magnificent Coloring Day was going to be "lit," everyone was reminded very quickly.
With Young Thug a no show (because of Uzi's delay?), Tyler the Creator with Odd Future cohort Jasper took the stage with enough energy and bass to blow out the speakers. While Tyler didn't shy away from citing the day's early shortcomings, particularly the attendees who unknowingly purchased seats behind the stage and had to watch the performers on screens, he did his best to run back and forth as much as possible, bringing tracks like "Yonkers," "Run" and "Cherry Bomb" to the masses.
MCD's biggest surprise was a guest appearance by Kanye West. En route to a tour stop in Nashville, West found time to take the stage at the former Comiskey Park for a rapid fire, greatest hits set including "Gold Digger," "All Falls Down" and "Black Skinhead," bringing out Chance for an inspired performance of "Ultralight Beam." For a minute, Chicago's prodigal sons had returned home and walked off the stage all smiles, humbly accepting the crowd's endless cheers.
After the boom of Kanye's sneak attack, John Legend's full-band soul cooled the crowd as the sun started setting. Running through hits like "Best You Ever Had," "Greenlight," and "All of Me," Legend cemented his status as the super-smooth piano man of music's current landscape. Not to be outdone, his set featured an epic grand finale when Common joined him on stage for a tear-inducing version of their Oscar-winning collaboration, "Glory." Common, whose own Aahh! Fest also took place this weekend, led the crowd in raising their fists in the air; "Fists in the air for justice!" he said before reminding the crowd of lives lost too soon, Laquan McDonald and Rekia Boyd.
More security seemed to appear out of nowhere in preparation for Collegrove, better known as 2Chainz and Lil Wayne. The duo's 70-minute set featured solo moments from both 2Chainz and Wayne, who proved why his status as one of the best to ever do it will never waiver, as well as joint performances taken to another level with a smoke-filled stage and crazy light show. Kids in the stands sparked up when Weezy sparked up, applauded for their "damn selves" when told, and jumped from the tops of their seats when hits like Wayne's "A Milli" and "Mrs. Officer" and 2Chainz's "I'm Different" and "Birthday Song" blared from the stage.
As the lights from the stage dimmed for Alicia Keys, the chanteuse took the stage with a sly smile on her face, getting right down to it with her version of "Empire State of Mind," and hits like "Girl on Fire," "Fallin'" and "No One." It was the first, but definitely not the last, appearance of cell phones and lighters being held in the air as Keys celebrated love, unity, and the importance of kindness during her 45-minute set.
As quickly as Keys left the stage, chants of "Chance The Rapper" began, punctuated by 44,000 pairs of hands clapping as a curtain hid their fearless leader's stage set-up until 9 pm. Then, the lights went out.
"I GOT MY CITY DOIN' FRONT-FLIPS!" Chance exclaimed, opening with song-of-the-year-contender, "Angels." Dressed all in white with his red '3' cap and wide smile, West Chatham's own Chancellor Bennett, the kid who got his start performing at open mic nights at Harold Washington Library's YOUmedia Lyricist Loft, had everyone in the palm of his hand.
Over the course of his 90-minute set, Chance – visibly moved and overwhelmed by his passionate following, took the stadium to the club, the front stoop, and the church. With a set-list that included songs from his debut mixtape 10 Day to "Acid Rap," "Surf" and one of 2016's best releases Coloring Book, he happily let his fans take the lead on songs like "No Problem," "Favorite Song," "Special" and "Blessings." With help from stage puppets "Carlos" and "Lady," Chance took to the piano for a stripped-down version of "Same Drugs" while often being reminded by Carlos to remember the "old things that matter."
The important parts of the past, the "old things that matter" were really what Magnificent Coloring Day was all about. At 23, Chance seems to have done more soul-searching and growth than artists twice his age. He's all but forced anyone who crosses his path, whether literally or through his music, to accept who they are, what they've done, and learn from it to not only better themselves but those they affect and where they came from. It's no secret in Chicago that Chance has done more goodwill for the city and its youth than its current crop of elected officials and has shined a positive light on communities often portrayed in the media as dangerous or hopeless.
Yeah, Chance did that.
As the fireworks appeared above US Cellular Field and Chance gave his final thanks to all the artists and fans who showed up on the South Side (before EDM producer and DJ Skrillex closed the night), it was like another world had been created; a world where true coexistence, genuine kindness, and the divine power didn't seem so far-fetched. Chance the Rapper's spirit, and smile, is infectious and it needs no cure.
Chicago had been blessed, but like the man said, "Did you know that your blessing wasn't on no album?!"
– Reviewed by Jessi Roti; Photos by Curt Baran
For our Full Photo Gallery Click Here
Category: Featured, Live Reviews