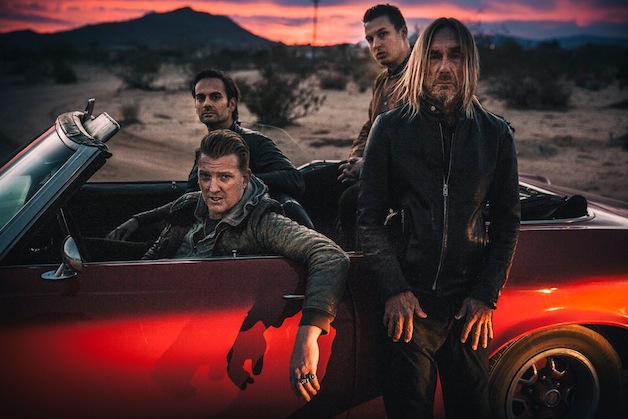 Iggy Pop and Josh Homme joined forces on Iggy's newest album – Post Pop Depression and tour. Curt Baran previews the legend and the master in anticipation of their upcoming show at Chicago Theatre.
IGGY POP
Post Pop Depression
(Rekords Rekords)
On his 23rd album, Post Pop Depression, Detroit's original Motor City Madman has paired himself with his finest band since his stint with Rock and Roll Hall of Famers, The Stooges. Here, he receives a major assist from Josh Homme (guitar) and Dean Fertita (Bass) both on loan from Queens of the Stone Age, and drummer Matt Helders (Arctic Monkeys). The results of their collaboration is astounding.
The music is both muscular and morose, without ever overpowering the songs. But the star here is, without question, Iggy. His supple baritone chews up scenery and every last syllable on songs like the slow drone "Break Into Your Heart," the galloping "Gardinia" and the musical horror story "Vulture." Considering his legacy is firmly intact, the fact that the 68-year old Pop really has nothing left to prove at this point only helps to make this collection that much more powerful.
Instead of hitting cruise control in the twilight of his years, he's clearly enjoying venturing well out of his comfort zone with mind-blowing results. "Paraguay" is as beautiful as it is profane, with Pop prattling on in a state of seemingly subconscious stream of consciousness. On "Chocolate Drops" he continues his verbal gymnastics as he bellows in his lowest register "When you get to the bottom, you're near the top/Your shit turns into chocolate drops." Six decades on, the former James Newell Osterberg Jr. still hunts the darkness of the human spirit, somehow making optimism feel pessimistic.
(8 out of 10) – Curt Baran
Appearing at the Chicago Theater April 6th
Category: Stage Buzz, Weekly