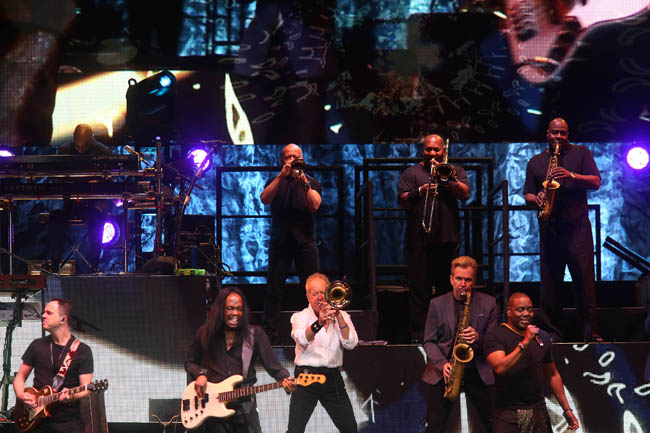 Chicago and Earth, Wind & Fire
United Center, Chicago
Friday, April 1, 2016
Collectively and individually, Chicago and Earth, Wind & Fire have pretty much stayed on the road ever since their '70s and '80s chart conquests, though up until recently, neither veteran act was making major waves beyond faithful followers. But right around the time their collaborative "Heart And Soul Tour 2.0" was announced, both bands with Windy City roots started making headlines again, starting with Chicago's belated Rock and Roll Hall of Fame induction (which officially takes place April 8), followed by the passing of Earth, Wind & Fire co-founder Maurice White after a lengthy battle with Parkinson's disease.
Between all the increased attention, more than 200 million albums sold between them and the double homecoming of sorts, the United Center was packed to the upper rafters with an audience spanning literally all ages and races. And both troupes appeared revitalized, not only for all the support surrounding the respective triumph and tragedy, but also from a sheer wall of sound generated as every single member of Chicago and Earth, Wind & Fire united for an opening segment featuring "Beginnings" and "In The Stone," and later, an even more electrifying encore.
In between, each group scored a solo set, starting with Earth, Wind & Fire, who besides originals Philip Bailey (vocals), Verdine White (bass) and Ralph Johnson (vocals/percussion), included a bustling horn section, plenty of soulful vocal support, vintage video clips of Maurice White, plus costumes and choreography galore. Funk favorites such as "Boogie Wonderland," "Fantasy" and "Let's Groove" may be oldies by definition, but were downright vibrant in their delivery, recalling exactly why everyone from Prince, Beyonce, Bruno Mars and Alicia Keys on down continues to be influenced by these long time Rock and Roll Hall of Famers. Even ballads like "That's The Way Of The World," "After The Love Is Gone" and "Reasons" remain R&B cornerstones, giving Bailey the chance to flex his supernatural falsetto and further convey Earth, Wind & Fire's flexibility.
In fact, the sheer strength of everyone's firecracker instrumentation and intoxicating visual presence gave Chicago a tough act to follow, and though originals Robert Lamm (keyboards/vocals), Lee Loughnane (trumpet), James Pankow (trombone) and more recent recruits were seasoned, they couldn't quite match Earth's energy or ultra-polished stage presence. Nonetheless, they demonstrated a dexterity all their own, from the psychedelic/avant-garde beginnings of "Questions 67 And 68" and the "Ballet For A Girl In Buchannon" suite, to syrupy power ballads "Hard Habit To Break" and "You're The Inspiration," through the all but forgotten disco-era groove/future Pitbull sample "Street Player." The band also earned one of their loudest roars when Lamm thanked any of the 37 million fans who spoke up online in support of the Rock Hall nod (though no mention was made of the drama surrounding former front man Peter Cetera's decision to stay home on the historic day).
After Chicago's brawny "Feelin' Stronger Every Day," the show truly hit its stride when Earth, Wind & Fire returned to flip-flop six smashes with its co-headliners in rapid succession. The mighty "September," "Free" and "Sing A Song" kicked off the celebration with singers and musicians regularly swapping verses and solos, escalating all the more with "Does Anybody Really Know What Time It Is?," "Shining Star" and "25 Or 6 To 4." It may have read like pure nostalgia on paper, but by intermingling the "Heart And Soul" of each enduring group, it set a refreshed blueprint that many other acts on the flashback circuit could stand to follow.
-Review and photos by Andy Argyrakis
Category: IE Photo Gallery, Live Reviews, Stage Buzz, Weekly