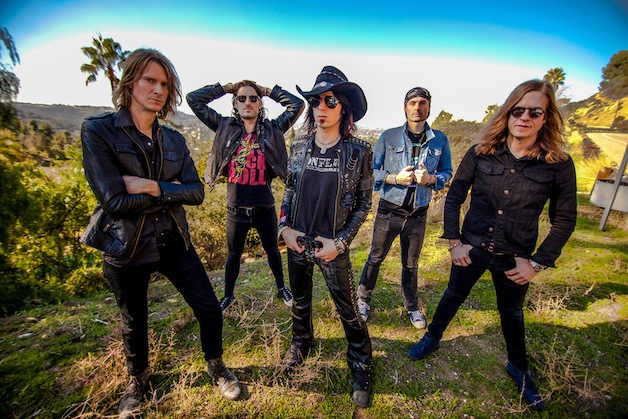 Chicago's Last Vegas, have learned how to crank out old school rock 'n' roll seemingly at will, for over a decade.
In 2008, TLV out-rocked 8,000 other bands to win Guitar Center's On-Stage contest, which earned them a recording contract, $25,000 in cash, $20,000 in new gear from Gibson Guitars and an opening slot on Motley Crue's Saints of Los Angeles Tour.
On their seventh full-length release – Eat Me, the band seems poised to explode to the next level. Brothers Adam (guitar) and Nate Arling (drums), Chad Cherry (vocals), Bryan Wilkinson (guitars) and Danny Smash (bass), have crafted an infectious niche sound on 11 new tracks revisiting the signature sound of '70s-era rock icons like Aerosmith, Cheap Trick and AC/DC. Guitarist Adam Arling explained that the impetus for recording Eat Me was because singer Chad Cherry was relocating to Los Angeles so the band had to quickly record it before he departed.
"We basically recorded this album on a shoestring budget during a time when our previous recording contract was up," Arling said. "Before (Chad) left, we went through our leftover demos that we had laying around that never made it on any album. Talk about pulling the trigger on a quick idea, we spit out an album taking from the songs we demoed throughout the years. We took a collection of songs, added some new ones and went in and recorded everything in about one day. "
There are several new musical elements the band added on this album that it hadn't tackled before on previous records. Utilizing a Mini Moog, bells, bongos and other exotic instruments, TLV's tracks take on a whole new dynamic. Engineer Chris Laney also added to the fun. "We would just throw all this crazy stuff in there expecting Chris to think we were crazy, but he loved it," Arling explained. "We would place everything up in the mix the way we were hearing it and he would just interpret it in his own way and did what awesome mixing people do, bring it out and make it all pop."
Though Eat Me was self produced by the band, on previous album's they've had the pleasure of working with some pretty well-known producers. Because of those opportunities, the band has gained a wealth of knowledge from these experiences. "The Last Vegas has been pretty fortunate with our past three albums," Arling said. "We worked with Nikki Sixx, DJ Ashba and Marti Frederiksen on Whatever Gets You Off, who we learned a lot from. Then on Bad Decisions we worked with Johnny K as producer, who's an insanely talented guy from Chicago. Then our last album, Sweet Salvation, was produced by Roy Z, who we've learned a lot from. We've been so lucky to see how other people approach things. On this album, we just thought we'd take the reins ourselves."
Originally from Rockford, Arling reflects on he and his brother Nate's humble beginnings. "It was fun growing up in Rockford and it's fun to this day to go back and play shows there," Arling stated. "Growing up playing in your basement, thinking it'd be the coolest thing to play the biggest club in your town. Then we moved to Chicago; with a bigger pond and bigger goals. Being an ambitious young band, when we first moved to Chicago we played Metro and we all thought, 'We've made it!' Looking back on it, it's pretty incredible with the opportunities we've had and the venues we've played including Madison Square Garden! It really makes you feel special about the power of music."
– Kelley Simms
Appearing Double Door, Chicago 4/1.
Category: Featured, Monthly, Stage Buzz