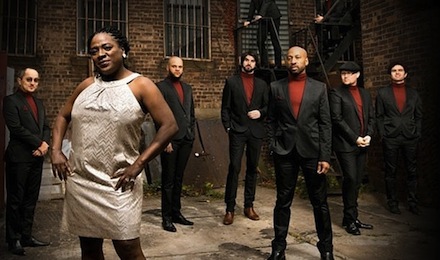 SHARON JONES & THE DAP-KINGS
It's A Holiday Soul Party
(Daptone)
The title says it all: This is not just your typical retread of carols and other seasonal favorites of the annual Yule and New Year axis. Nosirree! This is a holiday party disc whose five originals are worth the price of admission alone.
Leading off is "8 Days (Of Hanukkah)", which besides being the funkiest Hanukkah song ever recorded, is probably the best modern holiday tune since Adam Sandler's. Next up is "Ain't No Chimneys In The Projects, a sentimental ode to the obvious wonderment/bewilderment of an inner city child. "Just Another Christmas Song" is a delightful mash-up of unforgettable lines from a baker's dozen seasonal carol chestnuts.
While "Big Bulbs" is a sly and frisky standout that makes it clear that this is a party album, penultimate original cut "World Of Love" ratchets it back to end on a more traditional peace and goodwill theme. The rest of the familiar covers are hardly traditional, given the full Sharon Jones/Dap-Kings treatment that, heck, makes even the repetitious drummer boy chorus palatable for once; and brings soulful, urban nuances heretofore unencountered in "Silver Bells" and "Please Come Home For Christmas." For a last minute holiday disc you won't hear on the 24 hour Christmas station, this is a good choice.
7 out of 10
-David C. Eldredge