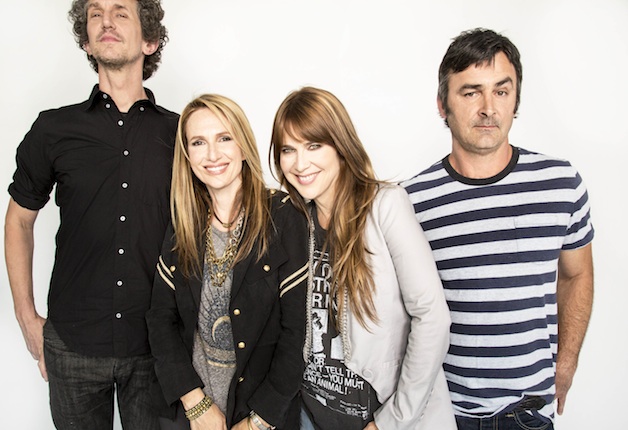 To hear Veruca Salt tell the story, it wasn't supposed to happen like this. "One of the things that happened early on, we were playing a show in New Orleans, and Vicki Peterson from The Bangles was there," Veruca Salt co-frontwoman Nina Gordon recalls. "We were just this young little baby band touring probably for the first time, and she came to one of our shows, and she said, 'Watch out, you guys, because that male record industry world will conspire against you, and pit you against each other, and try to pull you apart, and that's what happened in our band.' And we were like, 'No way. That will never happen to us. We're such good friends.'"
I spent time on the phone with Gordon and her co-founder/songwriter, and lead singer, Louise Post, who are promoting Veruca Salt's new album, Ghost Notes. Both shared (some) light on their shared past – both personal and professional – and speaking with a palpable, kinetic energy about the band's current second act. Additionally, while Ghost Notes might list as the fifth Veruca Salt album on official discography lists, it's really the group's proper third full length album. That's because, for the first time since the late '90s, the original, classic lineup of Veruca Salt has reconvened, including dual leads Post and Gordon, as well as returning original drummer Jim Shapiro and bassist Steve Lack.
"We really had this very symbiotic relationship," Gordon continues about her relationship with Post during their initial run in Veruca Salt. "And so when everything started to tumble, part of it was we were so close and it was true what Vicki Peterson had predicated started to happen. And we were blown to bits because we did fall prey to all of that. The final nail on the coffin ended up being just like a clichéd cat fight, and we were both devastated by that because we are feminists, and we felt really strongly that our friendship was the thing."
Veruca Salt burst on the scene in 1994 with their inescapable alt-rock anthem "Seether," off the group's debut full length, American Thighs (produced by Brad Wood, back again behind the boards for Ghost Notes). Part of the "Next Seattle" batch of '90s Chicago acts – along with Liz Phair, Fig Dish and Urge Overkill among others, the band's brash and bratty power punk and dual female vocals quickly set them apart, gaining the act national exposure on rock radio and MTV. The band followed up the momentum of Thighs with 1997's Eight Arms to Hold You, a big, bold, shimmering guitar rock record produced by Bob Rock (Metallica, Mötley Crüe). That record was jettisoned by its lead single, "Volcano Girls," a kindred – if not thematic – follow-up to the smash-and-grab spirit of "Seether" before it.
Yet unknown to (most of) the band at the time, Eight Arms would serve as the end of an era for Veruca Salt, with Post and Gordon's professional relationship on the other side of that record coming to a messy end over personal matters. With the dissolution of their partnership came the end to Veruca Salt as it had existed for the first half decade. The members disbanded during the early stages of a third Salt album.
"Nina and I weren't communicating well enough to keep everything afloat and to keep a well oiled machine going, and so things began to unravel," Post reveals. "And so by the end it was sort of like they have been unraveling for sometime. In fact, it's like Steve Lack (bassist) said he knew in Hawaii when we were making Eight Arms to Hold You that we were not long for this world. He could feel it coming and he was already sensing the end, and we didn't know that necessarily. But Steve could see it, he could see the writing on the wall."
Though both Gordon and Post remained musically active following their split, the absence of one another as singers, songwriters, and creative collaborators was ever-present in both artists' works. Post continued on as the sole original member under the Veruca Salt moniker, releasing two full lengths albums: 2000's intensely intimate and seethingly (no pun intended) wounded Resolver, and 2006's under the radar IV, as well as the Officially Dead and Lords of Sounds and Lesser Things EPs. Gordon, meanwhile, also put out two albums: the AOR -friendly Tonight and the Rest of My Life in 2000, and 2006's Bleeding Heart Graffiti.
Surprisingly -for Record Store Day 2014, something largely incredible happened: the classic lineup of Veruca Salt released new music, in the form of the MMXIV EP, which featured two brand new band compositions. Suddenly, Veruca Salt – the Veruca Salt people think of when they think of Veruca Salt – existed again.
So what brought the band back together? In short, motherhood and, of all things, Mazzy Star. For both Gordon and Post, becoming mothers brought the two estranged frontwomen together again. Not as musical collaborators – at least not at first – but more importantly, as friends.
"In a very beautiful, poignant, ironic way, it started because we were, instead of young women in our '20s, we were women in our mid-'30s who were having babies," Gordon reveals of how she and Post first resumed communications. "We bonded again and became close again just talking about motherhood and about what was going on in our pregnancies, and what it felt like at that phase in our lives, and that is what brought us close to each other once again."
"We didn't speak about music at all except occasionally I would hear something that would remind me of Louise and I would email her and she would do the same," she continues. "And say like when First Aid Kit did that cover of the Fleet Foxes song ("Tiger Mountain Peasant Song"), I sent it to Louise and said, 'Does this remind you of anyone?' Because it really – there was something about these young girls together singing in harmony that really reminded me of us and what it felt like to sing with Louise."
Yet it wasn't until '90s psych-dream rockers Mazzy Star performed at Coachella in 2012 that the conversation seriously shifted from motherhood to making music. "I heard that Mazzy Star were playing at Coachella for the first time in 15 years. The first time they'd played together. And something about that just pissed me off," Gordon admits. "I was like 'What? What are we doing? We've got to play a show. We have to get together again.' And people had been asking for years, friends of mine like, 'Are you guys ever going to do that again? Are you going to ever get the band back together?' And I really didn't think we would. I didn't think I wanted to. And then all of a sudden something happened when I heard Mazzy Star were playing Coachella, and all of a sudden I wanted to really badly. So I emailed Louise and said 'Let's get together.'"
That Mazzy Star moment would lead to the musical reawakening of Veruca Salt, though the initial plan didn't call for new music.
"When we first got together after all that time had passed we all really kind of thought, 'Oh, yeah, we're just going to play a reunion show or something. We will just play American Thighs front to back and call it a day, and it will be great and it will feel really good and it will closure." Gordon continues. "But then after playing together a little bit and realizing, yeah, we love those old songs but we don't want to just harp on the past, we want to actually move forward. We both started writing songs and it became clear that we weren't just going to revisit the past. We were going to make a new album."
That new album would become Ghost Notes, the true and proper follow up to Eight Arms to Hold You. Cuts like "Come Clean Dark Thing" and "Eyes On You" finds the group's pop tendencies front and center, while unabashedly upfront album opener "The Gospel According To Saint Me" makes sure you know this is the same group that named their first EP Blow It Out Your Ass It's Veruca Salt. What's most immediately apparent from listening to the album, however, is just how much Veruca Salt here sounds like, well, Veruca Fucking Salt.
"It started just with me and Louise going down in my basement at my old house and we started playing guitar and singing together and we immediately couldn't believe how much we sounded like Veruca Salt," Gordon states. "It was like, 'Wait, they sound like the girls from Veruca Salt.' I mean, really, our voices together…it's that sound. And then certainly, when Steve and Jim joined back up again and we all got into a room with amps and drums and all that, then yeah, it sounded like us."
"(The band) hadn't run its course when we finished and we stopped short of seeing our third album through, and Nina and I were working on new material for our third record when we broke up for personal reasons. But creatively we weren't finished and certainly the same extends to the guys (Shapiro and Lack)," Post explains. "We were able to revisit the chemistry that was really purely this band and that we began in Chicago in the early '90s. We really felt natural. We just picked up naturally where we left off and we were all eager to do so."
Yet it's not a Veruca Salt record without a hard earned power ballad, like the creeping, confessional "Empty Bottle," which cuts as cold as the Chicago winters it looks back on. The album centerpiece laments "Love is over /it's over and you can't go back/when you're older/you just keep telling yourself that/the door is open /even if it's just a tiny crack / you're up at night and wondering."
"'Empty Bottle' is about that time and what it was like being in a band in Chicago," Gordon confesses. "Going out in the freezing cold to see the band that you love. In the case of that song the band Hum…" "Or Red Red Meat," Post interjects. "Or Red Red Meat," Gordon affirms. "Both going to see them play and a bitter cold outside and just electric inside and that just very Chicago feeling and that feeling of that time. So that song is specifically about what it was like being in a band in Chicago in the '90s."
Yet if there's one song from the record that served as a catalyst for the future of Veruca Salt, it's emotionally-charged closer "Alternica," which finishes the record with both Post and Gordon harmonizing on a repeating call of "And in the end/it comes around /comes around again."It feels like an earned, cathartic finale to the long, traumatic trials that started at the end of the Eight Arms era. Fittingly, it's also the song that launched the Ghost Notes sessions.
"Louise brought in 'Alternica' and I was blown away," Gordon offers. "And I remember going upstairs and saying to my husband, 'Louise wrote an incredible song. I think we are going to make records. I think that we have to do this. Like it's not just reunion rock. Like this is legit.
Like this is happening again.' And I was just really moved by the song 'Alternica.'" "I wanted to work on it, and then Jim came to LA and we were all sitting around in my living room and we were working on Alternica," Gordon continues. 'In the end/it comes around again' just kind of poured out of us, and the three of us were singing in harmony in my living room and it was really beautiful, really moving and all of a sudden it just was crystal clear. We are making a new album. We want to write songs again. We have to do this. It's what we do."
"We get the chance to reunite now and have a happy ending," Post affirms. "And it's not just an ending. It's a beginning."
– Jaime Black
Appearing July 26 at Wicker Park Fest, Chicago.