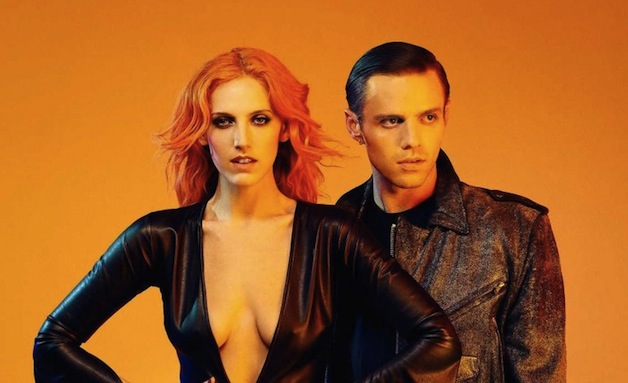 A recording artist has their entire life to complete a magical debut disc, they always say, and only a few brief months, possibly a year or two, to come up with a suitably engaging follow-up. And the higher the bar is set, musically, the more difficult a second album becomes – hence the dreaded sophomore jinx, when the pressure to equal a breakthrough achievement can derail even the most locomotive-chugging of careers. Leading, of course, to the even more dreaded term (and sweeping under the historical carpet) of One Hit Wonder. And nobody gets into showbiz to one day be pigeonholed as some also-ran.
Mention this conundrum to Lizzy Plapinger and Max Hershenow – who had breakthrough success with Secondhand Rapture, their 2013 Columbia debut as the synth-rocking duo MS MR – and they both laugh, derisively. They've heard about this second-album curse, sure. But to date, they have not experienced it firsthand. They had a carefully-conceived agenda for their thumping new How Does it Feel effort, and they felt no fear – and wasted little time – putting said plan into action. They could easily have coasted on Rapture staples like "Hurricane," "Salty Sweet," and "Bones," which was prominently featured in an HBO Game of Thrones trailer. "But Max and I don't know how to coast on anything," says the vibrant-haired Plapinger, who – thanks to a recent dip in a chlorinated pool – is currently rocking a half-orange, half-blonde color she's dubbed 'sunburst peach.'
As the singer tells it, she and her multi-instrumentalist partner are never satisfied: "We're always hungry and thinking about what we could be doing to push ourselves forward, whether it's artistically, visually, or sonically, or with what we're giving to our fans. We're always thinking ten steps ahead of whatever we're working on, currently, so even when we were on the road, we were still constantly thinking about – and collecting ideas for – this second record." There were serious creative questions surrounding the project at first, she admits. "But we decided to just make music that we loved, first and foremost."
How did the team accomplish this? More on that later. But How Does it Feel certainly breaks that fabled jinx. It opens with a frenetic rhythm and Plapinger's insistent "What did you think would happen…what did you think would happen" chant Hershenow's German-Expressionist-grim piano and synthesizers ("It feels like you're starting the record in the middle of a heart attack, so you really prick up your ears and pay attention," she asserts, proudly). The minor-chord processional "Criminals" momentarily lightens the melody while darkening the subject matter ("It's about being in a toxic relationship that you can't – or don't want to – get out of," Plapinger explains), before MS MR hits their ethereal pop stride in the finger-popping "No Guilt in Pleasure," which was inspired by their experiences playing festivals the main stages at festivals like Bonnaroo, Coachella, and Splendor in the Grass.
The jazzy, stuttering "Tunnels" encapsulates the freedom Plapinger feels while aimlessly riding New York's labyrinthine subway system ("You know when you feel like shit and you're just lost and you don't really know what to do with yourself?" she asks, rhetorically. "Do you sit in your apartment or do you go out with your friends? Well, sometimes you just find yourself riding the subway, going back and forth from place to place, and it's the most public – and most private – experience you can have, and there's just something comforting about it"). Complementing the cut is a twilight-twinkling sidewinder called "Leave Me Alone," in which she repeatedly tells an ex to "Please just leave me alone" – a message that's cold, clinical, and as subtle as a sledgehammer. The orchestral-underpinned title track segues into a cheerleader-exuberant chorus of "How! Does! It! Feel!" that the duo imagined an entire audience singing along to, even as they were first testing it out in the studio. And the delicate closing ballad "All the Things Lost" shows Plapinger's maturity as a lyricist ("Spent your life collecting so you can never forget/ Treasured moments become lost treasures when you can't recollect/ Everyone keeps asking are we OK, the truth is we're not but I don't know what to say"). It also shows the groups increasingly adept skill with metaphors – it sounds like it's about a romantic breakup, but it's not.
""All the Things Lost" is about a robbery we experienced in Miami," says the singer, who operates in the same sweeping, operatic range as Florence Welch, of Florence + the Machine renown. "Our van got robbed three times on the last tour. And the last robbery that happened was in Miami, and all of our instruments got taken, and our computer got taken. Which isn't the end of the world," she sighs. "Except that what was on the computer was the vocals for the album, all the lyrics that I'd ever written, all the demos that I had ever made. So we lost this treasure box of our beginnings, our artistic diaries. So there was a very tough moment, but we just couldn't stay focused on it – we had to look forward and come back from it." Luckily, the tech-savvy Hershenow had much of the music backed up. "And funnily enough, the one song we lost was a different song with the title "All the Things Lost," so we wrote the new version that's on the record as an homage to that experience."
In fact, remaining focused was the operative term for the How Does it Feel proceedings, during which the pair welcomed other songwriters to the fold, like Tove Lo, who collaborated on "Pieces" and MNDR on "Tripolar." To do this, they decided to treat the whole undertaking like a 9-5 job, Monday through Friday. And for a full year, the Vassar alums rented a nondescript, windowless studio in Bushwick, for that real salt-of-the-Earth, hometown feel. "It was a shitty, tiny little room, and it was as DIY as we could make it and we spent every day in there, just hashing out the record," recalls Hershenow, who first began communicating musical ideas to his chum through E-mails back in college before finally testing the recording-session waters. "We're control freaks about this project anyway – every element of it comes directly from us. So it was important to us, having a space that was our own. The label wasn't paying for it, no one was checking in on us, no one was asking us how it was going every day, which meant that we had the freedom – and the power – to create a record that we wanted to create, and music that wasn't diluted by other people's opinions of it."
MS MR didn't occupy the place for its full lease – they reckon it was a full three, four months, all told. But they were ensconced there during different seasons, which proved distracting in itself. In the winter, there was little heat, so they blanketed themselves in countless layers of clothing and shivered their way through. "And in the summer, you couldn't have the AC on, because it would pick up on the microphone," grumbles Plapinger. "So we'd just be sweating our balls off, half-naked in there. But I dunno – there was something about that intensity. We thrive off of it, I think."
The musicians would enter their rathole around noon, then leave at eight, like clockwork. Once inside, surrounded by a computer, a microphone, and some synthesizers, they stayed put for the recording's duration, and ordered out for all their meals. There was sound bleed, too – if the drummer in the studio across the hall was rehearsing, it meant that no MS MR vocals would be taped that particular day. Their goal? To actually write a song a day. "And that's pretty much what we did," says Plapinger. "When you get the opportunity to make music for a living, you're not putting it off, because you're genuinely excited to be able to create every day. So there was great power in that – to complete an idea, complete a vision, see something through and have a song to show for it at the end of it all." Not every number was a winner, she confesses. "But there were some incredible moments that led us, three steps later, to a song that's on the record now. It was a really fun process for us to create, create, create, and then afterwards take a step back and look at what we'd made and try to find the places where our mutual vision had come across the strongest."
It's no secret where Plapinger acquired such dogmatic discipline. When she's not fronting MS MR, she helps run Neon Gold, the label she co-owns with Derek Davies, an old friend of hers from London, where she spent much of her childhood. The company also includes a publishing wing, Beyond Gold, as well as a weekly Big Apple club night, POPSHOP. To date, the prescient imprint has issued early singles by – and helped launched the careers of – Gotye, Chvrches, Vampire Weekend, Charli XCX, Ellie Goulding, Passion Pit, and new clients like France's much-buzzed-about Christine and the Queens. Her favorite focus is A&R, she admits – finding and signing the brightest new talent, like the brilliant Alex Winston. But since it's a two-person operation, she also frequently gets involved with Neon Gold marketing, distribution, radio promotion, just about every aspect one could imagine is involved in keeping a red-hot indie record label afloat.
How does this CEO unearth new talent? "I think that's evolved and changed over the past six years," she says. "In the beginning, it was mostly through going to shows or finding things online. But now, we've established ourselves to the point where people just come to us. But we're always on the hunt and prowl for things, and we have a nice little community of artists and friends in New York and L.A., which is nice because the band has benefitted from those relationships, as well. I mean, Marina (of Marina and the Diamonds) was the first artist that ever took us on tour. So it's a nice symbiotic relationship, and each one informs the other, I think."
Do kids hit up this boss with demos, post –MS MR gigs? She laughs. "I feel like that's pretty rare," she says. "For the most part, people know Max and me as MS MR, and if they dig a little deeper, they'll find out that Max does a lot of production work on the side (he just wrapped work with Halona King, a singer he believes will be huge), and that I run Neon Gold. And I think it's great for us to be multi-dimensional people – and artists – in that right. But there is something very special about being with our audience when we perform live. So Yes, in some ways it's undercover, and people just see us as MS MR. Which is what we want them to think."
Plapinger reckons that How Does it Feel – even down to its seedy Bushwick origins – is a record that could only have happened in New York. She adores the city that never sleeps, where, throughout countless iridescent haircolor changes, she's rarely been recognized on its streets or transit systems. "And that's part of the beauty of New York," she says. "Nobody here bothers anyone else. And even if you recognize someone else, you sort of let them be. Every now and then, you'll see Paul Banks or Ezra Koenig walking down the street. But you would never go up to them and bother them."
Via her hard-won MS MR wisdom, combined with her Neon Gold boardroom business sense, what advice would Plapinger give a young artist, hoping to make it in this cutthroat business? She ponders her response. "I think doing it the hard way is the only way you can do it," she eventually decides "And whatever your passion is, you should be doing it for yourself, and creating your own ideas of what it should be. So I think if you're working hard, and being true to yourself and true to your vision, and you're putting as much time as you're able to into whatever you're doing, well, that's a pretty good place to start."
Hershenow completely agrees. "That's the advice I would give, too – it all comes down to the music," he adds. "And you can know as much as you want about the music industry, and having all these connections that are great. But being obsessively focused on getting a record deal or finding a manager or any of that stuff is just ultimately distracting. If the music isn't there? Or your music doesn't feel right? Everything is just destined to fall flat…."
-Tom Lanham
Appearing: 7/30 The Vic Theater, Chicago; 7/31 Lollapalooza, Chicago