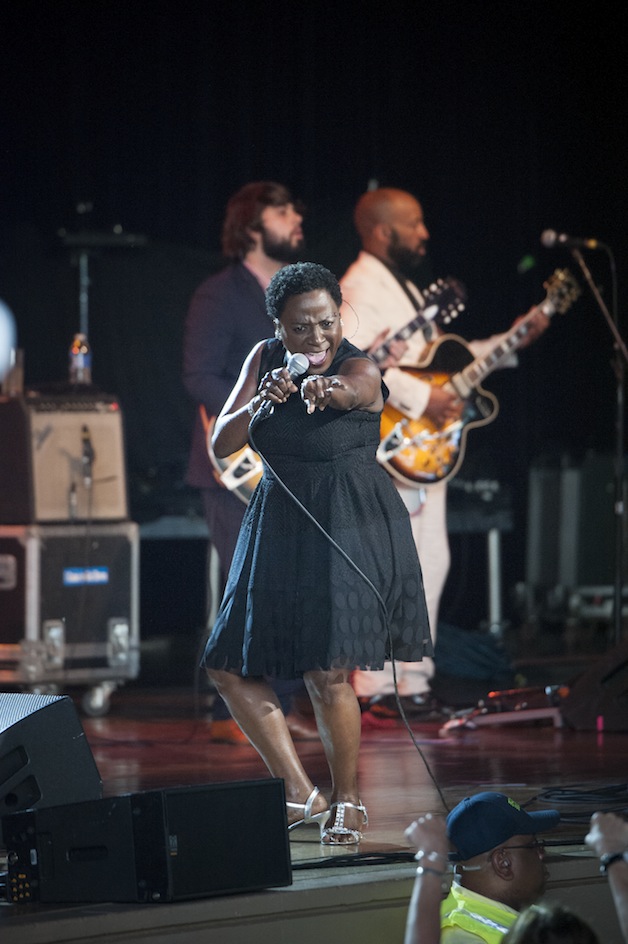 Wheels of Soul Tour
Tedeschi Trucks Band, Sharon Jones and the Dap-Kings, Doyle Bramhall II
Ravinia Pavilion
Sunday, June 21, 2015
An evening of top-flight blues and soul at Ravinia began long before sundown when Texas-bred guitarist Doyle Bramhall II took the stage with his lean and seasoned quartet. The swampy blues of "People" took flight with stinging fingerstyle and slide guitar solos. Sporting a bushy brown afro, love beads and poncho, Bramhall resembled the guitar-slinging hippie cousin of Clint Eastwood's Man with No Name.
"Hey, people, how you doin'," Bramhall asked. "You know me? Call me by name." To scattered shouts of "Doyle" from the sizeable early crowd, Bramhall responded like he was addressing a familiar fan in a small club. "Hey, man. How's the family?"
The southpaw switched guitars and tunings throughout his set, playing an inverted Fender Stratocaster for "So You Want it to Rain." During a cover of Muddy Waters' "She's All Right," he began with a bright, springy twang that became a fierce howl for the Jimi Hendrix-inspired soloing that brought the song and set to its climax.
Next were Sharon Jones and the Dap-Kings, sprawling across the stage with eleven musicians. The band's classic brand of soul music, however, was taut and refined. Before Jones' entrance, emcee and guitarist Binky Griptite welcomed background vocalists Saun and Starr to warm the set with a pair of songs from their new album Look Closer.
"Now, this song requires you to get up and dance," said Starr when introducing "Big Wheel." Next, Griptite introduced Jones as an "unstoppable" force. "I'm talking about a sister that just kicked cancer in the ass," he said.
After a rough 2013 due to treatment, Jones appeared fit – whenever she slowed down enough to catch a good look. Throughout the Dap-Kings' hour-long set, Jones' perpetual motion made the law of gravity seem optional. Her powerful voice was a declaration of strength on a re-vamped version of "Get Up and Get Out" from the Dap-Kings' most recent album, Give the People What they Want.
"Stranger to My Happiness" featured a classic Motown vibe, combining the Four Tops, Supremes and Jackson 5. The three Dap-Kings horn players punctuated the song while maintaining sharp dance steps. Jones herself gave a demonstration of classic soul moves during "People Don't Get What they Deserve," calling each by name. The list included limber James Brown boogaloo and mashed potato steps.
Jones paid tribute to soul icons Marvin Gaye and Gladys Knight with covers of "I Heard it Through the Grapevine" and "Every Beat of My Heart." Knight recorded the latter at age 18. "So, this 59 year old is going to try to sound 18 tonight," said Jones.
"The reason I'm shouting right now is I'm alive and I'm cancer free," said Jones late in the set. "So, when you see me do this, don't get upset. I can't help myself." With that, she kicked off her shoes and hoofed the stage to splinters before making her exit. Truth be known, the Dap-Kings left the stage as a tough act to follow.
Fortunately, their headlining friends in the Tedeschi Trucks Band were up to the challenge. With two drummers, TTB outnumbered the Dap-Kings by one player. Susan Tedeschi's vocal power and the stage full of friends recalled the southern soul of early 70s husband-and-wife powerhouse Delaney & Bonnie. Although Trucks didn't harmonize vocally with his wife, the pair made a formidable team as tandem guitar heroes.
With a twinkling piano introduction reminiscent of "I Put a Spell on You," the band launched "Do I Look Worried" from 2013's Made Up Mind album. Trucks displayed the enviable tone and touch with slide guitar that made him a star member of the latter era Allman Brothers Band.
Background vocalist Mike Mattison dueted with Tedeschi during a groovy cover of the Beatles' "Let it Be" track "I've Got a Feeling." Next came an extended instrumental stomp that displayed deep musicality and sensitivity in addition to unbridled power. Keyboardist Kofi Burbridge traded licks on flute with Trucks.
Afterward, Tedeschi wished a happy Father's Day to all the dads in attendance. "And the several on stage," she added.
"This is a new one," said Tedeschi before beginning "Anyhow." Her vocal was expressive and full of longing. A great cheer of recognition rose for Trucks' gentle arpeggio leading into "Midnight in Harlem." The song brimmed with Kebbi Williams' smoky saxophone, Burbridge's gospel organ and Trucks' lilting, cartwheeling slide guitar solo. Throughout the song, Trucks' face remained focused and expressionless. Emotion, however, poured out of his fingers as the song's dynamics rose and fell in waves.
The band's cover of Derek and the Dominos' "Keep on Growing" drew further comparisons to Delaney & Bonnie. Following a rowdy "Get What You Deserve," Trucks sat on the drum riser to change a guitar string while Tedeschi's guitar took solo flight on "I Pity the Fool."
After bringing the audience to a boil with the fervent "Bound for Glory," TTB encored on a crowded stage with guests Bramhall, Jones and many of the Dap-Kings. Etta James' "Tell Mama" and a medley of Sly and the Family Stone's "Sing a Simple Song" and "I Wanna Take You Higher" were dynamite slices of joyful soul.
Following the generous set, riders had to hustle for the last Metra train returning to downtown Chicago, but they did so in high spirits.
–  Review by Jeff Elbel
– Photo courtesy of Ravinia / Russell Jenkins
Jeff Elbel is a local free-lance writer. Email: elbel.jeff@gmail.com
Category: Featured, Live Reviews, Stage Buzz, Weekly