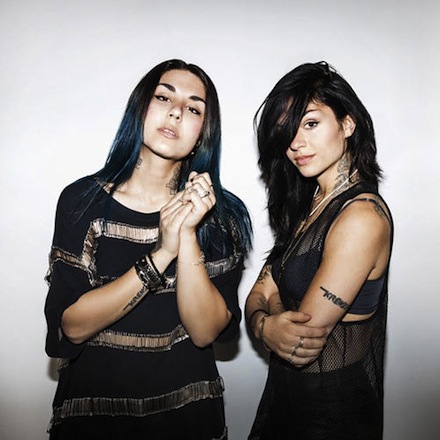 Krewella
Park West, Chicago
May 14, 2015
It's no secret that Krewella has taken a popularity beating online as of late. Following the exit of Kris "Rain Man" Trindl in September of last year, remaining members and sisters Jahan and Yasmine Yousaf found themselves on the receiving end of an especially vitriolic internet backlash. While musical acts lose and gain members all the time, some of their former fanbase (and cowardly internet trolls)  were out for blood towards the Yousafs, with much of the discourse taking an ugly focus on the sisters' gender more than their musical ability.
All of which is to say, the stakes feel higher right now for the continuing Krewella. The sisters have since gone on to release two new songs since Trindl's departure: the harder edged "Say Goodbye" and the comparably more pop-infused "Somewhere to Run." In addition, they continue to perform in Las Vegas, where live EDM reigns above all other genres, at nightclubs, pool parties, and hotels. And on May 14th, the sisters Yousaf returned home for their first live appearance in their hometown of Chicago since Trindl's exit, in a private event at the Park West, presented by Pandora and the City of Las Vegas.
While certain aspects of the group's stage set up remained familiar – Jahan and Yasmine alternating time behind the decks and out at the front of the stage, singing – other elements have changed. Most notably, the duo now find themselves joined onstage by guitarist Max Bernstein (Demi Lovato, Ke$ha) and drummer Frank Zummo (Motley Crue, Scott Weilland). In fact, it was Zummo that most markedly differentiated this current incarnation of Krewella from its prior, three piece delivery. Throughout the evening, Zummo's pronounced live drums more than emphasized that this is a new Krewella with a newer, bigger sound.
Across their set, the four piece alternated approaches between a live band and a DJ performance. One minute the Yousafs would be at the front of the stage, providing live vocals for Krewella staples like "Live For The Night" and "Enjoy The Ride." Literally seconds later, they were back behind the decks, mixing in tracks like "Trap Queen" and Lil' Wayne's "A Milli." Especially present during the group's vocal performances, Zummo helped elevate the energy of the set, in addition to the light and smoke shows. Through it all, the group never took a break, instead treating their entire performance like one long, uninterrupted DJ set with sporadic live instrumentation accompaniments.
It was during the group's performance of "Killin' It," however, that the performance most felt like the Krewella that was born in Chicago. Yet evolving the group's sound, execution, and dynamic at this point not only seems wise, but necessary. The Krewella of 2015 isn't the same group that performed as a young three piece at Chicago staples like Logan Square Auditorium and Spring Awakening. The good news is, there's no reason for them to try to be. By incorporating live instrumentation and debuting new material, including one song with the lyrics "I just want a little bit of helter skelter," Jahan and Yasmine are showing that they're still in the game and have much more to come, on their own terms and on their own time.
-Jaime "Black" de'Medici
Category: Live Reviews, Stage Buzz