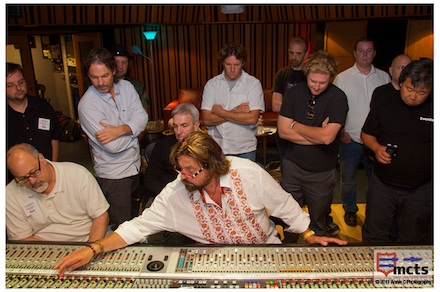 Alan Parsons Master Class Recording Training Session
It's not often that musicians and recording engineers get to learn from a master, but uber producer/engineer Alan Parsons (Dark Side Of The Moon, Abbey Road) and recording artist (Eye In The Sky, I Robot), will bring his talents to Rax Trax Studios in Chicago on May 31st for his 1 day-Master Class Recording Training Session.
The logical spin-off from Parson's Art And Science Of Sound Book and DVD, Parsons and his business partner Julian Colbek created MCTS after considering ways to compliment their new project. "We recognized that we needed a way to promote it. I'd done similar events as well before the book had come out, I'd lectured at colleges, universities and recording schools as well," Parson's told IE." It seemed like a good idea – to combine a book and DVDs with Master Classes. I've always been comfortable doing these events. People really enjoy it."
MCTS will offer students a chance to learn proper mixing technique from the guy who did it for Pink Floyd's Dark Side Of The Moon and Al Stewart's Year Of The Cat. "Some of the attendees are open mouthed at what goes on. They tend to be amazed at the mysterious technical stuff, but also at the human side of it, dealing with the artist, dealing with performance, getting it recorded and getting the right sound balance."
Featured recording artist at Rax Trax for this event is multi-instrumentalist (lap steel, dobro, mountain and hammer dulcimers, mandolin, banjo and mandocello) and songwriter Chris Seibold, who juggles his guitar-playing duties as house guitarist with the iconic radio variety show A Prairie Home Companion with his all-star band, Psycles that features an acclaimed group of Windy City session players who'll be accompanying him on the recording.
Like the writers behind IE's Studiophile column. Parsons is an evangelist for making records in a professional recording environment. Rax Trax is the epitome of that vibe (48 channel SSL 4000G, Pro Tools HDX system, 32 analog inputs and 40 outputs). A pro studio environment is the last destination in successful music making that can't be captured in laptop recording software. "We try to encourage that in the book. There is just an enormous benefit to recording as a group in a studio. Some people have forgotten you can record that way, instead of piecemeal. It's almost expected that you record with a drum loop, a bass and a vocal. I've tried to resist doing it that way. I prefer recording the old school way." That said, Alan of course uses modern equipment – ProTools, plug-ins, automation, cut and paste etc. "One of the great benefits of these training sessions is that you get to see how old school experience and approaches can be applied to the modern environment," says co-producer Julian Colbeck.
Alan Parsons' Master Session is a 1-day Level 2 'Recording' event. Attendees should have a reasonable working knowledge of DAWs, studio etiquette and/or a good level of experience as a musician, engineer, or producer. Platinum seating is sold out, but Gold Seating is still available at a 10% discount of $450, where attendees get hands-on instruction from Alan between tracks.
For information and tickets visit HERE
– John Vernon
Category: Monthly, Stage Buzz, Studiophile, Weekly