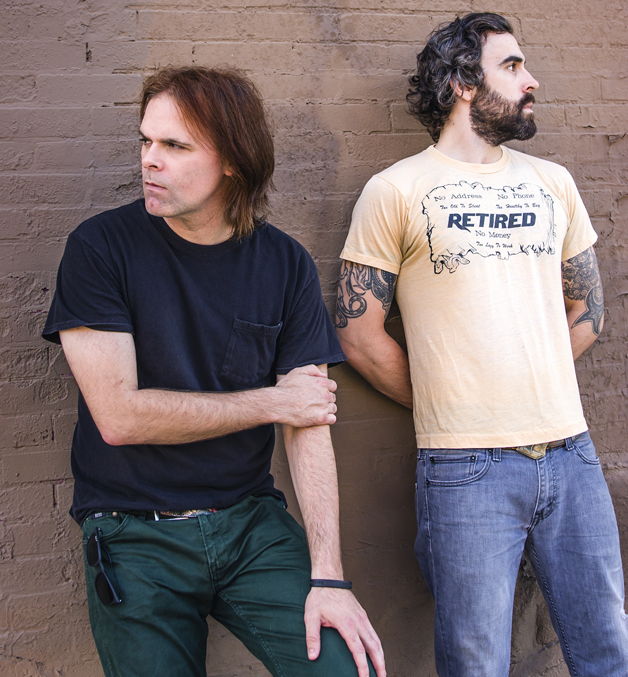 You'd be forgiven for not realizing that Local H has been around for 25 years now. After all, with "Bound For The Floor" (also known as "that 'copacetic' song") in regular rotation on Chicago alternative radio for the last two decades, it's easy to still think of Local H as an alternative underdog duo. Bratty upstarts with a tense and thrashy grunge jam anthem running on the air until alt rock radio one day stops being a thing.
It's a perception that couldn't be farther from the truth. In actuality, Local H has been around a quarter of a century now, with eight studio albums (counting the new record Hey, Killer), one live album, seven EPs, two live DVDs, and countless live shows under their belts. They've also remained one of the most consistent live and studio acts in Chicago's storied rock scene. Though many peers from the group's initial launch have disappeared from sight or failed to recapture their glory days, Local H have never left the building. Frontman Scott Lucas and three drummers now – Joe Daniels, Brian St. Clair, and and currently, Ryan Harding – have remained a fixture in and outside of Chicago, with a steady flow of releases (though Lucas doesn't agree, more on that later.), and regular events like the band's annual New Year's Eve bonanzas at venues around Chicago. Not bad for a grunge rock upstart out of Zion, IL.
None of the history takes into account Lucas' forays into other projects, such as electro-punk outfit The Prairie Cartel and Americana folk-rock collective Scott Lucas & The Married Men, with three full length outings between both outside ventures combined. While that might seem like an impressive discography for one songwriter, Lucas doesn't see it that way.
"When you think of the fact that we've been putting records out for twenty years, full length records, and then there's only eight (Local H records), that seems like we've been slacking," he counters. "And I know there's a lot of EPs, and I know there's a live record in there, and I know there's other records that I've made in there. But yeah, there's a certain thing that you kind of have to do to keep this fresh. If we made more records, would they be good? If we made more records, would I be able to have that quality control, where there's no filler on the records? All the things that I want those records to be, if there were more of them, I don't know if I could do it. I certainly wish I could make more [records]. I just don't know if I can."
Quality is at the forefront of Lucas' mind, especially when it comes to new music. It was a primary concern around the band's PledgeMusic campaign, supporting their new album, Hey, Killer. In the months leading up to the record's release, Local H has been hosting a crowdfunding campaign, offering incentives ranging from band signed t-shirts, to private listening parties at fans' houses to Skype sessions with Local H doling out songwriting lessons. "With this idea, we could give people snippets of songs, we could give people rough mixes, we could (give people) little things in the studio" the frontman explains. "So it felt like there was constantly something happening. But, you still wouldn't ruin the experience of the record."
"The main thing is just getting people to trust us that we wouldn't give them a shitty record," Lucas continues. "And I do appreciate that. That people trust us enough to know that they can pre-order something that they're pretty sure is not gonna suck." Fortunately, and not surprisingly, Hey, Killer doesn't suck. Though that's not something Lucas takes for granted, as he knows all too well what it's like to be burned by a band. "There's plenty of my favorite bands that have suddenly, without warning, sucked," he recalls. "And, you don't see it coming. You're just like, 'Why would you make this record? Why? Why? Everything's been perfect up until this point!' Seriously, some of my favorite bands have sucked so hard that I can't imagine how it must have happened."
If anything, Hey, Killer is a more straightforward record than the previous two long-players from Local H. It's also a record that's less thematically singular than the previous two H outings. In his June 2008 IE cover story, Lucas spoke of the dissolution theme running through that year's 12 Angry Months album. "When you listen to a really good breakup record, it's mean, it's disgusting," he admitted, "and there are some really terrible things that people do to each other, and really terrible things that you go through, so, I wanted to touch on those things." The follow-up, Hallelujah! I'm a Bum, meanwhile, turned the attention towards larger social, economic, and political issues. "If you didn't have any money, and you didn't have any food, and you didn't have a home, the last thing on your mind would be who your girlfriend was dating," Lucas explained in a Dynasty Podcasts interview at CMJ in fall of 2012.
"Yeah, it's definitely less thematic than those two records," Lucas confirms now. "Those records are about as theme-oriented as you can get. But there are themes on this record. We just don't want to belabor that fact. There's a lot of stuff going on. It's multi-pronged in its themes. But I mean, everything was just sort of chosen for melody, and for hooks, and for catchiness. Like there are songs, maybe, that were chosen on Hallelujah, I'm A Bum, because of the lyrics, or, we wanted to get across a certain point. A friend of mine listened to that record, and was like, 'I'm surprised at how weird it is.' And I don't think it's weird, but I know that certain things were chosen to get feelings across, or certain things were chosen for lyrics, and to fit in with themes. Whereas this record is, everything's just chosen for the immediate rush of the hook, and the rockness of whatever song's happening."
For the rest of the story pick up your free copy of IE at your local retailer or read the story on page 24 in our digital edition HERE
Local H appears at Tailgaters on April 18th in Bolingbrook and their anniversary show April 19th at Metro Chicago
– Jaime "Black" deMedici