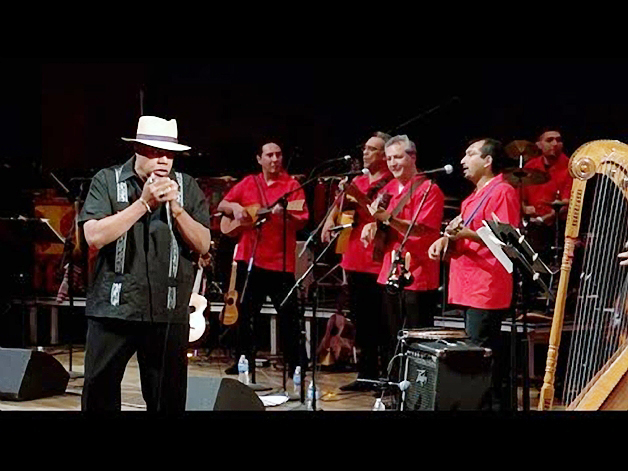 Old Town School of Folk Music
Saturday, February 21, 7:00 and 10:00
When  Chicago blues legend Billy Branch was growing up in LA in the '60s, he tapped into the city's Mexican cultural influences in a couple of ways. The first was obviously, musical, as the sounds of Afro Latino super group War grabbed his attention with the sizzling harp rhythms of Danish harmonica master Lee Oskar. The second was his interest in the popular Mexican comic book Memin Penguin. He learned Spanish reading the stories of a poor black Mexican boy whose name ironically translates to Mischievous Billy. The racial undertones of Memin's monkey-like features didn't escape him but it wasn't until his later performances and musical workshops in Mexico that he discovered the complex history of Mexico's African cultural heritage.
Over 200,000 Africans were shipped to Mexico during the early days of the slave trade. Their presence established the first free African town in the Americas, founded and named for Gaspar Yanga in 1608, as well as an improvised dance and music from the eastern coast of Veracruz called son jarocho. The most famous son jarocho is "La Bamba," popularized by Ritchie Valens in the '50s.
Valens reinterpreted the classic folk song through a rock perspective but the original was more layered. The call and response, varied rhythms and double entendres of son jarocho reveal a striking connection to blues music, which will be explored for the second time in an exciting collaboration between Sones De Mexico Ensemble and Billy Branch. Sones De Mexico celebrates the richness of the son tradition, which is the musical foundation for rural Mexican folk music.
Son varies from region to region, from the energetic mariachi of Jalisco, to the violin focused son calentano from Tierra Caliente. The first partnership at Sones De Mexico's 20th anniversary concert at Millennium Park last summer, unfolded a rich tapestry of complementary rhythms and influences. This one promises to go even deeper and should not be missed.
Ticket info available HERE
-Roslind Cummings-Yeates
Category: Featured, Stage Buzz