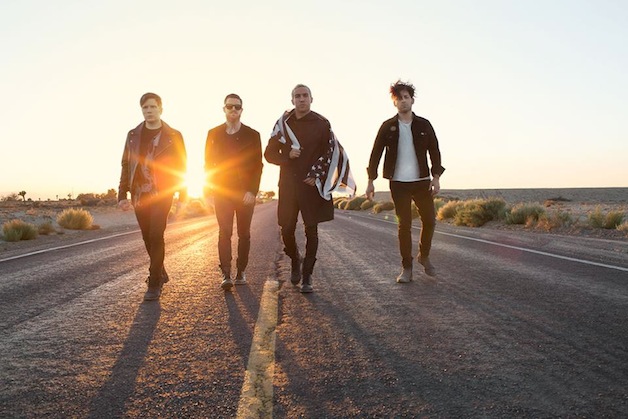 Lincoln Hall
Chicago, IL
Saturday, January 24, 2014
Though they're more often found performing in outdoor arenas and festival dates these days, Fall Out Boy have always been good about touching down in their hometown for smaller and more intimate shows. Whether it's 2013's Black Friday stop at Metro in support of their Pax Am Days EP, or doing a secret show at Schubas back in their "pre-hiatus days."  So it's not especially surprising that while the group is beginning promo on their upcoming Boys of Zummer arena run, they found time to tear through a surprise and near impossible to attend record release show at Lincoln Hall.
The band came out in support of their divisive and high energy new full length, American Beauty/American Psycho, and it showed in their live show. Though the set clocked in at a little less than 90 minutes, no time was wasted, with the group kicking off the night with high adrenaline call to arms "The Phoenix," off 2013's Save Rock and Roll. Throughout the evening, the foursome tore through their most arena-ready anthems. Absent were the more vulnerable and wounded album cuts that spoke to an emotive generation through Tumblr and MySpace. Instead, current single "Centuries" was brought out booming and impactful, while "I Don't Care," off the criminally underrated Folie à Deux, still proved bratty and tauntingly mean. And "Immortals" came across notably more muscular and riff-driven live.
Bringing out one of AB/AP's more infectious movers, the band performed "Uma Thurman" for the first time live, with the song's  Munsters TV theme riff adding a sporty, electric groove. Throughout the set, vocalist Patrick Stump moved across styles and volumes, with "The Kids Aren't Alright" finding him alternating between belting and crooning, sometimes in the same breath. On "Young Volcanoes," meanwhile, Stump played an acoustic guitar, coming across far looser and more singalong-ready.
Given their reach and stature these days, it can be hard to connect Fall Out Boy in 2015 to the kids who frequented the Fireside Bowl over a decade ago, as Pete Wentz name-checked going into "Alone Together." But surprises like a set at Lincoln Hall serve as a reminder that Chicago isn't just Fall Out Boy's past – they're keeping it in their present, as well.
– Jaime "Black" de'Medici
Category: Live Reviews, Stage Buzz, Weekly