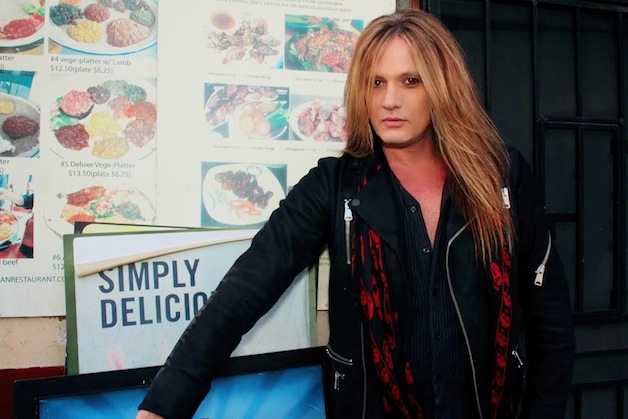 Former Skid Row frontman Sebastian Bach is no stranger to attention — nor does he shy away from it. Since Skid Row's 1989 self-titled debut album, which spawned chart-topping anthems "18 and Life," "Youth Gone Wild" and "I Remember You," the slinky Jamaican-born Canadian has basked in the spotlight. Fired from Skid Row in 1996, Bach continued to perform, starring in Broadway plays and various popular television shows. At one point, it seemed like Bach was popping up almost everywhere on TV, including shows SuperGroup, The Gilmore Girls and the Canadian mockumentary Trailer Park Boys, to name a few. Now on his third full-length solo release, Give 'Em Hell, Bach has embarked on a month-long US tour, which will be making a stop at The Cubby Bear on December 18th.
IE: Your latest album, Give 'Em Hell, took a year to write. Was writing the lyrics cathartic or therapeutic in any way for you?
Sebastian Bach: Yes, definitely. I have this weird thing where I can't really sing lyrics that I don't believe in. And it makes people very mad at me. I can't just fake it, and I've tried in the past and it doesn't work. Some of the lyrics are so personal that I refused to put the lyrics on the record and the record company begged me to. Some of the lyrics on there are so personal that I don't even want you to read them!"
IE: The songs on Give Em Hell are all well- crafted. What were you focused on during the writing sessions?
Sebastian Bach: It's just such a nebulous process. You go into a studio with nothing and you're supposed to come out of there with 13 tunes that you're so proud of and that you love so much. And there's no rhyme or reason to how you get to that point. My ultimate dream in rock 'n' roll when I was fired from Skid Row in 1996 was to possibly someday be like Ozzy Osbourne, in that he came up with Sabbath and then had a successful solo career. Blabbermouth.com has this thing where they always print the first week sales of every record, which is annoying, but Give Em Hell sold more copies the first week out than the new Ozzy Osbourne record. That's really a milestone for me because that's what I was trying to do. I think after three, four or five solo releases, I'm establishing myself in that way. This is the most successful solo record I've ever had.
IE: I love Canadian bands such as Max Webster, Coney Hatch, Moxy, Helix, etc. How important is keeping the Canadian heritage and history of rock and metal alive? You even cover April Wine's "Rock N Roll Is A Vicious Game."
Sebastian Bach: There's a lot of great Canadian music. And if you really want to have your mind blown, I grew up in the same little town that Neil Young grew up in called Omemee, Ontario, outside of Peterborough. My aunt lived there. It had a population of 800 or something like that. My dad lived on Gilmour Street, two doors down from Scott Young, Neil Young's dad. It's crazy if you think about out, Sebastian Bach and Neil Young in the same tiny Canadian town. Forget about this hard rock, Neil Young is Neil Young. He's like the Beatles! Then there's Rush. Nobody can beat Rush. That's probably one of my biggest influences is Rush. I just got to play with Alex Lifeson at a benefit show about a month ago. I sang "Working Man" with him and we killed it. It's online, you got to check it out.
IE: After appearing on many TV and Broadway theater shows, do you still get a lot of offers, and do you think you'll do something in those fields again in the near future?
Sebastian Bach: I just got offered a movie and another Broadway show. I do get offered a lot of that stuff. But my biggest focus right now other than this tour is that I'm doing my first book for HarperCollins. I've already written 160 pages that's going to be focusing on the early days and the whole career of Skid Row, and I think fans will really get into it. I'm writing it. At first they wanted me to have a co-writer but I said no because I don't want to read somebody else's account of my life.
IE: I love the Trailer Park Boys and you did a great Klaus Meine of Scorpions impression in one episode of Season 7. Has Klaus ever seen or heard your impression?
Sebastian Bach: He doesn't like it! (as Bach chuckles). That is the silliest show in the history of shows. When I first watched the Trailer Park Boys, I thought for the first ten minutes of watching it, I thought it was real. Because that's how we were in Canada growing up; smoking hash and drinking beer. That's all we did. It's an amazing show. The new season, Season 8, which is on Netflix, is really good. It's a whole new season. I'm shooting people, getting drunk. It's great TV!
IE: You're playing The Cubby Bear on December 18 and you've played there before. Any fond memories about performing in Chicago?
Sebastian Bach: I didn't realize how important that place was until I watched the Foo Fighters (HBO Sonic Highways series and post series concert) and Dave Grohl at the Cubby Bear. I was like, 'That's that place?' I guess Dave Grohl saw his first ever show there or something and I was just fascinated. I thought it was just a bar. My most vivid memory about Chicago? It was the very first city that ever stood up at a show when I told them to. I'll never forget that moment when Skid Row were on the Bon Jovi tour in '89. It was the exact moment where I knew we were going to be a huge band. That was the first time that ever happened to me, where I got 20,000 people standing up and freaking out. I actually have chills right now telling you about it.
– Kelley Simms
Sebastian Bach appears at Cubby Bear December 18, with Loveblast.
Get $5 off ticket price by using acesss code: CUBBY. Buy tickets HERE
Category: Featured, Stage Buzz, Weekly