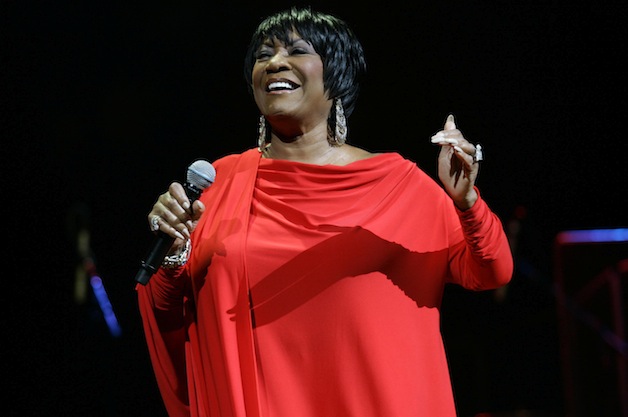 She's spent more than 50 years in the music industry and sold over 50 million albums in the process, but even at 70-years-old, Patti LaBelle's concert calendar is just as active as ever. Given that lengthy tenure spanning an immensely fruitful solo career, the futuristic funk of Labelle (also featuring Nona Hendryx and Sarah Dash), plus those same three ladies' original incarnation as The Blue Belles (complete with Cindy Birdsong prior to her joining The Supremes), there's plenty of material to pull from during this retrospective show.
So what specifically might the Grammy Award winner dig out of her soulful treasure chest at the Star Plaza? From the golden years of those two girl groups, there's "Down The Aisle (The Wedding Song)," a revered cover of "Over The Rainbow" and the '70s smash "Lady Marmalade" (which found new life at the top of the millennium thanks to a collaborative cover by Christina Aguilera, Lil' Kim, Mya and Pink). And individually speaking, R&B powerhouses include "If You Only Knew," "Love, Need and Want You," "New Attitude" and "If You Asked Me To," alongside the Prince-penned/produced "Yo Mister" and the massive crossover duet with Michael McDonald "On My Own."
Though the Grammy winner's output of traditional studio albums has simmered over the past decade, she did drop the cheekily titled inspirational disc The Gospel According To Patti LaBelle (with contributions as diverse as Kanye West, Wynonna Judd and Mary Mary), followed by Miss Patti's Christmas, which considering this show takes place in December, makes either spiritually-themed collection just as timely as the classic tunes. Regardless of what lands on the final set list, this member of the Grammy Hall of Fame, Hollywood Walk of Fame, Apollo Hall of Fame and Songwriters' Hall of Fame is one of the most legendary divas of all time who rarely disappoints.
Appearing: Friday, December 5 at Star Plaza Theatre (www.starplazatheatre.com) in Merrillville, IN
-Andy Argyrakis
Updated December 7 with show wrap and photo gallery by Andy Argyrakis

At "70-years-young," Patti LaBelle's still going strong, as evidenced Friday night at a packed Star Plaza (now sporting a superb new sound system) during her retrospective-themed "Platinum" Tour. From "New Attitude" to "Lady Marmalade," she highlighted much of her five decade history, displaying plenty of impressive vocal acrobats that proved so passionate at one point they sent both of her high heels flying straight into the adoring audience.
Category: Stage Buzz, Weekly