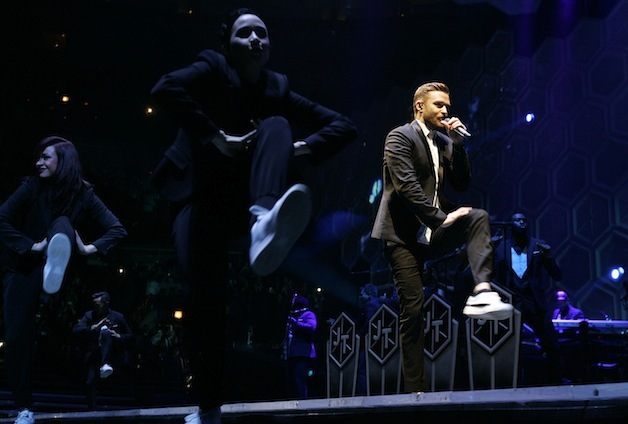 United Center, Chicago
Monday, December 7, 2014
He may have taken a six year hiatus from recording and touring, but ever since Justin Timberlake returned with a double-decker installment of The 20/20 Experience (RCA), he's more than made up for lost time, especially when it comes to performing in Chicago. As if last year's Soldier Field sellout with Jay Z wasn't enough, JT notched two full capacity United Center shows earlier this year with the demand still so overwhelming the encore leg yielded another sellout at "the house #23 built" (on a Monday night, no less).
And after two-and-half riveting hours split between two sets, it was obvious why Timberlake's never ending juggernaut isn't just one of the most compelling of the last year and change, but hands down the touchstone of his career (NSYNC or otherwise) thus far. Much like Beyonce's ability to break from a major group and become the preeminent female star of her generation, JT's essentially that male counterpart who effortlessly merges sheer delectability, songwriting substance and trendsetting production, while always winking back fondly at yesteryear.
All of those traits were shared in spades as Timberlake, a horn-centric band straight out of soul's golden era and caravan of dancers thrust their way around "Pusher Love Girl," plucked the funky rhythms of "Rock Your Body" straight out of the '70s and simmered seductively throughout "FutureSex/LoveSound." For "Until The End Of Time," the 33-year-old played some sensual piano as he crooned neo-soul style, while just as naturally transitioning towards hip-hop heavyweight "Holy Grail" mashed up with the purebred pop of "Cry Me A River."
However, the show's real apex came when the headliner and his entourage were elevated and transported by a mega platform over the ground floor to a secondary stage, busting some serious moves as the "Let The Groove Get In" exploded with saucy, Miami Sound Machine-inspired rhythms. Once re-situated, Timberlake keyed into his affinity for old school showmanship, first touching on his Memphis roots with a hip-swiveling rendition of Elvis Presley's "Heartbreak Hotel" and then morphing his latest acoustic cut "Not A Bad Thing" with Michael Jackson's well-matched "Human Nature."
Fast forward a few songs (plus a return to the main stage) and JT acknowledged the ongoing new jack swing influence of Bell Biv DeVoe's "Poison," which earned an even more potent reaction than some of his intermediary originals, though it was quickly usurped by "Suit & Tie," complete with the suave choreography from the playful music video. There was absolutely no mistaking whose music ruled the night by the time "SexyBack" rolled around in the encore, filling the aisles swiftly with dancers lit up by the lasers that criss-crossed the arena like lightening bolts.
The grand finale "Mirrors" initially appeared anticlimactic, slowly building as a contemplative ballad before kicking into its infectious chorus, though once the floodlights beamed all the way up to the rafters, not a single soul was left silent in a mass sing-a-long. In an era when few artists last a year (let alone a decade or a lifetime), The 20/20 Experience substantiated time and time again Timberlake's not just one of today's top superstars, but well on the way towards inheriting the longevity amassed by his heroes.
-Review and photos by Andy Argyrakis
Category: Featured, IE Photo Gallery, Live Reviews, Weekly