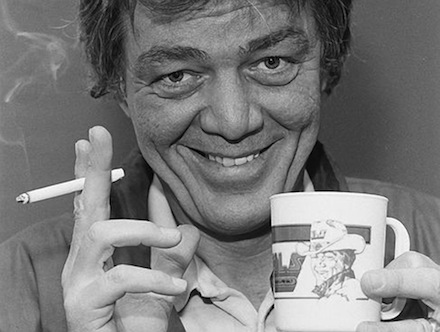 Over the past twelve months, the Chicago radio business has lost a few of the great ones.
In December of 2013, Larry Lujack passed away. His last official interview was with IE, although we had no way of knowing it at the time. He didn't even mention that he was sick. That column centered around his time in Chicago radio, but his stories about his bumpy road in radio before arriving in town were left on the cutting room floor.  Here's a memorable story from his early years in radio…
"I never had a problem with ratings, but they kept firing me because I didn't sound friendly enough. I had humongous ratings in Spokane, so I thought I could get away with anything. There was a commercial for Volkswagen and it started out in German ("Achtung! Achtung!") and I thought it was funny – it reminded me of those old World War II movies. And I don't remember exactly what I said, but I apparently said something that made them think I was implying this dealership was a cover for an underground Nazi movement in the United States. It turned out that the Volkswagen dealer was from Germany, flew for the Germans in World War II, and his employees were all German and they were highly offended. They were going to sue me and the station, so the station fired me to get him off their back."
After the interview I told him that he was holding out on us all these years. He really was charming and delightful. He had a ready answer for that as well…
"I'm so good at fakin' it," he said. "I plead guilty to being moody and easily depressed. But I also knew that nobody wanted to listen to someone who was always down, so I faked this whole charming and delightful thing. Very successfully I might add."
If he was fakin' it during our phone conversations, he obviously fooled me too. I had a great time talking to him.
In September of 2014, another Chicago radio icon, Roy Leonard passed away. I had the chance to interview Roy a few years ago, and we talked for several hours about his legendary career. He had some incredible stories, but I think this one about  legendary filmmaker and actor/comedian Mel Brooks is my favorite…
"I can't remember why he was in town, but he agreed to do two full hours with me. A lot of his stuff was on record at the time, and we did a lot of prep – my producer and I, we had bits from his movies, music from the soundtracks, you name it. Mel was impressed that it was something more than just a conversation. He was also absolutely hilarious. I'll never forget his last line of the interview. He said: "Roy, do you always do your show in your underwear?" I got to know him a little bit over the years, spent some time with him, went to his office in Hollywood – kibitzed with him. When The Producers came to Chicago, I ran into him on opening night, and he remembered me, and we spent some time with him. I don't know if you remember, but we used to take tours of listeners around the world to various different places, and one time we took a group to Italy. We were in a village in Northern Italy, and we pulled up to the hotel with our coach, and I went to the front door, and Mel was there. He said "ROY!" I said "MEL!" He was just hanging out at the hotel while his wife (Anne Bancroft) was filming a movie. Mel came on the bus and entertained us all."
In October of 2014, Cindy Gatziolis passed away. She was one of the all-time great public relations pros in Chicago radio history, known particularly for her time at the helm of the (FM98) Loop's promotion department in the late '80s and early '90s.  When I interviewed her a few years ago she was working for the (City Of Chicago) mayor's office, but still considered that time at the Loop the most rewarding part of her career…
"It was a challenge to say the least to please all the people all the time. Luckily I didn't have to work alone. Between (GM) Larry Wert, a myriad of program directors, my excellent staff and the hard-working, seldom-appreciated producers, we managed to make things work. I do recall one work day that lasted nearly 24 hours, waking up at 3am to be at a (Steve) Dahl &  (Garry) Meier remote, working on all sorts of details for the (Johnathan) Brandmeier 10 year anniversary show during the day, resting a couple hours and going to a Danny Bonaduce event that went until about 2am. What made it possible for me to do the job without going insane, is that I believed in those shows, and that goes for all of them…the FM jocks like Skafish and (Bob) Stroud, and Wendy Snyder who maybe didn't have the light shining on them as often. There will never be a more perfect job for me than that one and I truly loved all those people. "
On behalf of those people who worked with her, that feeling was most definitely mutual.
-Rick Kaempfer