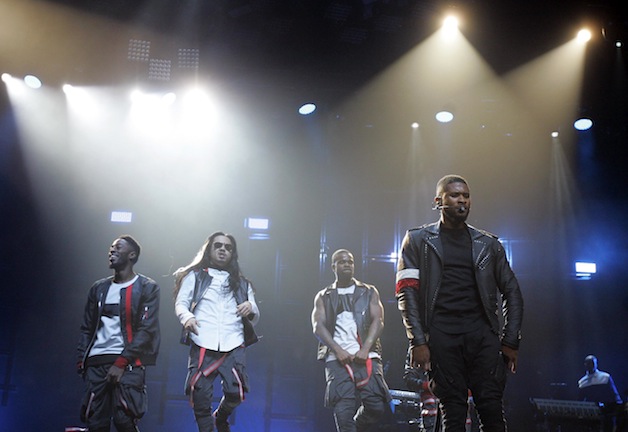 United Center, Chicago
Monday, November 17, 2014
Following a three year absence from touring, much of which was filled by coaching on The Voice, Usher returned to the road to belatedly address 2012's Looking 4 Myself and pre-plug his forthcoming eighth studio album UR. But even with a pair of newer projects on the agenda, the singer/songwriter/dancer/actor still made sure to address his illustrious R&B, soul, pop and hip-hop history, which now stretches back two decades.
Considering how ripped the 36-year-old looked, along with the fact that his tunes from the 1990s through now all sounded on point with today's trends, it's hard to believe so much time has passed. As a result, the fairly filled United Center was literally made up of everyone from little kids to the graying generation, all of whom immediately jumped to their feet for the spark-induced barrage of club bangers "My Way," "OMG" and "Love In This Club."
Though Usher's primary visual focus was on his rarely rivaled choreography (no doubt inspired by Michael Jackson), "The UR Experience" relied just as heavily on the headliner's smooth singing and background trio's rich harmonies. His brass-enhanced band was also quite dependable, transitioning seamlessly from the sultry jam "Nice & Slow," the funked-up disco throwback "She Came To Give It To You," the electro groove "Climax" to some completely off the cuff hip-hop collaborations with surprise guests Trey Songz and Rico Love, plus opener August Alsina.
While those moments of the two hour evening brightly accentuated Usher's assets, some other choices left a lot to be desired. For starters, he truncated several beloved older cuts into mere snippets and also called a handful of more than willing ladies on stage for a dance party during "Bad Girl." Surely the latter was the thrill of a lifetime for those sharing such close quarters with Usher, but it dragged on way too long for the several thousand spectators left in their seats, who just a few minutes later, were subject to equally lengthy musician and dancer introductions. (Why not trim the filler and play every song in its entirety?)
Thankfully, a rebound was right around the corner with the triple play of "U Don't Have To Call," "DJ Got Us Fallin' In Love" and "Yeah" surpassing the front half's momentum in spades. An encore of "Without You" (his EDM collaboration with David Guetta) once again epitomized Usher's slick showmanship, and perhaps most importantly, cemented his ability to remain a respected player in the game by constantly exploring additional musical avenues and expanding his cross cultural audience in the process.
-Review and photos by Andy Argyrakis
Category: Featured, Live Reviews, Stage Buzz, Weekly