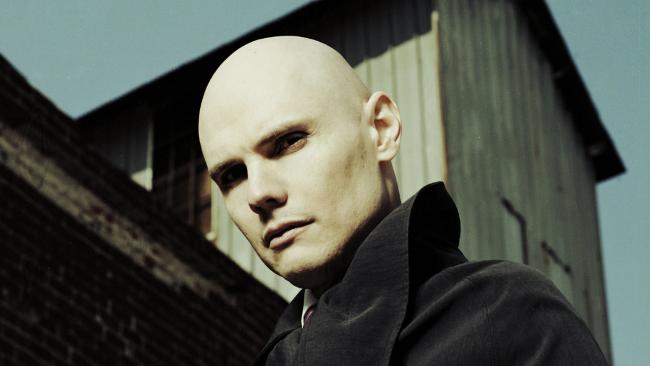 Thalia Hall
Wednesday, November 26, 2014
Chicago, IL
Though nostalgic purists like to lament the fact online, when it comes to The Smashing Pumpkins' members roster, change is the only certainty. This of course is nothing new. From Matt Walker replacing original drummer Jimmy Chamberlin in the mid '90s, to Melissa Auf der Maur subbing for bassist D'arcy Wretzky at the end of the group's first run, to rotating players since the bands' reactivation, the act's saga has always been bigger than just one fixed lineup. The only anchor through all of this has been frontman Billy Corgan, consistently writing, recording, and releasing new music, and moving the concept of The Smashing Pumpkins forward with him, with little time for wait for those who no longer fit into the project's ambitions.
So it shouldn't be any surprise that The Pumpkins are back with their newest presentation yet, on display this past Wednesday night for a surprise show at Pilsen's Thalia Hall. Announced just two days prior, the evening found Corgan and reunion mainstay Jeff Schroeder on guitars, alongside new players Brad Wilk (Rage Against The Machine) on drums and Mark Stoermer (The Killers) on bass. The foursome played Chicago in advance of the Pumpkins' forthcoming full length, Monuments to an Elegy, set to drop December 9th.
Mixing Monuments material, deep album cuts, and a handful of hits for a little under two hours, Wednesday's show found Corgan and co. diving right into the Pumpkins' past, present, and future, with little hesitation. New fare like the melodic and lively "Tiberius" and the upbeat and optimistic "Being Beige" suited the group live, with Monuments' "Drum + Fife" proving an inspired standout. Classic cut "Hummer, (from 1993's Siamese Dream)" proved it stands the test of time two decades later, in comparison to '90s mega hit "Zero, (off Mellon Collie and the Infinite Sadness)" which in 2014 sounds more a product of its era.
Elsewhere, the band delved into more ambitious selections from the Pumpkins' back catalogue, from a spacey, psychedelic version of "Drown," off the Singles soundtrack, to an alternate take on live juggernaut "Silverfuck" that was loaded with power. Perhaps the most unexpected offering of the evening was an extended and jam-heavy version of Machina centerpiece "Glass and the Ghost Children," itself punctuated by Corgan's jagged and rhythmic riffs on the front end before giving way to a dramatic and atmospheric second half.
It's practically a given that this lineup of the band will (sooner or later) adapt and evolve, following precedent from the last two decades. What matters, however, is the group's continuing contributors continue to honor the Pumpkins' back catalogue, like Wilk and Stoermer did on Wednesday night. And, even more importantly, that Corgan continue building out the band's future, always looking more ahead than behind. As Wednesday's set demonstrated, that's where the Pumpkins' future lies.
– Jaime "Black" de'Medici
For more from Billy Corgan, check out the recent Illinois Entertainer x Dynasty Podcasts interview below, recorded this past summer and covering everything from the Pumpkins' reissue series to Monuments to an Elegy and more.
https://soundcloud.com/dynastypodcasts/cvu325-billy-corgan
Category: Featured, Stage Buzz, Weekly