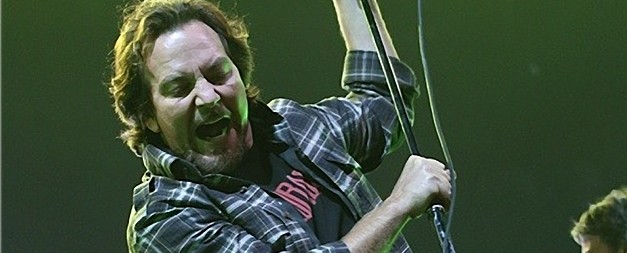 Pearl Jam
iWireless Center
Moline, IL
October 17, 2014
BMO Harris Bradley Center
Milwaukee, WI
October 20, 2014
"I want to say we've tried that maybe once before. We knew you had our backs"
The "that" to which Pearl Jam's singer Eddie Vedder was referring to was playing one of their albums in its entirety, from start to finish. And to the uninitiated, it probably would have gone completely unnoticed. No fanfare, no advance pronouncements from the stage. But over the band's two plus decades in existence, their rabid fan base has come to rival that of the Grateful Dead. So when the setlist indicated that the band was indeed about to work its way through 1996's No Code, the dedicated in attendance were about to seriously lose their shit.
For a band that continues to be a dependable live draw, everything about their Moline date at iWireless Center was fraught with equal parts speculation and excitement. The arena which holds approximately 11,000 asses almost passes as a club date for the Seattle quintet. Posts on message boards fueled speculation that something out of the ordinary could transpire, making tickets to this date the hottest commodity for the Fall trek through the Midwest.
In an age of backing music tracks and lip syncing, Pearl Jam were perfectly content to be fallible. Stone Gossard's "Mankind" was restarted after one attempt. The rhythm guitarist appear to leer at lead guitarist Mike McCready after he grabbed what certainly sounded like an improperly tuned guitar and Eddie Vedder thanked a fan near the front of the stage after he supplied him with the first lyric line from the album's closer "Around The Bend."
But instead of derailing the performances, the hiccups actually reminded fans of something missing from a great deal of live music being played today: The human element. And the ability to shrug it off, and move on.
Two nights later, at Milwaukee's BMO Harris Bradley Arena, the band would revisit this tactic, only this time they banged their way through 1998's Yield. At this point in their careers, the band is the equivalent of a muscle car, ready for any takers. Vedder's deep vibrato continues to amaze, bringing a wide pallet of emotion and color to rock radio standards like "Alive," "Even Flow," and "Corduroy" but still supple enough to bring the gravitas on ballads like "Sirens" and "Just Breathe."
With both shows clocking in well over three hours each, it begs the question, "How much longer can Pearl Jam do this?" The house lights were already up when it appeared that band would take the evening's final bow. And who could fault them. They had already covered The Who ("Baba O' Riley") with an assist from Cheap Trick's Rick Neilsen, gave shout outs to the Green Bay Packers' Aaron Rodgers and delivered a performance twice as long as men half their age. Yet there they were, once again reaching for guitars, playing past curfew and all but guaranteeing they would not arrive at the next city (Denver) as early as expected. It also leaves no doubt as to the question about their longevity.
– Story and photos by Curt Baran
Category: Featured, IE Photo Gallery, Live Reviews, Weekly