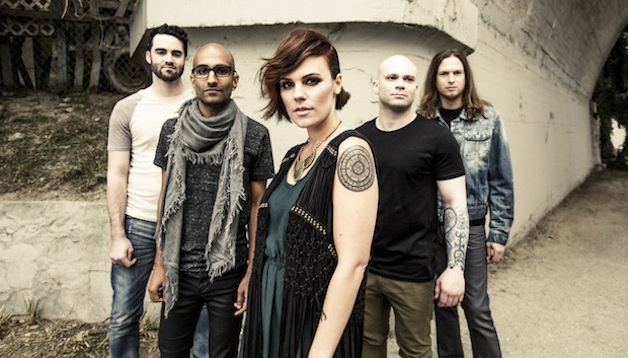 Losing vocalist Lacey Sturm hasn't slowed down Flyleaf, platinum-selling Christian alt-rockers, much to the relief of the band. Losing an acclaimed lead vocalist can end a band's career, but Flyleaf has been buoyed by new vocalist Kristen May and a new hyper-melodic, back to basics sound on Between The Stars.
Longtime co-founder/guitarist Sameer Bhattacharya and other founding members have remained intact, but May's presence brought out newer, Paramore-esque melodies to the fold as Flyleaf became Flyleaf Mach II.
"Man, it's just amazing," Bhattacharya told theoaklandpress.com, "Kristen brings this great sense of melodies and these soaring vocals. Lacey had a really good sense of rhythm and her vocals were very percussive, where Kristen's are very melodic, which is really cool. It's definitely something we needed at this time."
Their fans would say "God had a plan" for Flyleaf, and it looks it's a good one.
Expect to hear cuts from their self-titled debut,  plus Memento Mori and their new LP, Between The Stars.
Appearing, Tues Oct 21 at Subterranean ( Tickets $17: Advance HERE, $20 Door)
– John Vernon
Category: Featured, Stage Buzz, Weekly