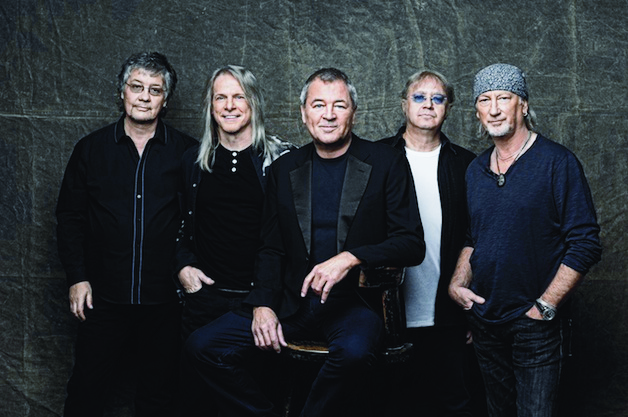 There are certain things in life that will always remain constant: death, taxes and the fact that Deep Purple remains one of the most powerful, sometimes underrated, and enduring hard rock bands of all time. On August 20th, when the band brings its 2014 Now What?! Tour to Festival Park in Elgin, IL, expect to hear a group at its most compelling and energetic, both in its new material and its legendary hits among them: "Highway Star" and "Smoke On The Water."
The new album, while still remaining true to the hard rock sound the band established in 1968 with songs like "Hush" and "Kentucky Woman," offers up a platter of surprises with a sonic landscape that is far superior to most of the records the band has released since the 1970s (thanks mostly to the brilliant production efforts by Bob Ezrin). After an eight year absence from the new record charts, Now What?! has not only been embraced by critics and fans alike, it has taken Deep Purple to Gold record status in Germany, Russia, the Czech Republic and Poland and the Top 20 in the UK. The US market has been a little slower to respond, but the disc is the band's best selling album Stateside in decades.
Less than four years away from its 50th anniversary, the current line up includes Ian Gillan on vocals; Roger Glover on bass; Ian Paice on drums; Steve Morse on guitar; and Don Airey on keyboards, it has been intact for 11 years; and Gillan, Glover and Paice go back to 1969, with Paice being the sole original member.
We caught up with Roger Glover last month while the band was in Croatia. He waxed poetic on a number of topics, including the new album, the band's upcoming tour, the sad passing of founder Jon Lord, and the legacy of a group that defined the sound known around the world as "riff rock."
IE: A lot of bands that came out of your era have simply given up on releasing new music. They simply feel radio won't support it so why bother? And they just play the greatest hits. Deep Purple has obviously not taken that attitude. Now What? ! is proof of that. Can you talk about it?
Roger Glover: Well, yeah. Part of it is because America has been a bit tough for us lately. And the world is a big place. Now, What?! came out and has been a big success. We tour constantly. We are essentially a live band. We tour and tour and tour. It has been a few years since we did America and I am actually looking forward to that. Now, What? is sort of a shot of fresh air for us too.
IE: The consumers have changed too. They know it's a live industry now. It has been said that the record industry may be dead, but the music industry is very much alive. It has just gone to mostly a live environment. Because you have always been a heavy touring live band you already had a foothold and that was likely a big advantage for you, right?
RG: Yeah, I would say so. Right from the beginning, when I joined the band in 1969, we have just toured constantly. In fact, we toured so much in the '70s it probably killed the band at that point. We were worn out. Good management might have told us to take 6 months off and take a break- but we didn't. In the end, we took several years off!
IE: Where did the interest to make a new album come from? Did you feel it was necessary to make it for the rest of the world, even if it might not have that much impact in the United States?
RG: Well, that last album we made before this one was eight years before. I did a lot of interviews when the album came out at the end of last year and everyone was asking me, "Why so long?" The reason was that we were touring. We simply toured and toured. In 2012 we did a great tour with a full orchestra; a 45-piece young orchestra. We became a big band. It was not a band with an orchestra; it was simply a big band. And the music became much more jazzier. It was more jazz-oriented than classical oriented. That was a killer tour. It was an experiment we did; we just wanted to do something different. The echoes of that tour can be heard in Now, What?! It was somewhat orchestral in some places.
IE: The name, Now, What?! seems to reference something different is coming. Was there a lot of real thought into naming the album that?
RG: Not really. Ian Gillan suggested the name, when we were thinking of names. He emailed it to us with the question mark and the exclamation point. At first, I thought it was flippant. And then, nothing else came along and in the end, I grew to love it. I think it a great name.
IE: The band lives all over the world, right?
RG: Yeah, we are all over the place, as usual. I used to live in Connecticut, but now I moved back to Europe. Steve lives in Florida; a couple of us live in England; one in Portugal and I live in Switzerland. Getting together is a bit of a military operation. We don't rehearse that much because we sort of know what were are doing after all this time. It is usually bang out a song in the dressing room and then try them out live. We have always been a little dangerous like that. We like to take chances.
IE: Tell us more about the album, please.
RG: After Rapture Of The Deep, I was not happy with the sound of that album. But, we all carried on and forgot about that. We were too busy touring to even think about it. I think it was five years after the release of that album that we started talking about creating a new record. We started touring again, and we thought about a year later we should get started. But everyone was telling us don't bother. No one buys albums anymore. Get with it, and release a single on the Internet once in a while, but all of that is not really us. We are a dyed-in-the-wool album band. To me, albums from a band like us are more or less like the state of the country. What is the state of the band? They are a measure of where the band is at that time. A lot of the album is down to Bob Ezrin, the producer. He came to see us play in Toronto three years ago or so. He came back stage and we were not particularly looking for him to produce our next record, although he was one of the names that had been bandied about. Frankly, I never thought he would consider being our producer. But, he came backstage and we had a meeting. He said he loved the band, he loved what we did on stage, the freedom and the flow of our music. He liked the ad-lib nature and quality of it. He said he wanted to capture that in the studio. When we recorded the album we recorded it pretty much live. At least, the 4 of us did. We added the vocals on later. Instrumentally what the four of us played is what stayed on that record. The solos and vocals were overdubbed, but other than that we had very few additions. It's a very raw and bare record. I think that is what gives it its freshness, and that is really down to Bob Ezrin. He was very enthusiastic about the live nature of the band and its musicianship. We are not a band that writes songs to be recorded; we are a band that writes songs to be performed. I think that is crucial to the sound of the record. The album sounds great to me, and that was my priority.
IE: Robert Fripp of King Crimson has said about his band, "It is always the same and it is always changing…" I guess the same could be said about Deep Purple, right?
RG: Yeah, sure. I think Robert Fripp is quite right. Change is necessary. People, in general, are always scared of change. Not necessarily musicians or bands, but people tend to fall into this security hole and stick with it. Change is good. Your skin changes every few years. Your body changes. Everything changes, and yet, some things do stay the same. We're still the hard rocking band that we were. I think we are arguably a better band than we were in the past. I don't know if that is true, but I enjoy what we are doing now, very much. And, probably more than I did in the 1970s. I relish going on stage now.
IE: How difficult was the transition after keyboardist Jon Lord left? He was really a cornerstone to the sound of the band and one of the last original members. Was it hard to re-group after he departed?
RG: Strangely enough, no. Don Airey stepped into the role extremely well. I can't think of anyone better equipped to take on the role of Jon Lord. The first time he played with us, we knew. I have known Don since Rainbow. I was in Rainbow with Don and I knew what kind of musician he was. He is a wonderful musician; full of every kind of influence you can think of. He's a great jazz player; he plays a lot of classical stuff, and yes, he knows how to really rock out. That's a rarity. The first time he played with us was when Jon was ill. Jon had a bad knee and couldn't do a tour or the start of a tour. He had to step out for four dates in Scandinavia. We had very little time to rehearse and after the first date with Don I told him he had done great. He said he had tried to be Jon Lord at first, but after twenty seconds realized he just had to be himself. He could not have said anything better. The same thing applied to Steve Morse when he joined the band. When someone replaces someone, to make that person an exact replica is not the way to go. Don brought a new freshness to the band; he has a great flair for soloing. He is very adaptable. After a couple of albums with him he had really secured himself in the band. He is very adept at making suggestions and helping to write songs. The transition between Jon and Don was brilliant. We did a tour of England when we knew Jon wanted to leave and we had asked Don to replace him. And the way it worked is Don played the whole set up until Perfect Strangers, then after the keyboard solo, the lights went down and you heard the familiar strains of Jon"s organ. When the lights came back up, Jon was there with us. So we did a tour with both of them and that is how we broke Don in. For me, that was a beautiful way for us to make the transition and for Jon to make his exit. We all respected Jon's decision. No one wanted him to leave but we knew that was his choice. I think he passed the baton on to Don in a very beautiful way. Most band changes come with acrimonious arguments or left to musical differences. There was none of that going on. It was a lovely way to do it.
IE: It was odd because press peports said he left the band to retire, but then he kept on working as a solo artist..
RG: He never said he wanted to retire. He wanted to retire from the road and touring; but he was never going to retire as a musician. He was a born musician; he could not have stopped that. He did, however, want to concentrate on the music in his soul. That was much more gentle and much more orchestral in nature. It took him five years to make that decision, and when he did we all respected that. He has written some lovely music since.
IE: It was very sad when Jon Lord passed away in 2012. Had the band known for some time that he was that ill?
RG: Yes, we had still remained friends. In fact, Jon and our drummer Ian Paice had married twin sisters, so Ian was his brother in law. They lived close to each other. We were very much in touch with Jon. We thought he was getting better; he thought he was getting better too. I spoke to him about a month before he died. We had gone to record in Nashville. He was full of plans. He wanted to get back to playing more organ on stage; he wanted to get back into playing blues. He was full of confidence. So, we went to Nashville to record the album and about a week or so into the recording, Paicey said, 'Oh by the way, Jon's back in the hospital and he's not doing too good.' And we thought, 'Oh no!' And sure enough, two days later he passed away. That was a hell of a shock.
IE: Is there still any kind of a relationship between the Deep Purple organization and Ritchie Blackmore? Or is he persona non-grata?
RG: I don't know about Ritchie. He keeps to himself. I have not spoken to Ritchie really, since he left the band. That's not because I don't want to; that's because he does not want to. He is pursuing his own course and that is fine. If he is happy; then we are happy for him. He's a great guitarist and he has a very strong will. He has to do what he has to do. We respect that.
IE: Lets talk about the upcoming tour. What surprises can we expect?
RG: Well, if I told you that, then they wouldn't be surprises! The thing is, whatever surprises there are usually surprise us! Apart from the songs that everyone knows we are doing some obscure songs; some new songs. Within them all – they are presented as skeletons that we can change every night. There are different solos and different stuff going on every night. It's very fresh every night. Even the old songs sound fresh. People always say to me, ' Aren't you tired of playing Smoke On The Water,'? and I say: No, of course not! It's the kind of song that I can play a different bass part nearly every night. You can always experiment on that one. It's always a surprise to us as it is to the audience. What you get is pretty much five musicians at the top of their game having a lot of fun. And we have a lot of fun each night we are on stage.
IE: Most fans and music industry insiders consider Machine Head to be the apex of Deep Purple's recorded legacy. How do you feel about that album now after 40 years?
RG: Obviously with that album and Made In Japan (which was from the Machine Head era), and Made In Japan was really the album that broke "Smoke On The Water" in America especially, it was great to have that in your history. You can be very in intimidated by that success. There are a few bands that might say 'How can we top that? How can we better that?' but we actually don't think that way. We feel we should just make the best music we can at the time and that is all there is to it. Before Machine Head came out we didn't know it was going to be the album it became. And we certainly didn't know "Smoke On The Water" was going to be the song it was going to be. So, it was not in our hands, really. It was entirely up to the public. You don't try to write a classic; you just write. Every now and then someone will come up to us and say, ' How come you guys don't write songs like "Highway Star" anymore?' Actually, we do. They just don't sound like "Highway Star." If they sounded like "Highway Star" we would just be a copy of ourselves. The thing to avoid is to become a parody of yourself. All you can do is what is in your heart at that time. No one knows what the future of a song is going to be when you are doing it. You can't predict that.
IE: The rhythm section of Ian Paice and Roger Glover is one of the more ferocious in Rock 'N' Roll's history. What's it like for you to play with Ian Paice night after night?
RG: Well, thank you! When I first joined the band I remember being totally blown away with Paicey's playing, and with the others. I actually didn't really know who Deep Purple were back then when I first worked with them. I was knocked out with the musicianship, especially Paicey. He seemed effortless. A lot of the drummers bash the hell out of a kit, but as Paicey says: 'you can only hit a drum so hard; it won't get any louder. It just makes you play not so good.' He has that ability to play more like a jazz musician; more like a big band swing drummer. He hits the skins in such a way that they really crack, as opposed to hitting it really hard. That gives him a lot of fluidity. He's a very fluid drummer; and a groove merchant. Once he hits that groove, it's great. He plays with a kind of swing that no other drummer I know has. A lot of drummers these days play like drum machines. It's very difficult to get your personality over with drums. I can take Paicey at any time. I can tell his style. When I first joined the band he came to me after a while and said, 'By the way, I don't follow; I lead.' And I said: 'OK, I got the picture.' From that point on, I have just tucked in with him. It's a magic feel, you know? When I was growing up and in school I would see bands and I was always blown away by the power of a bass and a bass drum locking in. And that was something I could never quite achieve until I joined Purple. Still, to this day, my mind will wander back to those days and I will get the same kick. The power you get when you are really in tight with the drummer. I get that with Paicey. It is a joy to play with him.
-Bruce Pilato
Appearing: August 20 at Festival Park, Elgin. Tickets are available HERE