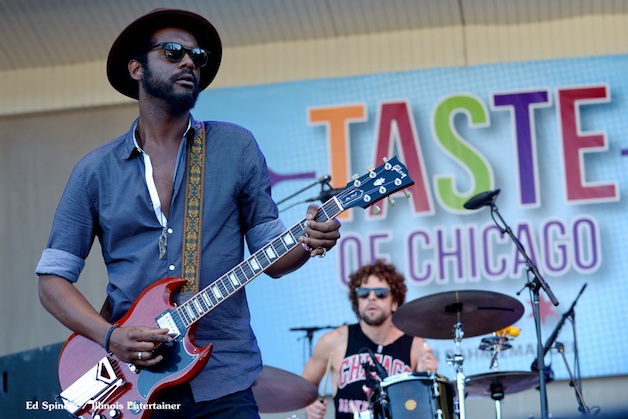 Taste of Chicago
Grant Park
July 10, 2014
Gary Clark Jr. has been labeled as the "future of the blues" from the instant that his rousing 2012 debut, Blak and Blu (Warner Bros.) hit the street. The lanky Texan has since proven that he lives up to the hype but as he quietly strolled onto the Taste Of Chicago stage last Thursday evening, Clark also demonstrated that he transcends labels while still honoring the blues.
Powering out passion and intensity that simmered under his brown fedora, he tore through "Ain't Messing Around" and "Third Stone From The Sun/If You Love Me Like You Say" with the blistering solos and fuzzed out licks expected from a musician also dubbed "the new Hendrix." But the melancholy falsetto that he flaunted on "Please Come Home" and the delicate urgency of "Black and Blu" revealed that he can also tackle soul and R&B. Although Clark's guitar chops captivate any crowd, he's not a showboating performer, preferring to let the authenticity of his singing and playing speak for itself. So when he dipped into the soaring blues rhythms of "When My Train Pulls In," he almost looked embarrassed when the crowd cheered and gave him a standing ovation after his masterful solo.
"Glitter Ain't Gold," glimpsed the funk undertones of Clark's sound and "Numb" hinted at the hip hop sensibility showcased on the recently released Blak and Blu The Mixtape. By the time he closed out with "Bright Lights," Clark had firmly declared his position as a contemporary blues hero, crediting the many influences that the genre has spawned. As he modestly bowed before the roaring crowd, the echo of his "Bright Lights" lyric, "you gonna know my name" rang all over Grant Park.
– Review by Rosalind Cummings-Yeates
– Photos by Ed Spinelli
Category: Featured, IE Photo Gallery, Live Reviews, Stage Buzz