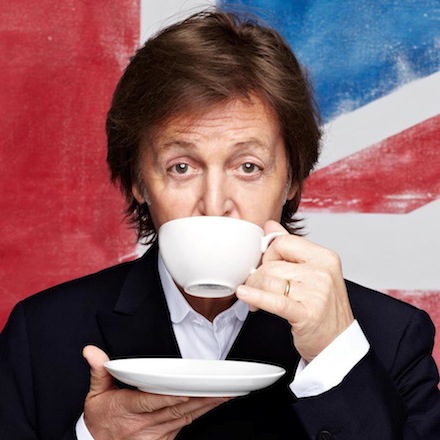 United Center
Chicago, IL
Wednesday, July 9, 2014
Paul McCartney put on a whale of a rock and roll show at Chicago's United Center – no caveats necessary. The qualifiers make themselves known, all the same. Any of us should be so lucky to do likewise when we're 64 and in the best of health, let alone 72 years old and recently recovered from a virus that forced cancellation of Asian shows in May and postponement of some American shows in June.
Apparently, McCartney is good about taking his doctor's advice. He appeared supernaturally fit and energetic throughout two hours and forty-five minutes onstage. The main set lasted from 8:20pm until 10:48pm, and not once did the former Beatle take a sip of water – not even before belting out the throat-shredding scat at the end of "Hey Jude," thirty-one songs into a grand total of thirty-nine.
McCartney has maintained a steady touring presence, but his last two stops nearby were different. Shows in 2011 and 2013 packed baseball stadiums Wrigley Field and Milwaukee's Miller Park, leaning almost exclusively on the most potent catalog in rock music. When the deep cuts in a set are "Lovely Rita" and "I've Just Seen a Face," you're dealing with firepower to match the dazzling and deafening pyrotechnic display that raged throughout "Live and Let Die."
Wednesday's show at United Center made a basketball arena seem uncharacteristically intimate by comparison, and gave a glimpse into what keeps McCartney ticking as an artist. Four songs from last October's New were featured. All held their own respectably against the classics, from the hard-charging rocker "Save Us" to the spirited "Queenie Eye" and the jangly strummer "Everybody Out There." The lucky folks attending opening night in Albany, New York also heard the reflective "On My Way to Work," but that was dropped from the Chicago set.
Those songs might come and go, but the lively title cut "New" is a winner that belongs in McCartney's set for years to come. With its "Penny Lane" bounce, arresting melody and New Orleans horn arrangement, it sounds like the work of someone reconnecting with his youth and still trying fresh tricks.
At different times during the evening, it seemed like people realized this was what they were witnessing. This was the guy who sang into the microphone with George Harrison while John Lennon howled "Twist and Shout" over Ringo Starr's rowdy drum beat at Shea Stadium fifty years ago. It's the guy who borrowed Little Richard's howl for "I'm Down" and spun joyously at that monumental gig while Lennon goofed and played keyboard slides with his elbow. And here he was, still giving his best and dealing out fresh material.
McCartney turned the tables on that sense of wonder. "This is so cool, I'm gonna just have to take a minute to drink it all in for myself," he said, surveying the room after a blissful jaunt through "All My Loving." Anyone who saw the recent stadium shows heard the anecdote before, along with the story about Jimi Hendrix following the "Foxy Lady" coda to "Let Me Roll It." And the story about the Russian dignitary who learned English from Beatle records that accompanied "Back in the U.S.S.R." And the dedications to bandmates Harrison and Lennon, to beloved wife Nancy, and to late wife Linda. But the repetition didn't mean the sentiments weren't heartfelt. All of those asides were golden pearls for first-timers.
McCartney was well supported by his exceptional band. Lead guitarist Rusty Anderson dug hard into a majestic solo during "Maybe I'm Amazed." Wix Wickens covered broad territory on keyboards, becoming the string section for "Eleanor Rigby" and using a wind controller to play faux-saxophone on "Lady Madonna." Abe Laboriel, Jr. gleefully bashed his drumsticks to splinters. Brian Ray thrashed and howled through "Helter Skelter."
Only during the simplest song in the set, the kid-friendly "All Together Now," did the band fall out of synch. McCartney strained and cracked the highest notes of "Maybe I'm Amazed" and sounded a bit ratty when launching "Yesterday," but those moments only served to heighten the emotional content. Minor reservations like these aside, at no time did anyone on stage appear to not be having a truly fantastic time.
In fact, the only person in the entire audience not experiencing musical bliss may have been the hapless soul who bellowed in vain for "Ram On" throughout the show. "Dream on," came one snarky response. "That's Aerosmith," came another.
"Okay, let's get high on life," McCartney said before launching into an encore of Wings' raucous and lusty "Hi, Hi, Hi." He seems to be thriving by taking his own advice. We'd be fools not to listen to what the man said.
– Jeff Elbel
Jeff Elbel is a local free-lance writer. Email: elbel.jeff@gmail.com
SET LIST:
1. "Eight Days a Week"
2. "Save Us"
3. "All My Loving"
4. "Listen to What the Man Said"
5. "Let Me Roll It"
6. "Paperback Writer"
7. "My Valentine"
8. "Nineteen Hundred and Eighty Five"
9. "The Long and Winding Road"
10. "Maybe I'm Amazed"
11. "I've Just Seen a Face"
12. "We Can Work It Out"
13. "Another Day"
14. "And I Love Her"
15. "Blackbird"
16. "Here Today"
17. "New"
18. "Queenie Eye"
19. "Lady Madonna"
20. "All Together Now"
21. "Lovely Rita"
22. "Everybody Out There"
23. "Eleanor Rigby"
24. "Being for the Benefit of Mr. Kite!"
25. "Something"
26. "Ob-La-Di, Ob-La-Da"
27. "Band on the Run"
28. "Back in the U.S.S.R."
29. "Let It Be"
30. "Live and Let Die"
31. "Hey Jude"
(Encore 1)
32. "Day Tripper"
33. "Hi, Hi, Hi"
34. "Get Back"
(Encore 2)
35. "Yesterday"
36. "Helter Skelter"
37. "Golden Slumbers"
38. "Carry That Weight"
39. "The End"
Category: Live Reviews, Stage Buzz, Weekly