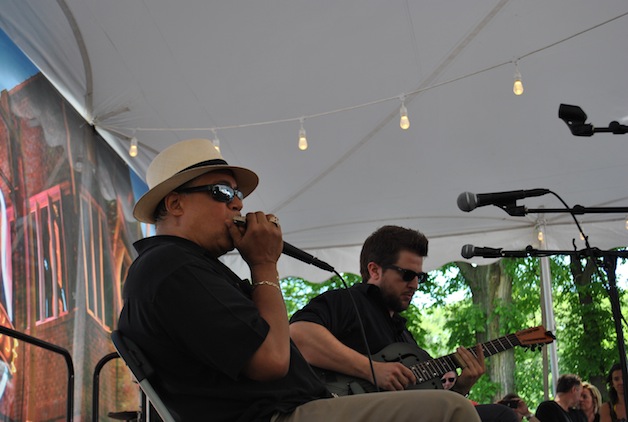 Grant Park, Chicago
June 13-15
Iconic Chicago bluesman Honeyboy Edwards summed up the progressive nature of blues music when he quipped "the blues has always kept a' moving" and despite many efforts to lock the genre into a moldy, stratified box, this year's Chicago Blues Festival managed to demonstrate just how much blues is evolving.
The line-up for the 31st annual Blues Fest included significant blues torch bearers as well as an exciting mix of young upstarts. Selwyn Birchwood, a 28-year-old Fender-wielding virtuoso with a towering afro and smoky Floridian vocals, was a crowd-pleasing highlight. Drawing from blues guitar masters and adding his own soulful grooves, he presented a fresh contemporary blues sound. The Grammy-winning Carolina Chocolate Drops moved in the other direction, resurrecting centuries-old black string band melodies mixed with their modern take. The lively, twenty-something ensemble, lead by charismatic lead singer and fiddler Rhiannon Giddens, took on Leadbelly and Odetta classics as well as their own multi-layered originals. The group works from a country blues foundation and stirs in folk references. Chicago's own Theo Huff celebrates the soul-blues tradition of Tyrone Davis and Johnny Taylor with meticulous style. The 26-year-old Huff fired up the Petrillo Band Shell with velvety vocals and new school showmanship. Nikki Hill, a young, buzzed – about singer who focuses on the jump blues tradition, displayed another facet of the blues, although her set relied a little too much on distorted rock guitars.
The Mississippi Rhythm & Blues stage emphasized the rhythm more than the blues but magnolia state crooners like Vick Allen and Pat Brown effortlessly revealed the gospel and soul blues connection. And there was straight ahead, stomp down blues, reliably delivered by Chicago masters Billy Branch, Deitra Farr, Peaches Staten, Nellie "Tiger" Travis, Smiley Tillman and Felicia Fields. Headliners Bettye Lavette, Otis Taylor, Aaron Neville and Dr. John mined the blues foundational landscape and performed a spicy stew of blues, soul, jazz, zydeco and rock, demonstrating once again, that the blues will never die, it just evolves.
-Rosalind Cummings-Yeates
Category: Featured, Live Reviews, Stage Buzz