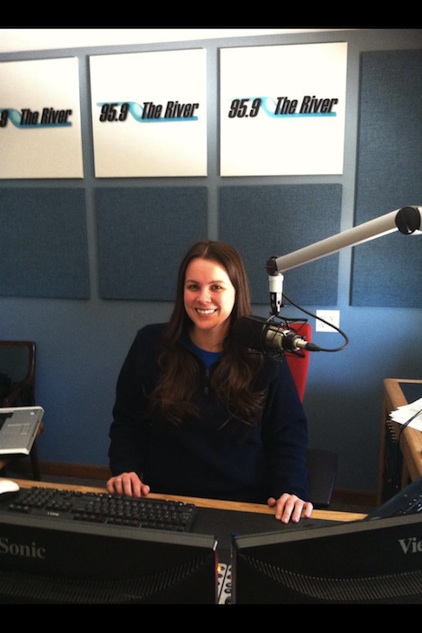 Danielle Tufano, the morning co-host and assistant program director of The River (95.9 FM) in Aurora, is a rare breed in the radio business these days. She's in her 20s. "28," she clarifies with a laugh, "just got in there under the wire." Anyone who follows the radio business has noticed this trend. The question is: Why are young people today choosing not to pursue radio careers? Danielle has her own theory.
"I still occasionally teach at the Illinois Center of Broadcasting," she notes, " and a lot of people my age don't appreciate that there's so much more to it than cracking a microphone and talking. There's a lot of hard work and networking and going above and beyond the call of duty required to make it in this business. I'm not going to lie—even though I still have a long way to go in my career—just getting to where I'm at has taken so many hours, and sometimes not getting paid to do things—and I think the younger generation doesn't appreciate putting in those kind of hours to wait for the return."
That work ethic is what Danielle has become known for in her short career. "When I first started out as an intern, I would get to the station at 4:30 in the morning, and I'd help out until about ten, and then I would go to school, and go to my paying job, and then go back to the radio station again at night—around 7:30 or so—and stay there until 10. Those were really long hours, but I was doing something that I really loved and I knew someday it was going to take me somewhere. I didn't know where. Anyone that has ever interviewed me, or hired me, or said they'd heard about me, said that they've heard about my work ethic. It makes me happy that is one thing that people may know about me."
Her resume proves her jack-of-all-trades reputation. She's worked as a traffic/continuity director, promotions assistant, board operator, morning producer, traffic reporter, newscaster, assistant program director, and a music jock in several different formats, including a few years as a weekend jock at US-99. Even her job description for the assistant program director job proves it. "I oversee all of our part-time on-air employees, as well as helping with station event planning, and doing some light website maintenance and streaming content, and basically whatever (program director Mark) Zander tells me to do—that's what I do."
But being the morning co-host of a big suburban station like the River is her biggest break to date. She and Scott Mackay found that they had an instant on-air chemistry. "Scott and I have known each other for a little over 8 years," she explains. "I met him when he worked at the Oldies station downtown (94.7 FM, WLS). He actually knows my family because that radio station played the Buckinghams all the time, and my cousin Dennis is the original lead singer of the group. Dennis would bring Scott around to family events. After he came to the River, Scott had a couple of co-hosts before me, but when this last one left suddenly in late February of this year, I volunteered to fill in until we found someone permanently. I think that because we already had a relationship, Scott and I gelled right away."
It's a show that hyper focuses on the local community, and that's something that really appeals to Danielle. "I love both big city radio and suburban radio. I loved working at US99 because it was a huge radio station with fancy equipment and a full staff and I love country music, but as far as suburban radio goes, what I really like about it is how involved it is in the community. That has always been really important to me, and a station like the River really takes that seriously. It gets me out there and in touch with the people I'm communicating with—it's puts a face to our audience. The River is a station that lives the western suburbs. We all do. So we really know how to make community radio work, but we also know how to make it sound big. It's the best of both worlds. We can make it sound as shiny as a big city station, while still maintaining a community connection."
Part of the way The River sounds all shiny and big is with their stable of veteran air personalities like Scott Mackay and the legendary Mitch Michaels. Danielle says they have taught her a lot.
"I have told Mitch this to his face. As a person, Mitch is a Diva (laughs), but on the air he is amazing. I grew to understand where he is coming from, and what he has seen, and what he has done in the industry and for the industry, and I have really grown to respect him. He's a great person to talk to if you ever need advice or want to hear about the time he ate 'brownies' with Journey, or want to know anything about music. He has such a depth of knowledge. I may be a little younger than our typical demographic, so it's really great to get his take on how things have changed over the years. He's phenomenal on the air. The River is lucky to have him."
And the River is also lucky to have someone Danielle's age that appreciates that he didn't just crack a mike one day and become a star. He earned it.
-Rick Kaempfer