The Cure headline Riot Fest
With ten years under their belts, the folks at Riot Fest Chicago (Toronto and Denver are also "franchises") pulled out all the stops this year and have arguably taken the crown from the folks at Lollapalooza as the "king of mega fests."
Heavy hitters performing September 12-14 in Humboldt Park include The Cure, Slayer, Wu-Tang Clan and The National. Our tastes lean toward punk rock, so we're super-excited about the Smash LP performing Offspring, Chicago's Naked Raygun and UK punk-pioneers Buzzcocks. Chicago talent is (of course) represented with Archie Powell & The Exports, My Gold Mask, and emcee Show You Suck performing.
Intriguing questions remain with "Lolla" founder Perry Farrell and Jane's Addiction gigging at this year's Riot Fest. How does current Lollapalooza management feel about that?  With corporate radio partners clearly designated (WKQX = Riot Fest; WXRT = Lolapalooza) will station DJs mention competing fests on-air anytime (or social media) soon?  And do mega-fests cause global warming?
These and other questions will be answered in the next several months…stay tuned…
For the full RF line-up: click below: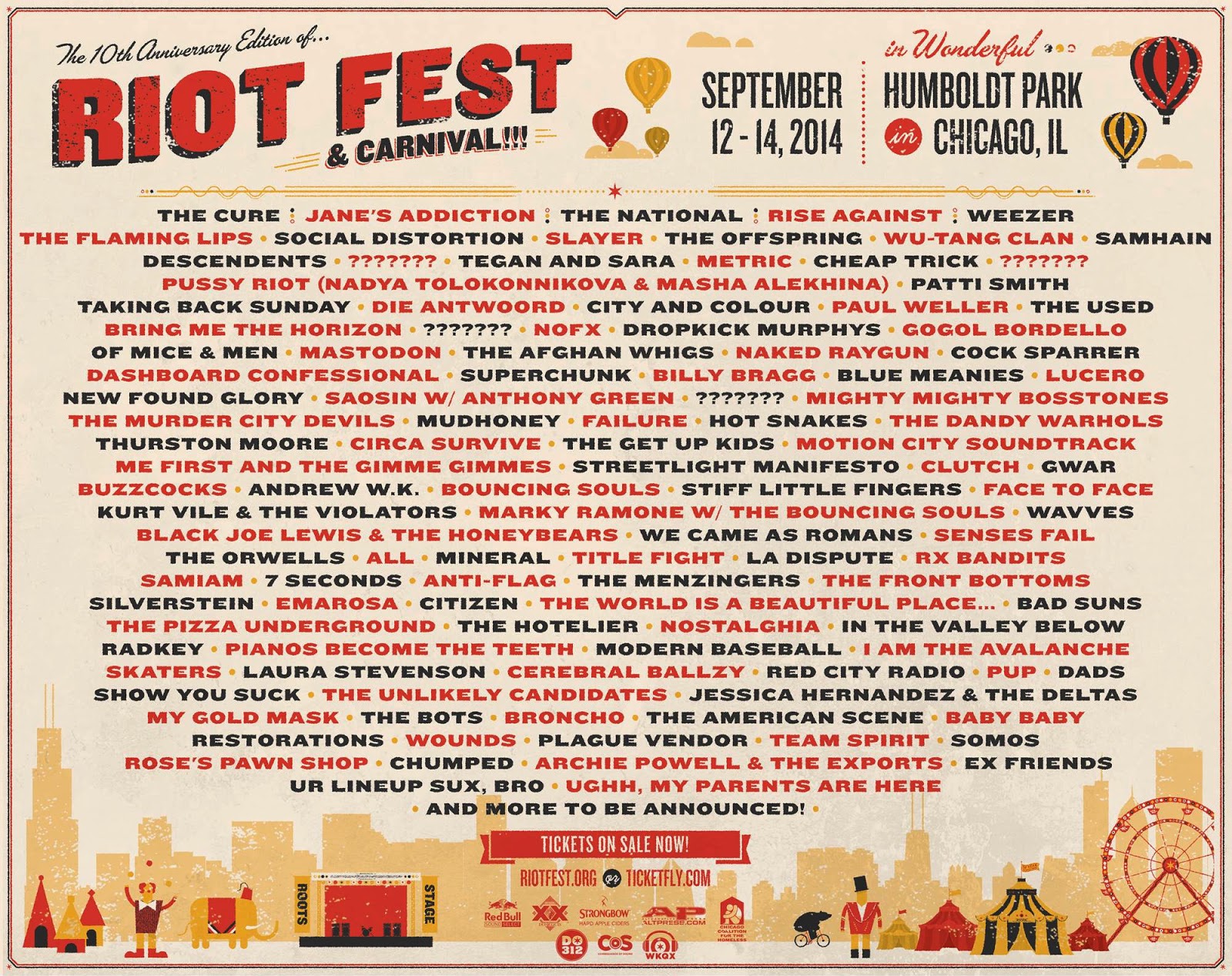 Update 5/15: We knew that the Offspring were performing the album Smash at Riot Fest on this tour, but the folks at RF also sent us a note the these bands will doing "deep cuts" aka "albums in their entirety" at this year's Chicago event:
On the heels of announcing Riot Fest in three cities within the past week (Toronto, Chicago and Denver), organizers have released the first big surprise in celebration of Riot Fest's 10th Anniversary, entitled "10 Years. 10 Essential Albums."
"During last year's Violent Femmes' set at Riot, where they performed Violent Femmes unannounced in its entirety, it dawned on me that if we ever did an album play thing at Riot, we should make it something that the fans would remember years from now," said Michael Petryshyn, Riot Fest partner. "So, I literally was walking back to my trailer after their set and it hit me… '10 Years. 10 Essential Albums.'… and yeah, it grew from there."
To help celebrate Riot Fest's 10th Anniversary, ten bands have joined in to play their seminal albums either at Riot Fest in Chicago or in both Denver and Chicago. Nine of the bands have been released today:
Jane's Addiction: Nothing's Shocking (Chicago)
The Offspring: Smash (Chicago)
Weezer: "The Blue Album" (Chicago & Denver)
Slayer: Reign in Blood (Chicago & Denver)
Samhain: Initium (Chicago)
NOFX: Punk In Drublic (Chicago & Denver)
Descendents: Milo Goes To College (Chicago)
Naked Raygun: Throb Throb (Chicago)
The Get Up Kids: Something To Write Home About (Chicago)
There is one more album organizers are holding close to their chests, but have promised to unveil it in a separate announcement in the upcoming weeks, as well as additional 10th Anniversary surprises.
"We have one more band playing an album that we're immensely excited about… but it wouldn't be Riot if we didn't tease a little beforehand," chuckles Petryshyn. "No matter what though, this is really about thanking our fans. The work put into the lineups this year and things like the essential albums plays is for them… as clichéd as it may sound, it's the truth. We'd be nowhere without them and maybe the way we thank them is by giving them a fest where we can all sing along."
Category: Stage Buzz