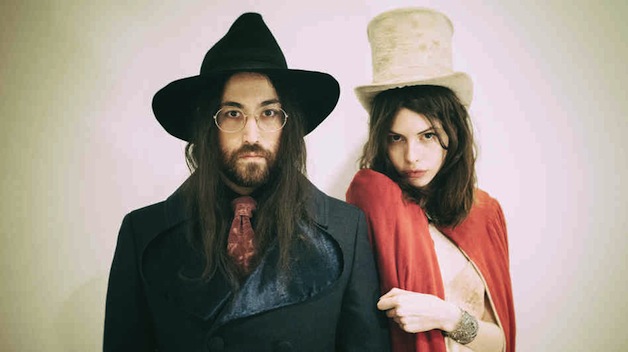 World-traveled model Charlotte Kemp Muhl swears she wasn't looking to make a love connection when – eight years ago – she and a girlfriend hitched a ride to California's annual Coachella festival with Kanye West. Her chum had talked her into the desert adventure, swearing she'd have a great time. "But it was kind of weird – I felt really awkward and out of place," she remembers. That's when she bumped into Sean Lennon. "And he instantly seemed really intelligent, and I noticed we had some chemistry, so we were walking around all day, talking and bonding and spilling our guts about our whole childhoods. Then he went off on tour, and we ended up developing this really intense written relationship through postcards, letters, E-mails, and texts, and we started falling in love that way. It was kind of an old-fashioned courtship."
The pair has been together ever since. "We're soulmates," declares Lennon. "I mean, if there's such a thing, we're that. And it wasn't a decision – when something like that happens, it's uncontrollable, it's overwhelming." And only gradually did his missus reveal the truth – she, too, had a knack for singing and making music. And she and her childhood chum Eden Rice grew up in rural Georgia, secretly writing folk songs together that they never bothered to release. So, two years into their relationship, Lennon and Muhl formed their own experimental outfit called Ghost of a Saber Tooth Tiger, named for a play Muhl wrote at 7 that her beau unearthed when they moved in together. Then they formed their own label, Chimera Music, to release their collaborations, like the new GOASTT set Midnight Sun. The company also issued Muhl and Rice's vintage Kemp and Eden material, plus albums from Lennon's renowned-artist mother Yoko Ono and Cibo Matto, whose Yuka C. Honda is partners with them in the project.
"Sean and I design all the graphic art on the label, and Eden actually drew all the drawings on the website, with Sean's help," says Muhl. "I do all the photographic art layouts, and we design all the T-shirts and draw and color them together. We fund every aspect of the label ourselves – it's like a mini-Motown or something.  And it's like 'Oh, God – we have to wake up at 8:00 in the morning and have distribution meetings and then pick out the packaging for the next CD and then pick out a color for the next T-shirt we're making. It's a lot of work. So this is the first time in our lives we've ever felt like adults."
The duo's New York apartment doubles as a home studio and warehouse. "It's where we ship all of our records out of – my kitchen downstairs in the basement," explains Lennon. "We take all the orders from here, we make all the music here, we record it, mix it, and then we master it up the street at Sterling Sound. It's a really mom and pop shop – we spend all of our time just working from the ground up." Believe it or not, he adds, the lovebirds have never had a true vacation. "We just work. We're not relaxed, we don't fly places. I've never even taken her on a weekend getaway to Vermont. It's really fucked up, actually!"
Left to their own devices, what musical magic does this outfit conjure up? Disregard anything you've heard before Midnight Sun, pleads Lennon. That work, he says, was parenthetical, just a snapshot of a moment and not really what they were intending. "This is the album that we really wanted to make, this is the one that was premeditated and very thought out and thought through," he says. It opens on the hazy stomp of "Too Deep," with their voices melded in a dreamy swirl, then gets even more psychedelic with "Xanadu," a decidedly Beatles-ish "Animals," a blues-beefy title track, the stormy Muhl showcase "Devil You Know," a carnival-flavored creeper called "Golden Earrings," and the funereal, 6:46-long prog-rock closer "Moth to a Flame." And Yes, Lennon's pneumatic singing voice often eerily resembles that of his dad, the late, great John Lennon. As does his long-hair-and-spectalces look these days.
And the songs were carefully considered. The ethereal, lyre-elegiac "Don't Look Back Orpheus," for instance, borrows from the classic journey-to-Hades myth, filtered through brilliant films like "Black Orpheus" and Cocteau's definitive "Orpheus." "I love those movies," Lennon says. "But honestly, we had this crazy old chamberlain and a harp sample, and Charlotte had bought this old calliope, so it all just kind of worked out and crystallized. And we knew that (Orpheus) had been written about a million times already, but we felt like we had a way of doing it that was different, or different enough."
Lennon put out his first of three solo forays, Into The Sun, back in 1998 on the Beastie Boys' Grand Royal imprint. Lately, he's been scoring films like Alter Egos and Rosencrantz and Guildenstern Are Undead – both available through Chimera. He's 38; Muhl is 26. "But I think I suffer from arrested development," he notes. "I feel very young, mentally, although technically, I know that I'm older. Like, I know that I'm older than Charlotte. But I have yet to feel any physical age thing happen. Luckily. I feel vigorous, and in my brain, I still feel like I'm only now starting to mature."
Lennon laughs at the irony. "Finally, at 38, I feel like mentally, I've just turned 25! But I think that's important if you're going to be creative – to suspend a certain amount of cynicism about life and try not to grow up too much as you get older…."
-Tom Lanham