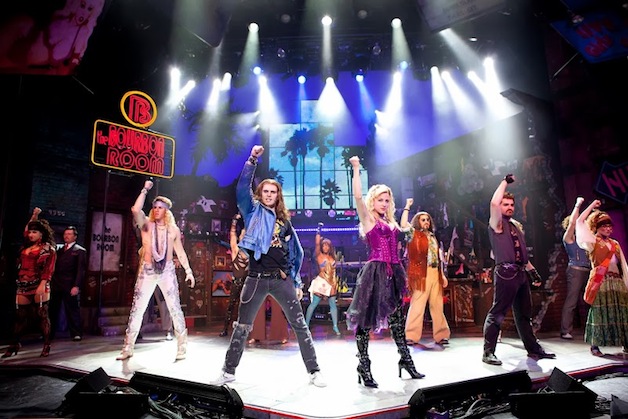 Rock Of Ages
Bank of America Theatre, Chicago
Tuesday, March 11, 2014 (through Sunday March 16th)
The 1980s revival is still on a rampage, and right smack dab in the center of the "like totally" trip is the latest "Rock Of Ages" Broadway tour. Sure, the original Big Apple edition was nominated for five Tony Awards in 2009 and the film version starred Julianne Hough, Diego Boneta and Tom Cruise (albeit questionably) on the silver screen in 2012, but the real reason the campy and racy romp continues to attract bang-up business at the box office is the star-studded soundtrack.
Tunes by Bon Jovi, Whitesnake and Damn Yankees have the hair band crowd covered, Styx, Pat Benatar and Night Ranger are sure to appease the arena rockers, while power ballads from Foreigner, Survivor and REO Speedwagon would've undoubtedly inspired some Bic (lighter) flicking (if only they weren't replaced by iPhone lights these days). But that's just scratching the surface of a two act, over two hour endeavor that pretty much revolves every scene around a classic tune from the decade of decadence, cast straight out of the Sunset Strip in all its excess.
No, Rock Of Ages isn't fine art by any stretch of the imagination, and though its tongue is firmly planted in cheek the entire time, there's still too many inane subplots, raunchy jokes and a constant stream of clichés. It's also worth noting the sound decibels come much closer to a stadium show than an intimate theatrical experience, while the cast often breaks the tradition of the fourth wall (which sometimes works, but not when the narrator's nearly sexually harassing an audience member).
Thankfully the memorable music is at the forefront of Rock Of Ages and this latest touring cast serves up a top notch performance all across the board. With Shannon Mullen as Sherrie "Sister" Christian and Dominique Scott as Drew Boley, it helps suppress the ridiculously thin plot about a small town girl and big city dreamer falling in love while hoping to save The Bourbon Room club where superstar Stacee Jaxx (Joshua Hobbs) first got famous. Nonetheless, it's impossible not to laugh alongside purposefully over the top takes on Twisted Sister's "We're Not Gonna Take It" as activists stand up to a dubious real estate developer, or Steve Perry's "Oh Sherrie" attempting to keep its namesake from escaping her heartache on "a midnight train going anywhere."
Perhaps the main theme of the otherwise guilty pleasure good time can be summarized in the grand finale of Journey's "Don't Stop Believin,'" which is set a few years in the future. Everyone may have grown up (at least in their own weird ways) without achieving all the goals of their glory days, but thanks to some extensive reminiscing, realize there are still plenty of reasons to find contentment in the present. Despite not being enough to likely sway serious theatergoers, Rock Of Ages will certainly work for those "payin' anything to roll the dice," even if it's for "just one more time."
Rock Of Ages continues at Chicago's Bank of America Theatre through Sunday, March 16 with additional details at www.broadwayinchicago.com.
-Andy Argyrakis
Category: Featured, Live Reviews, Stage Buzz