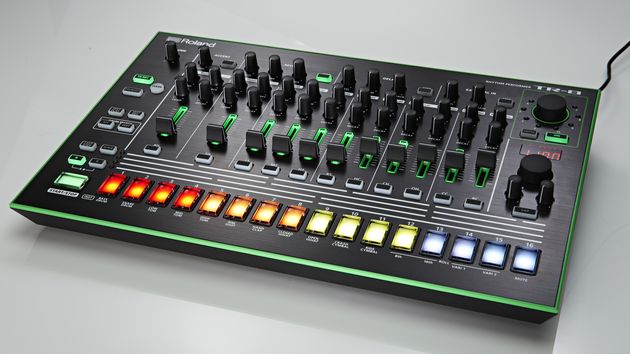 Roland TR-8
Performance Rhythm Machine
It's not an understatement to say Roland's TR-808 and TR-909 drum machines changed the face of popular music, launching post modern soul (Marvin Gaye) and Hip Hop (Beastie Boys, 2 Live Crew) to early Techno (Juan Atkins) and every electronic music genre that roared out of the '80s from English dance bands (New Order, 808 State) to Chicago House DJs (Frankie Knuckles) to Kanye West's 2008 LP 808s and Heartbreak that paid tribute to the legendary 808 drum machine. Considered a second rate version of the Linn drum machines of the early 80s, Roland's "affordable" model($1100 list price in 1982) became the most sampled drum sounds of the Reagan era.
Looking to capture the magic of those drum machines, Roland has released The TR-8 what they're calling "a performance rhythm machine that melds the legendary sound and vibe of the TR-808 and TR-909 with features and functions for the modern age." Offering genre-defining sounds, classic effects, unprecedented live pattern manipulation, and solid, intuitive performance controls. It's what the company calls "the TR…evolved."
In developing the TR-8, Roland obsessively analyzed and faithfully recreated every detail and nuance of the analog circuitry of the original models including the snap of the 808; the thud of the 909; the robotic click of an 808 rim shot or a classic 909 snare roll.
Not content with mere re-creations, they enhanced the original ideas with capabilities that go far beyond the original units. Tune and Decay knobs are now present on every instrument, and the Bass Drum and Snare Drum have additional controls such as Attack, Snappy, and Comp. Roland says it allows for a wide variety of tones, from subtle ambient percussion to pounding dance grooves. Per-step effects and the massively addictive Scatter function take things into entirely new levels.
Roland says the "TR-8 has been carefully designed from the ground up as an instrument to be played. Every control has a solid, predictable feel, with each drum instrument having robust, 'playable' faders. Numerous lighted knobs and RGB buttons give both real-time performance feedback and a striking appearance on stage."
The TR-8 also works in unison with other products in Roland's AIRA series (like the TB-3 Bass sequencer). Unlike drum machines from the early Macintosh years, users can connect the TR-8 to a computer via USB to send and receive both audio and MIDI data, including MIDI clock information for syncing with external devices and other AIRA units.
We think even analog purists will be stunned by the abilities of the TR-8. List price is $499.00 Details can be found at roland.com.
Fender
Pawn Shop Series
Vaporizer Amp
Fender's new Vaporizer amp evokes the 1950s-'60s age of the Jetsons and Sputnik, when the atomic-age world became enthralled with spaceflight and spacecraft. When the wild flights of fancy it launched permeated culture everywhere, from film and television to cars, guitars, appliances and more – everything was bright, colorful and flashy. Fender is going after the boutique amplifier market with the Vaporizer, and it's probably worth a look, though it doesn't have the indie amp company cred.
Featuring 12 watts of all-tube output (2 x 12AX7 preamp tubes, 2 x 6BQ5/EL84 power tubes) through two 10″ 16-Ohm Vaporizer speakers. Additional features include a spring reverb circuit independent of amp volume control, a single-button "wedge" footswitch selects the "vaporizer mode" (bypasses volume and tone controls for full-strength overload, indicated by a red jewel light). MSRP is $549.00. Go to fender.com for all the details.
News and Notes
Our friends from Rock N Roll Vintage are celebrating their 10th anniversary with a selection of amazing vintage & unique brands of gear – including guitars, basses, drums, amps and pedals. On Saturday, April 5 they'll be celebrating a big B-Day with giveaways and great 1 day prices. Check out their ad on page 15 in this issue. Or visit their website at rocknrollvintage.com